Satryna Tequila founder Nitzan Marrun joins us to talk about the secret to making great Tequila, how she came to work with a 60-year-old recipe passed down through three generations and overcoming the odds as a young woman in a male-dominated world.
Nitzan Marrun is a Tequila purist. Her mission is to show people how good Tequila can be, how it should be made and what the drink means to Mexico. She has an assured, forthright and determined voice, but it's one that was not always heard. The young entrepreneur has overcome prejudice and perception to create Satryna Tequila, a premium brand dripping in glamorous aesthetic but with seriously good spirit and cultural appreciation at its core. She's also generous with her time and knowledge, which is handy because despite only being in her mid-twenties, her story goes back a long way.
"When my grandmother and her brother were very young they were very close friends with this little kid from the neighbourhood, Carlos Newton, who grew up to become the owner of Newton's Distillery", Murran explains. "He would send very special bottles of Tequila Blanco to my grandmother. It was a recipe devised only for the consumption of my family and our friends. We've had it for over half a century. I grew up with that Tequila. I would steal barrels for my parties with my friends, you know! Everyone in my family loves to drink it and when we are having a meal we always accompany it with different types of Tequila. I didn't grow up surrounded by the production of Tequila, but I have always had a wide knowledge of it from my family's heritage."
This history with Tequila would eventually lead her down the path to founding her own company. She remembers fondly the moment that prompted her to consider the potential of such a move, which happened in the way it does with so many brands. With a conversation in a bar. "I met my now partner Vic at a bar in London and he asked for a really bad Tequila, he was trying to show off with this girl. I heard and said 'hey dude, you know that's a horrible Tequila, you should ask for his instead'," says Marrun. "We became close friends and I invited him to Mexico, I gave him a shot of my Tequila and he said 'this Tequila is amazing, why don't you start a brand and sell it in Europe. "
Despite seeming destined to enter the world with Tequila and armed with a 60-year-old recipe in her back pocket, founding Satryna was still a leap of faith for Murran. But her belief that consumers deserved to see Tequila as its best drove her on. "Tequila is more than just a drink: it's very special, very powerful. It has so much heritage. You need to appreciate everything that is behind this liquid to create it," Marrun explains. "I wanted to educate the consumer and to let them know the difference between good quality Tequila and bad quality Tequila. I wanted to champion the correct process. My vision is to show people from the outside that don't know much about it what great Tequila is".
For Marrun, this means the process must be as artisanal as possible, always choosing flavour and quality ahead of convenience and cost. "The first question is how many years do you grow your agave? The more mature the agave is the better it's going to be as it will have more concentrated sugar to convert into alcohol. We mature from ten to 13 years to make sure that the agave is perfect," she says. "If you're not maturing it fully, you're cutting corners. It's the same if you make a Tequila with only 51% agave and mix it with sugarcane'. For me, it has to be 100% agave. We use blue weber agave from the rich volcanic soil of Jalisco, near Guadalajara".
The next important step is how you can cook your agave, in either a steam oven or an industrial oven, with Marrun opting for the more traditional former. "An industrial oven is cheaper and you can cook many agaves at the same time. A steam oven is like an artisanal pizza oven. If you go to Domino's Pizza they will use an electric industrial oven. It's faster, it's cheaper, but it doesn't create a product that tastes too good. It's the same for the Tequila," Marrun explains. "The agave needs to be cooked at a certain temperature to reach a point where the sugar concentrates creating more flavour. It takes 24 hours, but it's worth it. We also distil our Tequila three times. For it to be legally named 'Tequila' it needs only to be distilled two times, but we feel doing it three times makes a more pure, concentrated spirit".
The process of making Satryna Tequila could only ever happen in one place: Newton Distillery, on the same grounds where that recipe which was carried over three generations was developed. It's not made under the watch of Carlos Newton, however, but Maestro Tequilero Mireida Cortes, who Murran admires greatly. "She has a lot of experience and she is extremely passionate about the Tequila. Everybody underestimates how hard it is to become a maestro tequilero. It's a lot of work, it's a lot of dedication. We have just been very impressed by her because she always creates the profile that we want. When you're super-artisanal, you cannot add any chemicals to create a consistent flavour. It takes a lot of work to repeatedly capture our character, but Mireida is amazing!" 
Satryna's core expressions are its Blanco and Cristalino. The former, Murran explains, has a lot of character and is very easy to drink, but it's not super smooth, "because a blanco should never be super smooth. It's important to taste the agave. Ours has a lot of citrus notes". As for the Cristalino, it's matured for 18 months in American oak barrels before going through a charcoal filtration, removing the spirit's colour, but not the flavours imparted by the ageing. "It's a style that's trending, but there are not many brands in Europe that have this type. It's very smoky because it has 18 months in a barrel and then it's filtered with charcoal. It's very special because you get to taste the agave still and its complemented by the notes from the American oak."
In the future, the brand's reposado and añejo will arrive in Europe (and at MoM Towers), with the global pandemic playing its part in slowing down their release. Murran gives us an idea of what to expect from the upcoming releases. "Our reposado is aged in American white oak for eight months, while the añejo is matured for 24 months, 12 months in French oak from Cognac and 12 months in American oak barrels, creating a really interesting profile," she says. 
One of the most striking aspects of the Satryna brand is its distinctive bottles, which were inspired by Murran's love for el Día de Muertos (The Day of the Dead) and Mexican heritage. "We went to Oaxaca in the early days of Satryna and there were these artists that made these beautiful silver skulls. We bought one and the rights to make it the stopper of our bottle. We also have ancient Aztec art engraved on the neck and we pay tribute to La Catrina, an iconic female symbol and the Goddess of Death. Our logo is her mask and she inspired the brand's name," Murran says. "For me, it is the most special celebration in Mexico. Everybody comes together. We wanted to portray the character and history to show a special side of Mexico. There are some difficult stereotypes that we have in Europe especially. We work very hard to fight this".
Murran knows a thing or two about facing stereotypes. Starting Satryna at just 19 years old, there were plenty ready to dismiss her. "It was a bit of a struggle, a 19-year-old girl getting into an old man's business is challenging. I had a lot of intentions and I have always had a tough character but it was hard. People wouldn't even take my calls because they thought everything was a joke," she recalls. "But we are becoming more progressive. Hopefully, the fact that I have challenged some preconceptions about gender and age will inspire people to follow my path. We have a lot of work to do still here in Mexico, certainly, but we have worked hard to get to where we want to be and we're already very far ahead of where we expected to be. We are off to a really good start and on a really good path".
It's hard to disagree with that assessment tasting Satryna's first two expressions. The blanco is always the key for a Tequila brand, get it right and you're onto a winner. Which is exactly what Satryna has here. It's got a lovely balance between citrus, vegetal, fruit and cooked agave notes and is complex and characterful enough to be enjoyed neat, the way Marrun likes (although she does concede to enjoying an Espresso Martini with her spirit too). All in all, a very refined Tequila. The Cristalino, while not being the style I would usually go for, avoids the pitfalls of candied sweetness, retaining enough agave profile and plenty of smoky, savoury elements to keep it interesting. It's exciting stuff. I look forward to the reposado and añejo arriving on our shores. For now, you can purchase both the Blanco and Tequila here.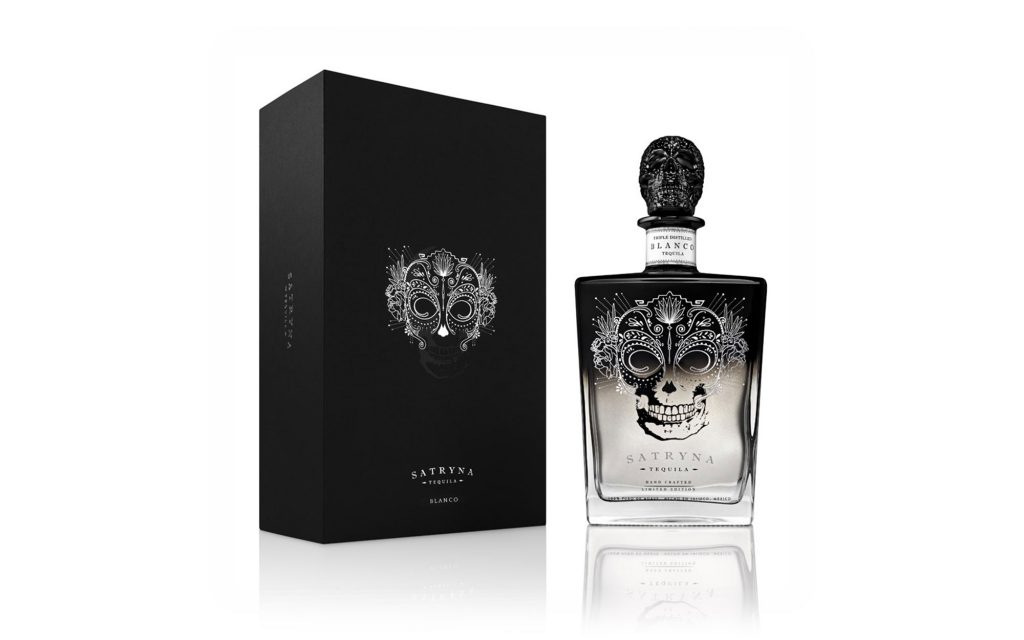 Nose: Fresh, vegetal agave is the core of the nose, from which aromas of orange peel, honey, vanilla, marshmallow, petrichor, mint leaves, wood char and delicate flowers develop. 
Palate: More of that vegetal sweetness from agave emerges with toasted almonds, grapefruit, vanilla, and caramel. Lavender, faint marzipan, charred pepper and a little white chocolate appear underneath.
Finish: The finish is sweet (vanilla and agave) a little salty and a touch spicy from black pepper.
Nose: Sweet, roasted agave leads with a fair amount of coal smoke as well as fresh herbs, dried earth and peanut brittle. There are hints of cedar, vanilla and grapefruit peel in support.  
Palate: Plenty of cask sweetness – butterscotch, vanilla and a little milk chocolate – balances more fresh and crisp agave. Touches of cinnamon, clove, almond, tropical fruit, banana milkshake, green apple and pink grapefruit add depth.
Finish: Delicately sweet, creamy and with a little minerality.