This week #WhiskySanta is giving away a spectacular Singleton whisky to one lucky wisher. The Singleton of Glen Ord 39 Year Old worth £2,250, to be precise. 
Ho, ho, ho, everyone! There's so much to do in the run-up to Christmas: the sleigh needs to pass its MOT, the reindeers are practicing formation flying (not as easy as it looks), and, most importantly, my beard needs work. A beard this magnificent doesn't just happen by chance. You should see all the unguents and oils that I have to treat it with. But that's enough about my facial hair, because it's Super Wish season!
First, I want to commend @APolarView on being good this year, so good they won last week's incredible Bunnahabhain 40 Year Old, worth nearly £1,800. Which is about how much my beard products cost.
That's been topped by this week's marvellous malt, Singleton of Glen Ord 39 Year Old, which would set you back nearly £2,300 ordinarily. That's 19 bottles worth of Singleton of Glen Ord 15 Year Old (Special Release 2022) with change to spare. We have malt master Maureen Robinson to thank for this one, as it was she who moved a 12 year old single malt over to a selection of casks, including Port casks, red wine casks, and ones that held a combination of Oloroso and Pedro Ximénez sherry, where the whisky slumbered soundly for over a quarter of a century. Following that, the whisky was then given a finish in French Bordeaux casks, further building upon its decadent richness. Max maturation magnificence from Maureen all led to this.
If this is your first Super Wish, then just follow these simple steps to make sure I hear it. Head to the Singleton of Glen Ord 39 Year Old page and hit the big snazzy red button marked "Wish". A box will magically appear to send you onwards to a pre-populated Twitter or Facebook post, as long as you remember to hit 'publish'. Instagram peeps can of course enter too, you just need to use the #WhiskySanta hashtag on grid posts, and tag @MasterOfMalt in Stories.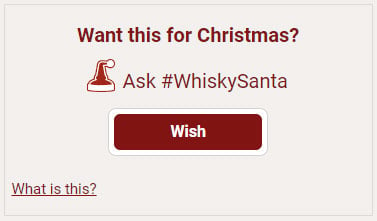 You need to get those wishes in by 23:59 GMT Thursday 24 November. I'm frightfully busy, you see, making sure everyone whose been good gets their just rewards. This beauty here will be going to someone really good, mind. We're talking about helping out with the washing up, not leaving towels on the floor, taking Nan shopping, and listening to her anecdote about the time she appeared in panto with Les Dennis without rolling your eyes. THAT level of good.
#WhiskySanta