It's Monday and it's December, which can only mean one thing. #WhiskySanta's back with another marvellous, mouth-watering Super Wish!
Ho, ho, ho! Isn't time flying, my drinks-loving chums? Somehow it's 9th December already, my reindeer are limbering up for the Big Flight to come, and I've already given away Santa sack after Santa sack of the finest spirits known to humankind, at the Master of Malt check out, and of course, I've granted tons of your wishes on social media. If you've been truly good this year, of course. And that's not all. I've gifted three magnificent Super Wishes already!
And why stop there? There might only be 16 days until Christmas, but that's a lot of time for everyone's supernatural, omniscient, festive and heavily-bearded being. So keep wishing! And this week, if you've got a hankering for decades-old, delightfully textured and captivatingly complex stuff you can wish for…
… the fabulous Fettercairn 40 Year Old!
I'm almost not ok with giving this one away. It's sold out, highly sought-after, and worth a mammoth £3,093! It's the very last bottle at MoM Towers, and if my chums here won't let me keep hold of it to sip and savour after that aforementioned Big Flight, then I suppose it's only right that it goes to one of you lovely lot. But you'll have to wish for it!
Flavour-wise, it's an absolute treat (MoM's Kristy tasted it herself when Fettercairn released its new core range in 2018). If you're not in the know, Fettercairn has become a little bit of a cult malt. To bring you up to speed, it's a sister distillery to Dalmore and Jura, so there's a load of history and expertise behind the whisky-making (its stills, with the striking cooling rings, are pretty cool too). But back to the flavour. It's ex-bourbon matured, Apostoles sherry-finished (for a whopping five years) so there's nuttiness galore, bitter dark chocolate, nutmeg spice, and delicious, leathery rancio notes. There's a reason I'd like to keep this one for my #WhiskySanta stash…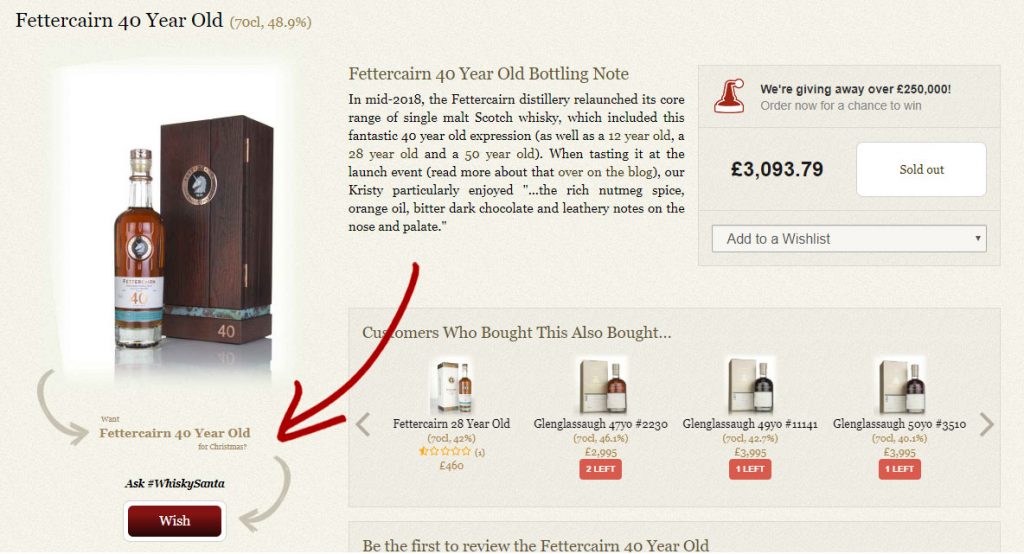 But enough of that. If you want to get your wintery mittens on this really rather special bottle, then head on over to the Fettercairn 40 Year Old product page with haste. Hit the 'Wish' button, which will automagically produce a box with a pre-populated Twitter or Facebook post. Hit publish and voila! (If Instagram is your platform of choice you can wish there too, just be sure to use the #WhiskySanta hashtag. Or those non-omniscient folks at MoM just won't see it. I pity them. And you, because your wish won't count!). 
You have until the end of Thursday to get your wishes in. Then let the granting commence! #WhiskySanta out, for now…
UPDATE: I told you I'd do it, and now I've done it – I've gone and granted this superb Super Wish to Tim Matthews! Enjoy, Tim!