Somebody brilliantly beardy, omniscient, and partial to a dram has returned for a 10th year like a boomerang made out of tinsel and tangible joy. Yes, #WhiskySanta is back with more than £1,000,000-worth of delicious whisky, gin, rum and more to give away!
Ho ho ho! Hello again, my friends! I'm here to bring you another sackful of boozy goodies right up to the big day.
Has it really been 10 years since I was first summoned into this dimension and manifested between a desk and a battered printer in MoM Towers?! Literally incredible. And I'm jollier than ever to be here for another Christmas season – that's job satisfaction for you.
Guess I better really push the sleigh out this year though, eh? How about a pressie with every single Master of Malt order this year? That sounds like a good start.
And what did I say I'd give away this time last year? £500k-worth of your favourite spirits? Let's double that then, shall we?
The reindeer have perfected their barrel rolls, and I've officially hit play on my work boom box so I can once again listen to I Wish It Could Be Christmas Everyday by Wizzard, all day, every day right up until midday Christmas Eve when my shift at MoM Towers will end for another year. So about 16,472 times, in case you were wondering. It helps focus my supernatural gift-giving abilities, plus it's an ice-cold jam.
'How does this #WhiskySanta thing work?!' you're thinking. (Omniscience innit, a blessing and a curse.)
Well there a couple of ways, and it's really very simple…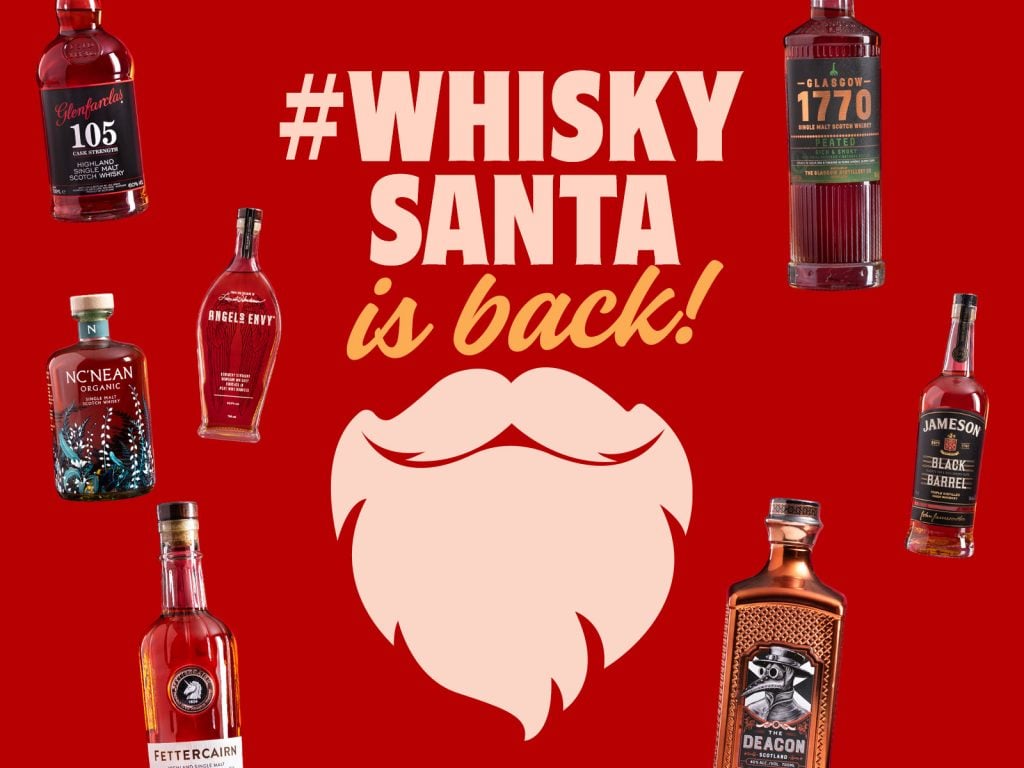 Place an order!
Once again, I have access to the Master of Malt checkout, only this time it's not just lucky orders who get something, it's all of them from now right up to Christmas! Yep, you're all on the nice list this year!
Picture it, you're picking up a nice bottle of Christmas Cake & Dark Chocolate & Medjool Dates & Cinnamon 8 Year Old single malt. You hit 'Complete Order' and… wait, what's this? A little note from yours truly on the Order Confirmation page (like the one below) offering you something extra for free!
Whether it's treats such as 30ml drams, 50ml miniatures, or Master of Malt Gift Vouchers up to £50 – I'll even be picking up the tab for entire free orders! – I really do love giving a little extra at this time of year. It's a bit like when you folk leave out a little sherry and a mince pie for me.
You'll need to click the 'Yes please!' button to accept some gifts. You can, of course, choose not to accept the gift by clicking the 'I'm okay thanks' button, and your gift will go to someone else. I truly cannot understand why anyone would do that, to be honest, but then I also hear that some people don't even like mince pies?!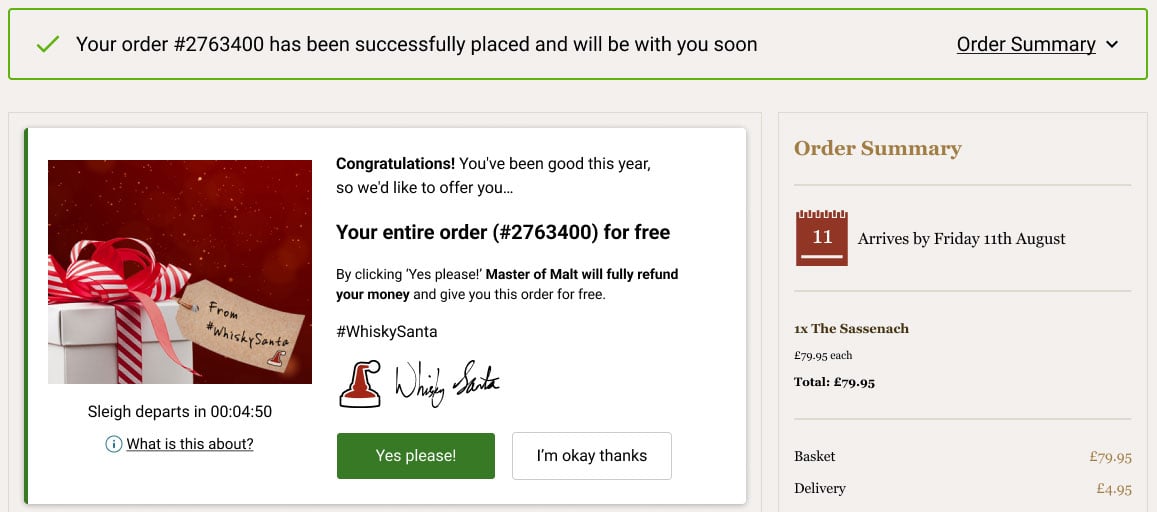 Make a wish on social media!
I'll also be granting wishes made through a strange and terrifying magic that you call 'the social media' every single day from now until Christmas Eve and, if you follow the instructions below, you may just find your Chsirstmas wish is one of them!
Have a browse of the Master of Malt website and their 15,000 or so in-stock treats, and when you see a something you love, hit one of the handy little 'Wish' buttons. You can then follow the links to place your own special Christmas wish on Twitter (what the gingerbread house is an 'X'?!) or Facebook using the #WhiskySanta hashtag.
You can also make wishes on Instagram too! Check out Master of Malt's Instagram Stories for some inspiration to screenshot either to your feed (using the #WhiskySanta hashtag), or your own Stories (being sure to tag @MasterofMalt).
Finally, I've been told to remind you to make sure your profiles and any posts you make are 'Public', or my friends at MoM won't be able to see them.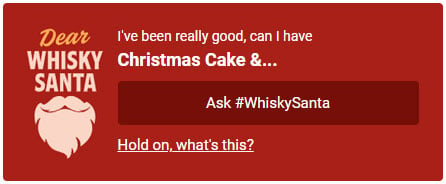 There's also the not-so-small matter of Super Wishes! Additional opportunities to get your hands on some incredible bottles that I give you a heads up to wish for specifically… Watch this space!
Well that's my next two months sorted. Let's get started!
#WhiskySanta
18+. #WhiskySanta 2022 will run from 11:00 1 Nov to 11:59 24 Dec. Like most things – even really, really cool festive things – there are some T&Cs, which you can find just below: