Back in January we brought you news that International Scotch Day was making a riotous return for 2018. Well, tomorrow's the day! From at-home cocktails to heading to your favourite bar, there are a whole host of ways you can get involved and raise a dram to all things Scotch…
A celebration of everything that makes Scotch, Scotch – International Scotch Day is back for a second outing, and the celebrations are set to be bigger than ever. On 8 February, Scotch fans in more than 70 countries will be able to join the collective party, with activities spanning at-home dram pouring and cocktail making to distillery open days, fancy red-carpet galas, and more. And we'll be following the action right here on the MoM Blog! [UPDATE: Today's the day! Keep up to date with all the International Scotch Day goings on in today's blog post.]
"We want people to be thinking, drinking and talking about Scotch," Donald Colville, Diageo's global malts ambassador, told us in the run-up to the event. "It is very much about recruiting new people to the category but also giving those who absolutely love Scotch whisky, the connoisseurs, and the real lovers of Scotch, the opportunity to enjoy International Scotch Day as well."
We know exactly where we can find lovers of all things whisky: right here on the MoM blog! So here's the International Scotch Day low-down, the whos, wheres and hows of the day, and most importantly, the details of where you can follow all the action.

Who's behind International Scotch Day?
Let's get this out the way now: International Scotch Day was founded in 2017 by Diageo (the world's biggest drinks group, and parent company of the likes of Johnnie Walker, Dalwhinnie, and Ron Swanson's favourite, Lagavulin). But Colville is emphatic that it's about more than pushing brands: "We want people talking about the Scotch category."
While it's a Diageo-founded initiative, the company is keen for others to get involved. "We think International Scotch Day is an opportunity to celebrate the world's favourite whisky and to shine a spotlight on the entire Scotch whisky category – so we fully encourage and welcome the whole industry to get involved," a statement from the drinks group reads.
It's also about challenging the stuffy stereotypes that persist around all things whisky. "I believe we are [making progress]; we are breaking down the barriers, the myths that Scotch is only for certain people and drunk in a certain way," Colville continues. Think Scotch can only be drunk by certain demographics, in specific settings, and only at set times? Us neither, which is why we see International Scotch Day as A Good Thing.
Which brings us on to the International Scotch Day ambassadors: this year actor James Marsden, supermodel Shanina Shaik and actress Suki Waterhouse will be fronting the celebrations.
"We always look for people who have a love for Scotch first and foremost," Colville continues. "These three are people with a love for Scotch, but maybe they are not your stereotypical whisky drinker. They've been working with us helping bring the market to life with Scotch."
He recounts a story from last year's ambassador, model Coco Rocha, who sipped on Johnnie Walker Black Label backstage at shoots and fashion shows, preferring the blend over the Champagne drunk by her peers. It's a sentiment echoed by Waterhouse: "Scotch has always been my go-to drink and I have such an appreciation for its history and complexities," she says.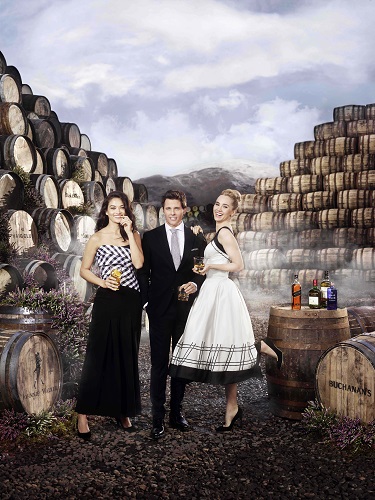 Famous faces for International Scotch Day 2018: Shaik (L), Marsden and Waterhouse
Where is all this going on?
There's a whole bunch of stuff going down for International Scotch Day, most notably the star-studded parties led by the trio of ambassadors. Shaik will celebrate the day in Johannesburg, Marsden will travel to Manila and Delhi, with Waterhouse raising a dram in Mexico City.
But don't forget, there are goings on in 70 countries: have a Google and check out bars near you for events. There will also be sampling in-store and myriad in-bar activities, all planned to stir up our excitement for Scotch. And don't forget, you can stick right here on the blog: we will have our eyes on the #LoveScotch and #InternationalScotchDay hashtags and will bring you all the essential activities as they happen.
That sounds great. But how can I take part?
"A big thing for us is the power of social media; we want as many people off their own backs and their love of Scotch to be raising a dram or a cocktail celebrating International Scotch Day," says Colville. Head down to your favourite bar or simply pour out a dram at home and you're involved.
For those in Scotland (or in striking distance), Diageo is opening up its visitor centres free of charge, not just on International Scotch Day itself, but also on the weekend of 10-11 February. Blair Athol, Caol Ila, Cardhu, Clynelish, Dalwhinnie, Glenkinchie, Glen Ord, Lagavulin, Oban, Royal Lochnagar and Talisker are all taking part – check out Diageo's site for more details. Diageo's famous Archive is also open to the public, but we've been told slots are already fully booked, so if you are distillery-bound make sure you sign up first.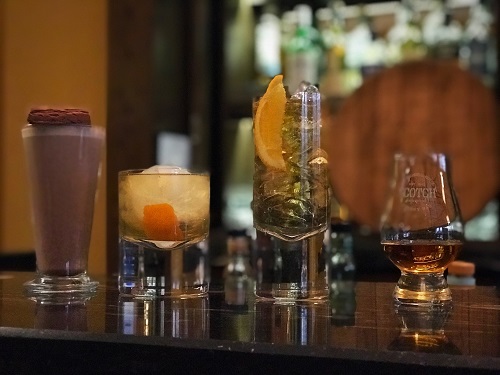 Four delicious drinks ideas, courtesy of Donald Colville
But what if you're marking the occasion in your own home? Donald Colville has come up with a selection of at-home cocktails (all whisky-based, of course) to make sure everyone can join in the International Scotch Day celebrations.
Colville's International Scotch Day serves
Drink 1: Mortlach 18 Year Old – neat
"The beast of Dufftown… aptly named as it is a muscular, viscous, powerful single malt!"
Drink 2: The Singleton and Soda – The Highball
50ml measure of Singleton of Dufftown 12 Year Old, tall glass filled with ice, topped up with soda and garnished with a decent orange wedge
Drink 3: The Talisker Old Fashioned – The Cocktail
50ml Talisker Storm
10ml brown sugar syrup infused with black peppercorn
2 dashes chocolate bitters
Pour all of these into a rocks glass over ice, and stir well to add some dilution but more importantly really chill it.
"The brown sugar syrup with peppercorn is really simple to make. Simply take 20/30 peppercorns and heat them in a pan over a medium heat until they become really aromatic. Then add a cup of water and bring them to the boil, then leave them simmering for 10 mins. Add one cup of brown sugar to the pan and stir until it is all dissolved. Once all the sugar is gone, serve out the peppercorns and leave to chill and store in the fridge for up to 2 weeks.
"If you're not looking to make your own, you can buy all sorts of syrups from the basic white sugar right through to the very bizarre, all designed for your coffee but also suitable for use in your cocktails.
"Top tip for measuring 10mls: most household teaspoons are 5mls…"
Drink 4: The Lagavulin Hot Chocolate
Take a beautiful rich, high quality hot chocolate and add a large measure of Lagavulin 8 Year Old, topped with a small layer of cream.
"To some, this may be a step too far but please trust me… it's gorgeous. The Irish/Gaelic Coffee is a well known hot drink. Let Lagavulin take hot drinks to a new level!"
The best part of all this? If you're in the UK you can order these ingredients (and wider Scotch options for your general celebrations) before 9pm tonight for next-day delivery. Boozes in time for International Scotch Day? We are good to you.