Forget Tinder swiping: the perfect match we're looking for this summer is a world-class head of marketing. Are you an inspiring ecommerce marketing expert and a proven leader? Know someone who is? Then read on, because we're definitely interested…
You might have noticed we have a certain way of doing things here at MoM Towers. We're all about pulling out the stops to bring delicious boozes to you, our brilliant customers. We love shaking things up, taking risks, and doing things differently (we even palled up with #WhiskySanta to give away over £150,000-worth of incredible drinks for free last Christmas!). But we also know times are a'changing in our brilliantly diverse, ever-changing digital world and we want to evolve with it. Which is why we're looking for an incredible head of marketing to propel us to that next level!

Now, finding that special someone isn't straightforward (and that's just the dating world…) so we need to send word far and wide. We need someone smart and sharp to manage our marvellous marketing team. Our person will need to live and breathe ecommerce and digital innovation (and drinks, ideally). Our dream human will have at least five years' experience at the coal face, with a degree in marketing, or something equivalent. Oh, and you'll need to be the inspiring sort who can rally the troops and bring everyone along with you.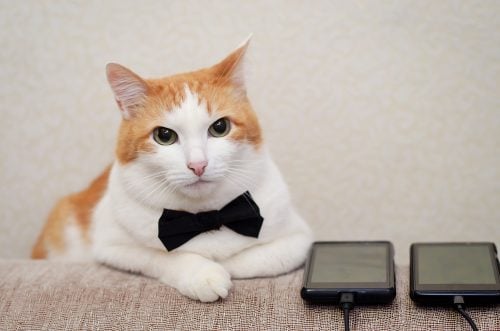 Phone? Check. Fancy bow tie? Oh yes. Candidate Cat works its stuff
Reckon you could be the Donkey to our Shrek? The Chandler to our Joey? The cheese to our mac (we might just be hungry now, but you get the gist…)? Check out the full job ad and get in touch with haste!