With Father's Day encroaching, we've teamed up with the good folks over at Glenfarclas to offer you a frankly mind-boggling whisky giveaway. In fact, we can hand-on-heart tell you that we're offering you our best prize yet! Drum roll please…
We are giving you the chance to win a 50 year old, single cask bottle of Glenfarclas, worth £3,995!
"But how the devil do I enter?"
Entry couldn't be simpler. All you have to do is purchase any 70cl bottle of Glenfarclas from our site before Father's Day 2011 (19th June).
There are 500 chances to win, and you'll receive one entry per bottle you buy. So if you're a Russian oligarch, or you're a beloved relative of an ailing fat cat, you could buy 500 bottles and guarantee yourself victory!
The competition will close either on the 19th June 2011, or when the 500 chances to enter run out, and we will announce the lucky winner, with a picture of his or her beaming mug, by the end of June 2011.
"Tell me more about the whisky!"
Well, like we said, it's a single cask, 50 year old Glenfarclas, matured in a refill sherry cask. It comes in a glass decanter with an engraving to celebrate the partnership between Glenfarclas and "the chaps at Master of Malt". It also bears the words "decanter 1 of 1", to illustrate the rarity of this bottling.
"Crumbs!"
Indeed, not only is it a single cask, 50 year old whisky worth £3,995, it's also at cask strength, boasting a whopping 50% abv, even after over half a century in oak.
"And how does it taste?"
Well, our tasting team (who are becoming increasingly spoilt) were lucky enough to receive a wee sample of the whisky. Here are their notes…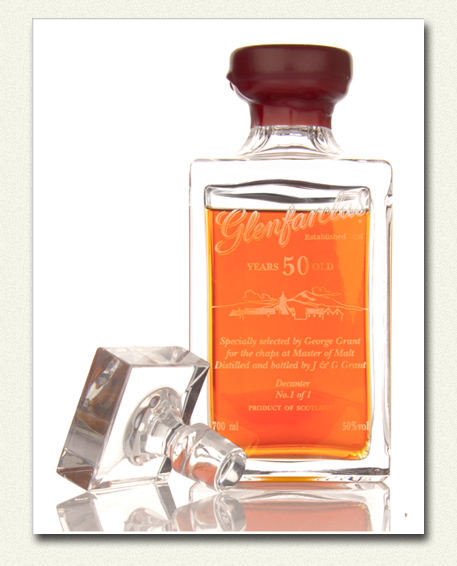 Nose: A wonderfully intense array of sherry notes, but it has a great youthfulness to it, and it offers up huge notes of pear, cantaloupe melon liqueur and apple peel. After a time in the glass rancio notes develop, and it reminds us in many ways of a very good, old cognac, but with considerably more depth. Come back to the nose and you'll be greeted with mouthwatering suggestions of seaside saltiness.
Palate: Very fresh, especially considering its age. Great 'Farclas notes of calves' leather and overripe grape, with a big hit of tomato stems (not what we first came up with, but for legal reasons it'll have to do), and wood varnish.
Finish: That mustiness you associate with stonkingly good sherry casked whisky, but it arrives later on in this one, with a surge of leather-bound books on mahogany shelves and touches of pepper and brandy butter.
Overall: A superb example of a very old whisky retaining an astonishing level of youth and vibrancy, whilst exhibiting a tremendously complex, utterly distinctive flavour.
To view the eligible whiskies, and for your chance to enter, click here.
– The Chaps at Master of Malt –