America wins World Whisky of the Year again in the new edition of Jim Murray's Whisky Bible but the big story is the rise of English and Welsh whiskies with a special section devoted to them.
The new edition of the world's bestselling whisky book is out, and I'm afraid it's bad news for the Scots with the title of World Whisky of the Year going to William Larue Weller (2017 Release) – the third consecutive American champion. Jim Murray commented on "its unique brilliance" and said it was the "the most delicious lesson in whiskey structure imaginable".

Jim Murray's World Whisky of the Year 2019
William Larue Weller (2017 Release)
It wasn't just American whiskey that Jim Murray was showing love for, as English and Welsh whisky was praised to the skies by Murray and his team. In fact, the fare was so impressive that it now has its own section alongside the might of Scotland, Ireland, Kentucky, Canada and Japan. Australia also got its own section for the first time.
Three English and Welsh whiskies, The Norfolk – Farmers, The Norfolk – Parched and Penderyn Bryn Terfel (Icons of Wales) scored 96.5 out of 100. Jim Murray commented, "such has been the consistency coming from the likes of Penderyn, St George's and The Cotswolds Distillery, it became clear we had something special on our hands. They each produce a Single Malt of exceptionally high standard year after year so it would have been a disservice to them had I not given them their own region. Now that Britain is leaving the EU, I hope these distillers get together to form their own association on lines similar to the Scots. It's what they need to do to fuel their growth."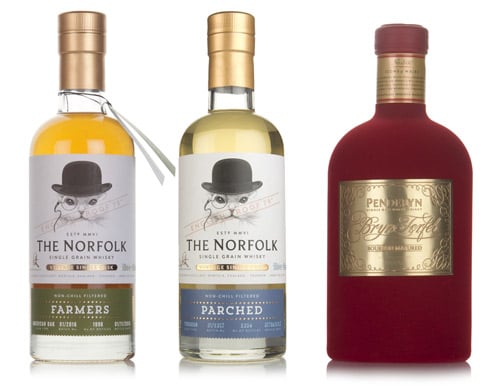 Big scores for English and Welsh whisky!
As you can imagine, the distillers were over the moon. Stephen Davies from Pendryn said, "this is just the shot in the arm the industry needs. We know we make excellent whisky, but it is sometimes hard to get people around the world to understand this. Now whisky lovers from the USA to China will see us as a whisky from a recognised region of quality, rather than a curiosity." And David Fitt from St George's Distillery added, "us now having our own region means we can take the distillers of other countries head on as equals, not a little distillery somewhere south of Scotland'"
Some Scottish pride was salvaged as the runner up as World Whisky of the Year was Glen Grant 18 Year Old Single Malt. This expression has consistently fared well with Jim Murray, coming in third place last year and runner up the year before.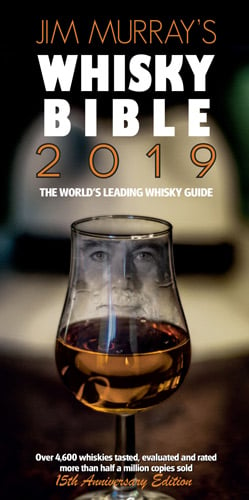 Order your copy of Jim Murray's Whisky Bible 2019 right here!