This week #WhiskySanta's giving away an Old & Rare Whisky Advent Calendar Super Wish to one lucky wisher!
Season's greetings, fans of all things Christmas and tasty drinks! As I'm sure you all know by now, I'm back to give away over £250,000-worth of the finest booze-based gifts to Master of Malt customers and those placing wishes on social for anything available on Master of Malt! I'll keep doing so right up to Christmas! A whole bunch of fortunate folks have already got their hands on some spirited treats, and there's much, much more where that came from!
Last year I stepped things up with weekly extra special Super Wishes that I gave away each Friday. Turns out, I can't resist spoiling you all, just like I can't resist those damn delicious mince pies. It just wouldn't be Christmas without them, so my sensational Super Wishes are back! It's the best sequel since Back to the Future Part II (I pimped my sleigh to look like the DeLorean time machine in '89. Those were the days…) Every Monday I'll announce a new Super Wish, and you'll have until the end of Thursday to get your wishes in!
The first Super Wish of 2018
This week I'm marking the return of the festivities by giving away an Advent calendar. A wonderful whisky Advent calendar. A whisky Advent calendar that contains some fantastical, well-matured and recherché drams (as an omniscient being, I am of course multilingual). This week some lucky believer in all things me will receive not just any old Advent calendar. Oh no. They'll get an Old & Rare Whisky Advent Calendar, worth almost £1,000!
Having checked my list once or twice I know you lovely lot are excited to make your first Super Wish of 2018. Luckily, I'm a kindly festive being, which is why I make it super easy to make a Super Wish! All you need to do is direct your computer machine or 'device' (one of the elves told me to say that) to the Old & Rare Whisky Advent Calendar on Master of Malt. Then hit the magic 'Wish' button to share your wish on Twitter or Facebook using #WhiskySanta. (If you'd rather use Instagram, or even Google+, then go for it – just make sure you include the hashtag!)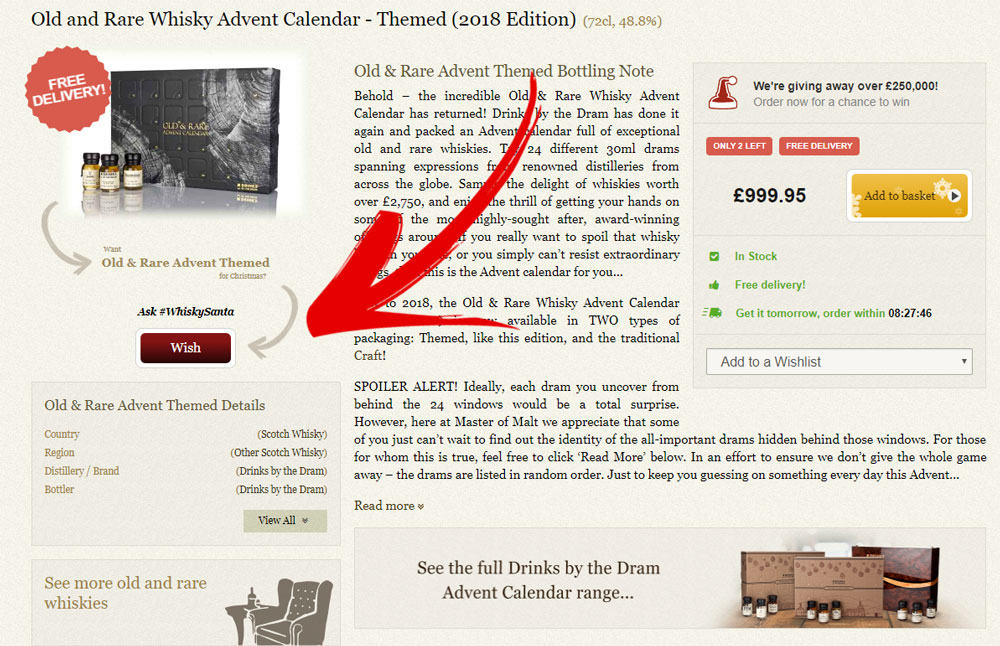 I, of course, know what's behind each window. But I won't ruin the surprise for you. What I will say is that the 24 different 30ml drams within the Old & Rare Whisky Advent Calendar are so spectacular you'll think Christmas has come early!
Update: Congratulations to @_RBeatty_, whose wish for an Old and Rare Whisky Advent Calendar was granted!

#WhiskySanta