Judging the Book by Its Cover
You might remember, a couple of weeks ago we wrote a post about Highland Park Earl Magnus. As we watched it fly off our shelves we got talking about packaging, and how important it is for luxury commodities – especially whisky. (NB we're by no means saying we think it was all style and no substance – the whisky was great, scrumptious even!)
Anyhoo, there's been a recent spate of success stories, from imperialistic decanters to cartoons and artistic fonts. Now everyone's jumping on the bandwagon, but there were those who did it first, and did it well.
One of the innovators was Jon, Mark and Robbo's Easy Drinking Whisky Company. The trio were friends and scotch whisky connoisseurs – brothers Jon and Mark Geary, and David Robertson of Macallan fame – and their whisky was a far cry from some of the passé and overly conservative malts around at the time. To make doubly sure everyone knew this, the whiskies were given downright modish names; The Smooth Sweeter One and The Rich Spicy One, bedecked with caricatures of swarming beehives and Middle Eastern marketplaces of Hessian sacks filled with loose spices.
Contemporaries like Big Peat and Smokehead flaunt striking lettering and cult labelling; the former emblazoned with a sketch of a swarthy and hirsute fellow, the latter with a mosaic of "army font" flavour descriptors like "peaty", "rich", and even "monstrous"!
Some whiskies are as recognis

able for their bold packaging as much as their names, or even flavours! The salient, and slightly austere, styling of Black Bottle helped inspire Loch Dhu and other "black whiskies". Image is really the thing here, but whilst Loch Dhu is literally a black whisky, the former gained fame for the very glass it came in (and also for its quality).
Black Bottle is one of those wonderful peaty blends with malt from every distillery on Islay. The brand was created by the sons of Aberdeen cobbler James Graham. They s

tarted with tea (Aberdeen was once a hub of tea importation) before unearthing a knack for blending whisky, and so the peaty blend was born, named for its black glass bottle. The packaging was to change during the First World War, when Anglo-German relations were at an all time low, and the company had to part ways with the German glass maker they had been using. Sadly, the black glass was hard to find elsewhere, but the bottle neck still retains its whisky-still shape.
More recently, this side of the millennium bore a flurry of "super premium" malts (Whiskyfun.com's Glen Wonka pastiche summed up the zeitgeist rather well). Every other week a prestigious distillery would release the oldest whisky ever made, blended by monks and taken down to bottling proof with nothing other than the blood of unicorns. And the bottles, oh the bottles! Top crystal makers – usually those of French extraction (they have classier sounding names) – were employed to create stunning pieces of glassware.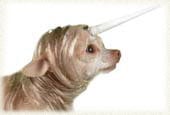 The Chihauhacorn
In a shocking twist of fate, Macallan teamed up with art deco poster-boys Lalique to start the super premium series of very old whisky "Macallan in Lalique" and their marketing ploy really paid off, as writers and bloggers descended on the story with palpable intent.
We were lucky enough to get hold of the 55 year old – it's a snip at £8,499.95. The decanter bottle is undeniably beautiful, with its Vulcan spaceship-style stopper that will have Russian oligarchs and well-heeled investors alike chomping at the proverbial bit.
Holy Hand Grenade
In the same artistic (though more affordable) vein, we find ourselves in bourbon country with the equestrian stylings of Buffalo Trace's Blanton's range. The bottles captured our hearts and even though usually we'd find pewter horse figurines kitsch and gaudy, the Americans have a great knack for skating on that fine line between tasteless tat and inimitable charm.
All in all, a Blanton's bottle is more Holy Hand Grenade than decanter and the exceptional look has done well to match the astonishing single barrel bourbon inside.
In 2009, stylish and eccentric packaging took an Oriental turn when Japanese Noh theatre became the inspiration for a line of single cask whiskies. We had a trendy 1976 Karuizawa with a wonderful label depicting a Noh performer, it might be the primary actor (known as the shite – although they're not usually that bad…).
Whatever the whisky is and wherever it's made, the packaging and presentation will always remain to be a key talking point – and indeed sale point – in this industry.
– The Chaps at Master of Malt –