Only a couple more sleeps until Christmas, which means only a couple more drams left in the Whisky Advent Calendar! Let's see what's behind window #23…
Whether you consider today to be Christmas Eve Eve or simply just the 23rd of December, it really is very hard to deny that Christmas is a stone's throw away. Santa is probably making a last-minute case to the HR department in the North Pole right now, arguing that he really should get a few more miniature Christmas puddings and an extra serving of roast potatoes in his lunch tomorrow, considering he'll be working late. He might even be able to claim some time off in lieu as well, we reckon…
Oh great, now we're thinking about Christmasy food again… Roast chestnuts, in particular… And cooked apples… And hints of softly smoky spices… Perhaps these flavours are on our mind because they're all present in the dram that's hiding behind window #23 of the Whisky Advent Calendar – it's Balcones Texas Single Malt! This is a powerfully flavoursome American single malt whisky from Waco, Texas, and it's exactly the kind of thing we want to be sipping on at this time of year.
We wanted to find out more about what's going on with Balcones, so we asked a few questions to Balcones Distilling Head Distiller Jared Himstedt to see what are the haps in Texas!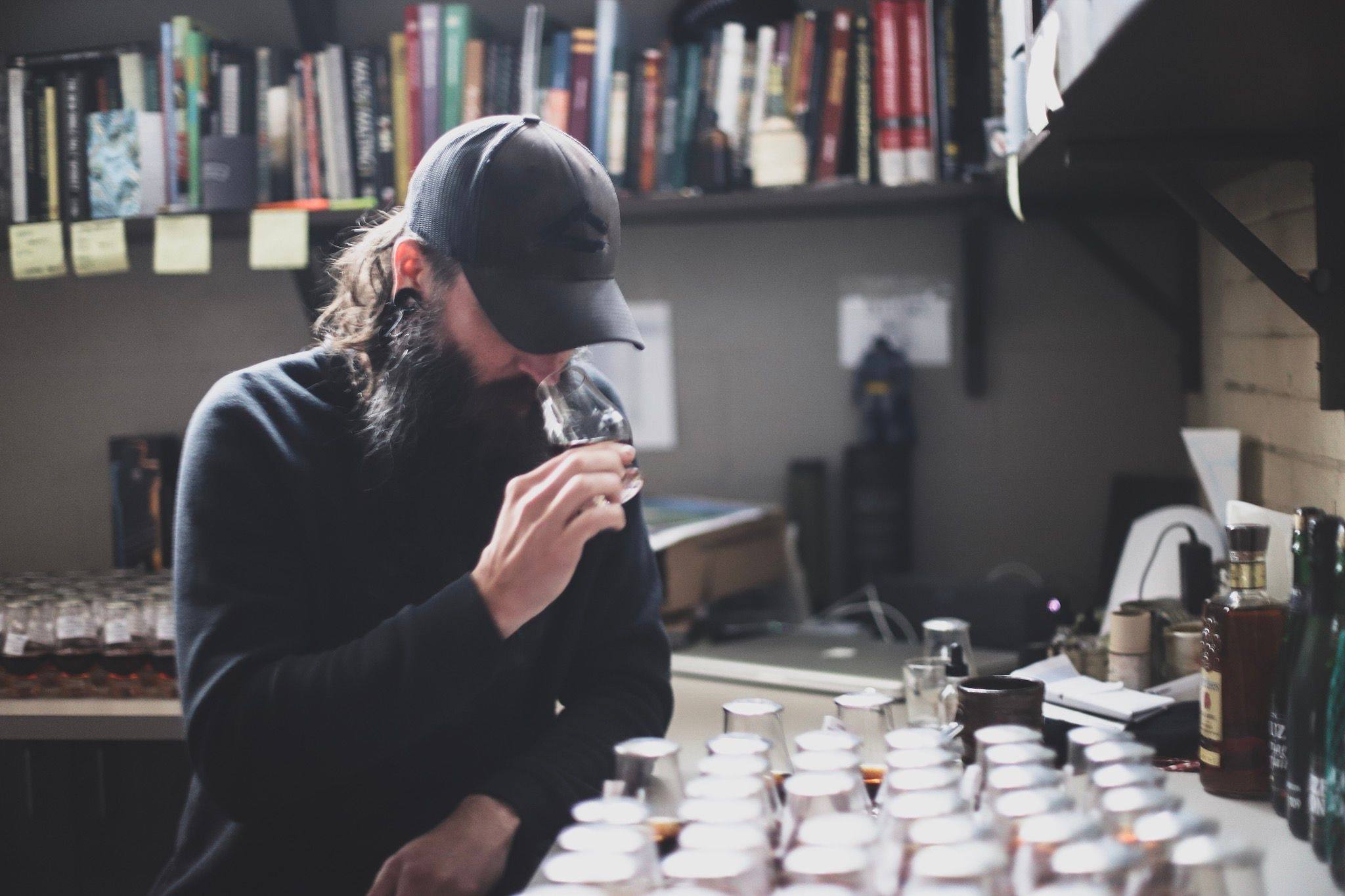 Ta-da, it's Jared Himstedt!
Master of Malt: What fun things have happened in the world of Balcones in 2019?
Jared Himstedt: Coming off our Tenth Anniversary in 2018, we had a lot to live up to in terms of releases. The first release of a Single Malt made from Texas-grown and malted barley happened this summer. We named it High Plains, for the region of Texas the barley is grown. It was a lot of fun to see and share the Texas-grown barley against our usual Golden Promise single malt. We have a lot more laid down from a couple of different maltsters and both drum and floor malted, so that will be fun to watch develop. We got to see our Peated expression from 2018 become a new regular annual malt expression. It is custom peated Golden Promise from Simpsons, and we have laid down 35, 65 and 95 ppms versions in both new casks and ex-bourbon so we have a lot of colours to blend with going forward. We have started selling our first white spirit with our white Texas Rum. Lots of fun esters and aromatics going on there.
MoM: You've recently been using interesting casks to age your whisky (including Brimstone and Tequila casks, released by TBWC). Are there any casks out there that you'd love to try maturing your whisky in that you haven't yet?
JH: I am a huge fan of lighter dessert wines, and we are on the lookout for things like Lupiac, and have our eyes on some Ratafia casks, which is a Champagne based dessert wine. We are also looking into some larger sized casks to begin exploring how to make older whisky in Texas without ended up with an unbalanced and over-wooded product.
MoM: What's next for Balcones? Any 2020 plans you can give us a hint about?
JH: Mirador, which is our all refill cask Single Malt will be making a return and becoming a regular annual release for us at higher volumes. The peated single malt that we have laid down in ex-bourbon barrels is coming along really nicely, and we'll likely have a small release of that sometime this year. We will likely have another sherried release, and well as an expression finished in Madeira casks from a Texas winery. There are a couple of other projects that are likely to come to fruition this year.
MoM: What trends or developments do you think we'll see in the world of whisky in 2020?
JH: I am personally excited and invested in the continued growth of the American Single Malt category as well as the growth and success of Texas Whiskey. Both categories have a lot to offer and I only hope to see the awareness in the industry and among consumers keep increasing. Globally, we hope to see all the international tariff situation resolved in a way that benefits the industry and whisky drinkers everywhere.
MoM: It's Christmas Eve and you've just remembered you need to buy a present for that whisky-obsessed friend of yours. What are you running out to the shops to pick up?
JH: Most likely a single barrel bottling of Glendronach, in the 19yr old range!
Balcones Texas Single Malt Tasting Note:
Nose: Freshly baked banana bread with undertones of honey and vanilla and just the faintest hint of cedarwood at the back. Suggestions of roasted chestnuts and heavy cream.
Palate: Ester-y with apple and orchard fruits. Brown sugar makes an appearance and transforms into molasses.
Finish: Warm, woody spices and some breadiness, but not necessarily maltiness, completes this luscious single malt.