The first Sunday of Advent is upon us! And there's an absolute treat behind today's door. The dram in question comes all the way from Vermont. It's… WhistlePig 10 Year Old!
Like rye whiskey? Then you should be well on board with today's dram! The team behind WhistlePig are absolutely obsessed with the grain. And with good reason. The lively, warming, complexity of rye has won the hearts and palates of many around the world. And today we get to revel in a 10-year-old expression!
WhistlePig is becoming increasingly familiar across the UK, but if it hasn't crossed your tasting glass yet, here's a 101. The team set up operations in 2010, 'rescuing', maturing, blending and bottling Canadian spirit as the distillery ramped up production and its own liquid came of age. The vision is for a total grain-to-glass operation, spanning Vermont-grown grain, local water, and even barrels made from forests nearby.
It's a bold mission, and here to tell us more about it is Christian Tirel, WhistlePig's UK steward of the brand!
Master of Malt: Tell us a bit about WhistlePig's history…
Christian Tirel: WhistlePig opened in 2010 on an old dairy farm in Shoreham, Vermont. It was the brainchild of our iconic distiller, Dave Pickerell, his search for the perfect rye, and his vision to bring ultra-premium craft rye to the forefront of American whiskey. 
MoM: Why rye whiskey?!
CT: While America may not have a monarchy, pre-Prohibition rye was pretty much both king and queen of America. It was this bleak time that caused the downfall of rye for bourbon. Although history and palates were changing, in more recent times there has been increased demand from bartenders to be reaching for the authentic recipes for the much-loved classics such as the Manhattan and Sazerac, which call for high-rye whiskies. Palates becoming more sophisticated and exploratory gave further momentum to the desire for a 100% rye offerings with hefty statements. This left a huge gap to be filled for an authentic 100% rye, 10-year minimum, 100-proof whiskies, and the legendary Dave Pickerell more than filled that gap with WhistlePig.
MoM: Why is grain-to-glass so important to you and the team?
CT: Being a 'zero generation' distillery, we have cut our teeth in the whiskey world predominantly through the revered art of blending and maturation. As with most distilleries, we have a goal to make a grain-to-glass whiskey, not only to showcase a truly exceptional standard of rye, but to begin our legacy here. Unlike many distilleries in the world, we have the luxury of having the water source, rye crops and the Rolls-Royce of wood on-site, Vermont oak.
MoM: WhistlePig 10 Year Old is the dram behind the door today! How has it been made?
CT: Our flagship whiskey came from a Holy Grail of Rye mission that Dave Pickerell set out on to find the perfect 100% rye pot-distilled whiskey that followed the stipulated rules of straight rye whiskey, in charred virgin oak barrels, too. He discovered this hoard of gold…coloured liquid in Canada. It is still sourced from there to this day. It is then brought to the pastoral WhistlePig Farm in Shoreham, Vermont, where it is further matured in new charred virgin American oak casks with every last drop being aged for a minimum of 10 years. The final and arguably most important step is the expert small-batch blending to achieve the signature WhistlePig 10 Year profile. 
MoM: Money and availability no object, what would be your dream Christmas dram?
CT: My Christmas dram? Simply BossHog V: The Spirit of Mauve. It was eloquently described by Dave Pickerell as "a tiny atomic apple pie bomb going off", and this could not be more true! It's got warm spice and rye on the tongue, with a mushroom cloud of baking spices that coat and warm the roof of the mouth, all the while there is a baked apple flavour radiating throughout. It's perfect for Christmas, decadent, warming and barrel-strength to help with the in-laws!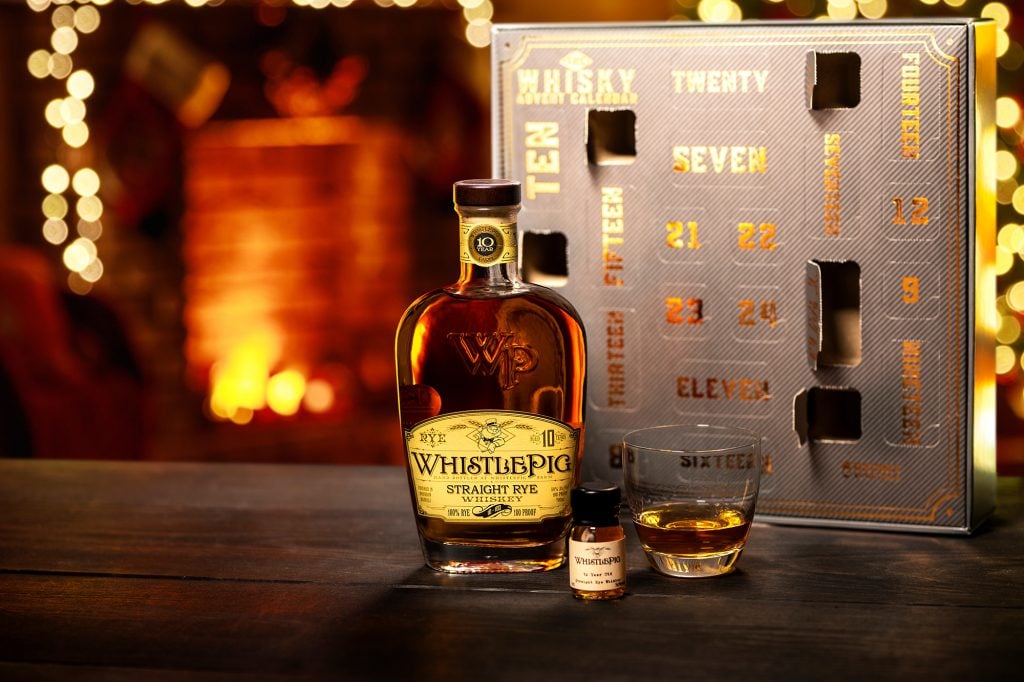 Whistlepig 10 Year Old Tasting Note:
Nose: Fresh peppermint and herbal thyme initially, with sweet vanilla and marzipan developing. Creamy butterscotch, raspberry jam and orange rind round it off.
Palate: Warm baking spices, nutmeg, cinnamon and allspice burst to life and are tempered by sweet muscovado sugar, bright oak and dark chocolate. Vanilla cola and caramel shortbread linger.
Finish: Medium-length, with warm rye spices, sweet malt and sour cherries.