Just three sleeps until Christmas! By this point you really should have got that shopping sorted, food procured, and drinks menu planned. So kick back with a dram of something delicious! And right on cue, here to chat us through today's Drinks by the Dram Whisky Advent Calendar tipple is Jura distillery manager, Graham Logan.
Ok, ok, that introduction may have been a tad optimistic. If, like many of us here at MoM Towers, you're still in the panic zone, fret not! We've got all kinds of last-minute gifts to sort you out (think, gift vouchers, Pour & Sip subscriptions… all is not lost!).
With that in hand, now you really can sit back with a dram! And today's whisky is a good one. It started life on the Isle of Jura, a picturesque island off Scotland's west coast, and was aged for a whopping 18 years! No guessing needed today, it's Isle of Jura 18 Year Old!
Time to find out more about this dreamy drop with Jura distillery manager, Graham Logan.
Master of Malt: Jura is a stunning island. Tell us about what makes it special for you…
Graham Logan: Many things make Jura for me. The first is my wife, who I met on my first foray to the pub 33 years ago after being on the island for 12 hours. Then there's the scenery, the wildlife, the remoteness, the community, my second job as a crofter (or a small farm) where I have two cows, eight sheep, and a goat, and my third job as a volunteer firefighter. If I hadn't been a distiller, I would have been a firefighter. Also, the distillery staff. Who make my job a dream job.
MoM: How does its remote setting impact whisky-making on Jura?
GL: Jura distillery brings everything in and out via two ferries. Malted barley, yeast, casks, spare parts, and boiler oil in; and sending out spirit, spent grains and filled casks. That means we have to keep a stock of everything required, and if ferries go off to bad weather we can keep going. It usually means all the cows on Jura are happy as they get free draff (spent grains).
MoM: How would you describe the Jura distillery character?
GL: Jura has really tall stills. The wash stills are 26ft 1in (7.95 metres), and the spirit stills are 25ft 4in (7.72m) tall with the Lyne arms slowly rising to the condensers. As they are so tall only the lightest spirit vapours reach the condenser, and as we have so much copper in the still neck, the copper helps with reflux (or redistillation). All the heavy vapours that don't get to the top of the still fall back down, and get re-distilled when they meet the new vapours that are rising. This makes your spirit strength slightly stronger and lighter in character with floral/cereal notes.
MoM: Jura 18 Year Old is today's dram! Can you tell us how it was made?
GL: As I have been at Jura for 29 years, I have very much had a hand in making this. I was a mash and still operator for 24 years! All Jura spirit is made the same way, and is filled into first-fill ex-bourbon casks, even the peated spirit which gives the 18 Year Old a subtle smoke finish. Then the spirit is finished in a premier cru classe red wine cask for 18-24 months. It's a beautiful dram with pear, marzipan, tropical fruits and baked apple on the nose, and vanilla, coffee, ginger syrup and black forest fruits to taste. A real Christmas winter warmer.
MoM: Money and availability no object, what would be your dream Christmas dram?
The distillery team had a tasting with Richard Paterson in the early 2000s and we were lucky enough to taste a 50-year-old Dalmore. If money was no object, it would definitely be anything of Dalmore over 50 years old. Sitting with a dram of that, next to an open roaring fire and watching the Queen's speech would be heaven.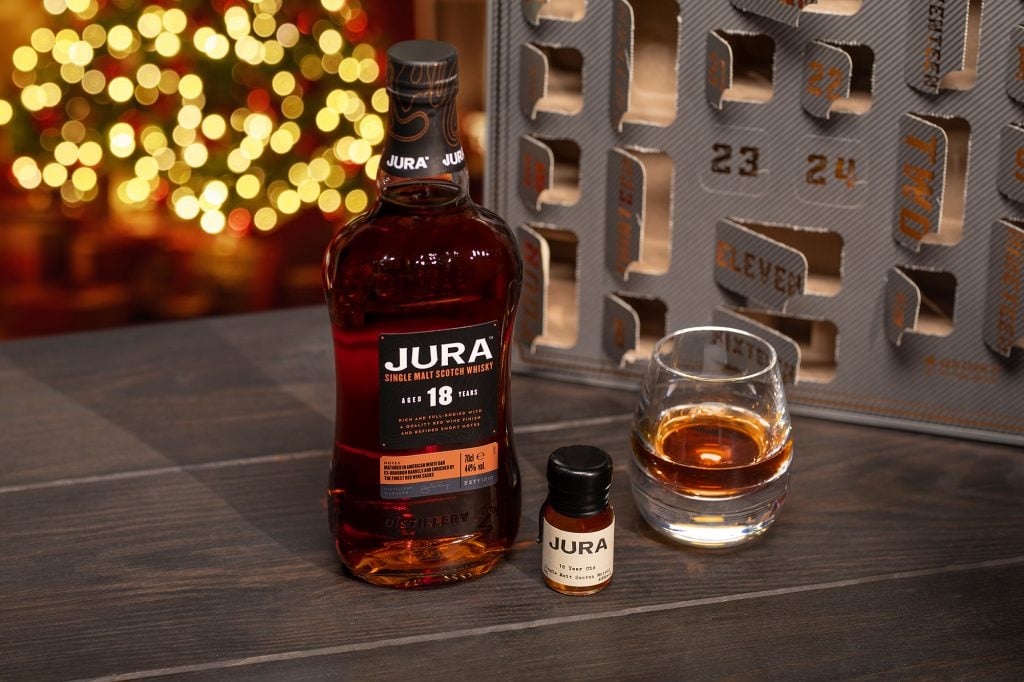 Isle of Jura 18 Year Old Tasting Note:
Nose: Cinnamon, dried berries, Wine Gums, hickory.
Palate: Brandied cherries, Turkish delight, milky coffee and blackcurrant jam.
Finish: Chocolate chip cookies, a touch of hay, orange oil.