Can you believe it?! It's the Monday before Christmas, and the festive spirit is REALLY kicking in. The whisky behind door 21 of Drinks by the Dram's Whisky Advent Calendar will particularly appeal to those partial to a cigar. Here to tell us more is Stephen Martin, Whyte & Mackay's global single malt whisky specialist!
Right. Christmas is almost here. Whatever the big day is going to look like for you this year, it's time to pause, sit down, and take a moment just for yourself. Yourself and a really rather tasty dram.
Today's number was blended with cigar lovers in mind, to complement their smoke of choice. But fear not! It's a delicious drop whether or not you're planning on sipping while lighting up. It hails from the iconic Dalmore distillery in the Scottish Highlands, and it was actually brought back due to popular demand after being discontinued in 2009. So you know it's got the backing of the masses! Today's dram is…
But that's enough from us. Here to tell us more about it is Stephen Martin, Whyte & Mackay's global single malt whisky specialist!
Master of Malt: The Dalmore is an iconic brand. What do you think sets the distillery apart?
Stephen Martin: Whisky is all about people and place and The Dalmore is such an amazing example of this. This is true from the Mackenzies, who arrived at the distillery in 1867 and introduced the Royal Stag to every bottle to remind us of their royal heritage dating back to 1263, right through to our current decorated master blender, Richard Paterson, who celebrated 50 years with us in September this year. We've always had a meticulous and innovative approach to making whisky and you need to have the right people in place to make this work.  
MoM: Lots of different cask maturations go on with Dalmore. What finishes work especially well with the spirit?
SM: The Dalmore matures exceptionally well in a number of different casks due to the body and weight of the new-make spirit. In particular, Matusalem sherry butts from Gonzalez Byass are incredible! These gems have held Matusalem sherry, a combination of oloroso and PX wines, for 30 years. A lot of the chocolate orange and sweet spice characteristics that we expect from The Dalmore come from these casks. Tawny port pipes from W&J Graham are a favourite of ours also!
MoM: Any whisky and food- or cigar-pairing tips? What should we look for?
SM: Absolutely! Sherry plays such an important role in our whiskies and I love pairing the Dalmore with Andalusian cuisine. A bottle of The Dalmore 15 alongside some Iberico, manzanilla olives and manchego Iniesta is a real crowd pleaser and a bit out of the ordinary! In terms of cigars, I'm really enjoying the Davidoff Winston Churchill Late Hour just now. Medium to full-bodied, this cigar contains tobacco that has been aged for six months in single malt whisky casks, so it works really well The Dalmore Cigar Malt. 
MoM: What about Cigar Malt means it pairs particularly well with cigars?
SM: Flavour and body for me! The Cigar Malt is profoundly influenced by Matusalem sherry and red wine barriques, so there's an abundance of deep, rich flavours that work well with the right cigar. The red wine barriques also contain a lot of tannins that contribute to a silky, velvety texture that dances with the cigar smoke on your palate as you draw. When you get the pairing just right there are not many better things in life!
MoM: What whisky will you be pairing with the Christmas festivities this year?
SM: Cheese is a big thing in my house at Christmas so I'll be pulling out a bottle of the Port Wood Reserve after dinner! Delicious with a strong cheddar, creamy brie or salty Lanarkshire blue! I'll also be making Christmas eggnog for the family with the Dalmore 12 Year Old, which works really well.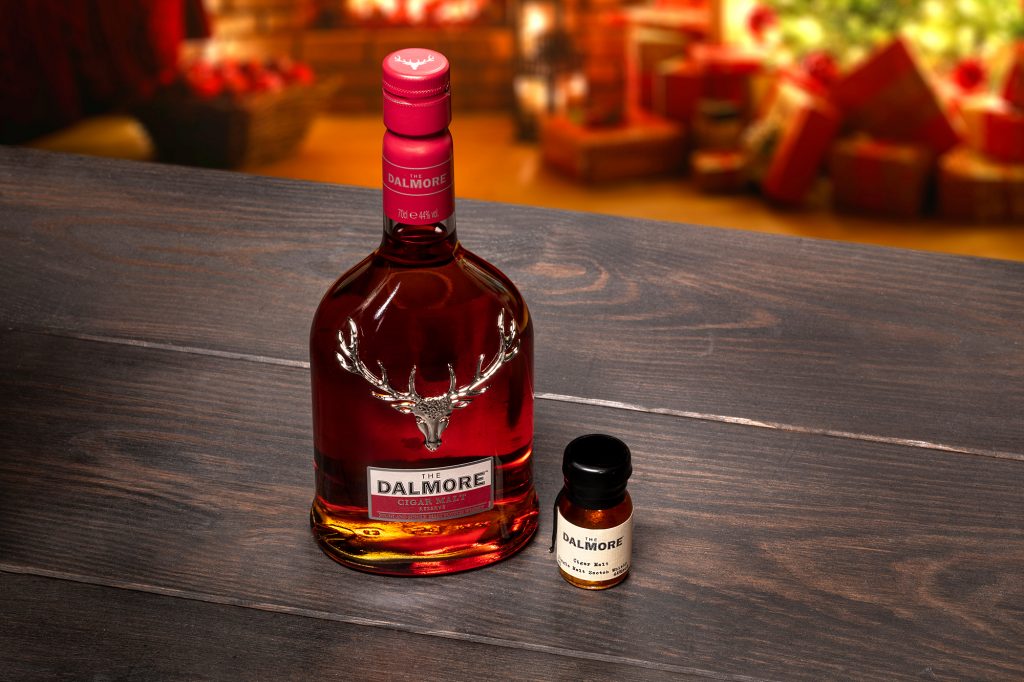 The Dalmore Cigar Malt Tasting Note:
Nose: Caramel, shortbread, biscuits, coffee and chocolates. Simple, clean and moreish.
Palate: Yet more toffee, caramel edging towards the burnt cinder-toffee side of things. Flamed orange-zest, and perfectly integrated sherry.
Finish: Reasonably simple, Christingles (orange Zest and clove with a touch of cinnamon), more mid-palate than palate-coating.
Overall: Definitely meets the criteria of pairing with a 'BIG' cigar.