With less than ten days to go until Christmas, it's time to open door 15 of the Drinks by the Dram Whisky Advent Calendar, and welcome John Campbell from Laphroaig onto the blog. Again. 
Right, getting a bit panicky now. There's still so much to do before the big day: presents to buy, food to order, and decorations to put up. What if we leave buying the tree too late and they've all gone? This nearly happened last year. The only tree left in all of East Kent was enormous, taking up about half the space in our dining room. It was like a very large relative had come to stay. We won't make that mistake again. Anyway, let's put all the Christmas stress to one side as it's time to open the 15th door of our advent calendar. What's inside?
It's Laphroaig Triple Wood!
This consists of the classic super peaty medicinal Laphroaig new make which then goes through a triple ageing process. Hence the name! First it is matured in bourbon barrels, then quarter casks before finishing off in European oak Oloroso sherry casks. To tell us more we have a man who is no stranger to this blog. In fact, he's probably a bit sick of us cos we keep asking him questions when he really wants to get on with his main job of managing the distillery. It could only be the laconic John Campbell!
Master of Malt: Can you tell us a bit about Laphroaig Triple Wood and how it is matured?
John Campbell: Laphroaig Triple Wood has a consecutive maturation profile whereby we get new spirit into fresh bourbon cask and mature for ages of 5-11 years. We decant the bourbon barrels and marry the liquid together and then fill into quarter casks and mature for 6-7 months. We then decant the quarter  casks and marry this liquid together and put into Oloroso sherry-seasoned hogsheads for two years. Then it's ready and so we decant the 7.5-13.5 year old liquid and marry before bottling.
Master of Malt: What makes Laphroaig so special as a distillery?
JC: The location on Islay and the process that we use at the distillery makes Laphroaig unique.
Master of Malt: How has the distillery adapted to the unusual events of this year?
JC: We have completed more online events to engage our consumers in 2020.
Master of Malt: What do you think the world of whisky is going to look like in 2021
JC: Hopefully get to see first-hand what it's looking like, I miss travelling. Virtual events will be here to stay short term.
Master of Malt: What will you be drinking over the festive period?
JC: I fancy cracking something special open at Christmas to savour the festive period. Maybe an older vintage of Laphroaig 25 year old or maybe a 30 Cairdeas. This year needs to end with something special.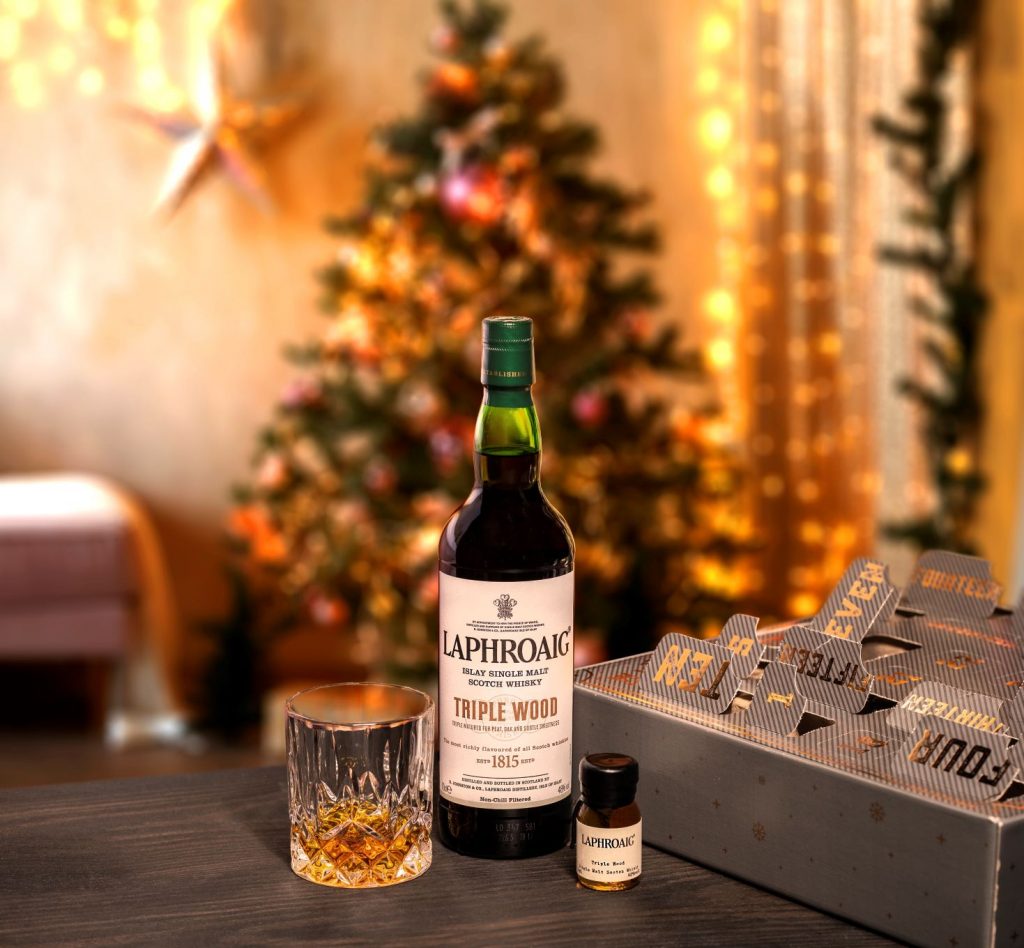 Tasting Note by The Chaps at Master of Malt
Nose: Molasses and oily toffee. Dates, walnuts, notes from the Maker's Mark barrels (vanilla, toastiness, sweetness etc). We got oodles of butter, zest, cool wood smoke, almond, and passion fruit.
Palate: Dry and medicinal, with exotic spices, perhaps even some turmeric. The palate is surprisingly savoury at first, with what John described as "dry dampness" (taste and it'll make sense!) – think musty wood sheds and hints of moist autumnal forest floor. The sherry notes are there too, but rather than being the big Christmas pudding flavour one often expects from Oloroso-aged whisky, we are instead treated to a much more restrained iced fruitcake, graced with hints of Laphroaig's classic smoke.
Finish: Oaked. The mustiness carries into the finish, which lasts for a good while, with oily spices and dried fruit.