It's the first Friday of Advent! Got that weekend feeling? You will once you discover the dram squirrelled away behind Door No.7 of Drinks by the Dram's Whisky Advent Calendar…
Much excite in these parts today. Not only is it Friday, but there's a right treat awaiting discovery in the Whisky Advent Calendar today.
But first! Some background. Scotch whisky cocktails are DELICIOUS. But historically (and this is an attitude that can linger in some circles today), single malts have been seen as 'too good' for mixing. What's that all about?! A great drink needs flavour, character and balance, and single malt Scotches tend to have that dream trio in the bucket-load.

In stepped the clever folks behind Monkey Shoulder to try and challenge some of those perceptions. Now. Monkey Shoulder is NOT a single malt. It is a blended malt comprising a bunch of Speyside single malts. The result is a vibrant, fruity whisky, bursting with marmalade, barley, butterscotch and honey notes, all enveloped in silky vanilla. And it makes a seriously delicious Old Fashioned. Mission: Accomplished.
Except then! Along came another brain wave. Why not try a peated Monkey Shoulder? Give it the same delicious, vivid character and divine mixability but with… smoke? Make it a bar exclusive and see what all those mega-talented bartender types can do with it? That's exactly what happened. And the resulting liquid is exactly what's in your Advent calendar today (or right here if you're reading along but are sans dram).
It's Smokey Monkey!
That's the rationale. But why hear it from us, when you can get all the deets straight from the horse's (monkey's?) mouth?! Here's John Wayte, Monkey Shoulder UK ambassador!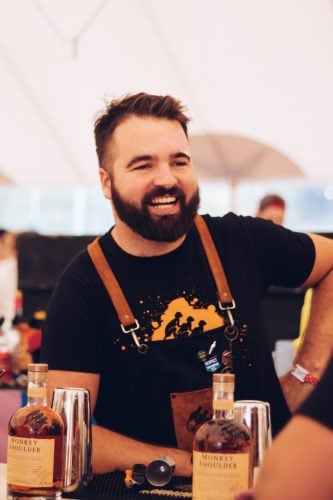 Monkey Shoulder's John Wayte!
MoM: Tell us a bit about Monkey Shoulder. What sets you apart?
John Wayte: Monkey Shoulder has been challenging perceptions of Scotch whisky since its introduction; it is after all a Scotch made for mixing. It's delicious neat but designed to bring Scotch into the world of cocktails! Smokey Monkey is the darker side of Monkey Shoulder, our peated variant – here to champion the smoky whiskies and give Monkey Shoulder fans a new experience.
MoM: Describe Smokey Monkey's signature character…
JW: Monkey Shoulder is what we all aspire to be, rich and well rounded. It combines fruity aromas and mellow vanilla notes, making it the perfect whisky for mixing. Just like its brother, Smokey Monkey benefits from the rich fruity flavours of the Speyside malts, but has a refined smoky influence coming through from our third malt which uses Highland peat. Flavours combine a mix of the mellow vanilla, spicy and citrus notes of our original liquid, overlaid by a delicate smokiness.
MoM: Give us some ideas/serving suggestions for how Smokey Monkey could be enjoyed…
JW: Drink it however you like it, in fact we encourage you to experiment! If you want a quick fix you can't go wrong by dropping Smokey in the bottom of a tall glass, filling it with lots of ice, some ginger ale and an orange wedge. A Smokey Ginger Monkey, yum!
MoM: What will you be drinking this Christmas?
JW: I imagine I'll be enjoying a whole range of cocktails, but more often than not I expect it'll be an Old Fashioned. Our Lazy Old Fashioned is the perfect solution for the influx of Christmas parties. It's simply 12 Old Fashioneds pre-batched in advance into the bottle, perfect to take along to your mates' house party, office party or even home for Christmas Eve! It gives you more time to focus on the mince pies!
What trends and developments do you think we'll see in the whisky industry in 2019?
JW: COCKTAILS! Year on year we see more bars and bartenders using Scotch in cocktails, breaking away from the 'traditional' cocktail spirits in favour of something more unique and exciting. Scotch has bags of flavour making it a super exciting spirit to mix with!
Enough theory, time to get on with the practical matter of tasting the thing. Smokey Monkey is here – let us know what you think in the comments below or @masterofmalt on social!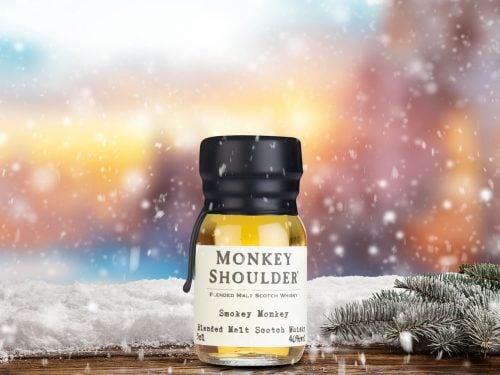 Peaty cocktails are GO with Smokey Monkey!
Nose:
All about that honeydew melon, flamed orange peel, and a touch of Frazzles. Smoke it pretty subtle here.
Palate: Vanilla sits at the core, with earthy notes bolstered by the peat running alongside it. Still enjoyably fruity with prominent marmalade notes.
Finish: Toffee Crisp bars and the last wafts of drying smoke. Fruity/confectionery/smoke all rolled into one.
Get mixing!