We're five days in to the Drinks by the Dram Whisky Advent Calendar, and it's high time we dig in to some well-sherried Scotch whisky…
As we all know, there's a lot of careful planning that goes in to planning Christmas, so much so that I personally try to portion out the thinking time throughout the whole of December so that it all doesn't have to happen on one day (usually Christmas Eve), causing a meltdown in my brain and meaning that I have to reboot it by eating an entire Jamaican Ginger Cake. Today, I'm thinking about post-Christmas-dinner drinks. What will folks want to drink after consuming frankly too much food? You want it to be aptly seasonal, sweet enough to counterbalance the savoury elements of all those Yorkshire puddings and cauliflower cheese (the two vital parts of a Christmas dinner, no matter what Jake Mountain tells you), and something just generally good. Well, the whisky behind window #5 of the Drinks by the Dram Whisky Advent Calendar may have made it an easy decision.
Today's dram in the Whisky Advent Calendar is… BenRiach 12 Year Old – Sherry Wood!
BenRiach 12 Year Old Sherry Wood originally began as an exclusive expression for the Taiwanese market, but soon enough the whole world got a taste of its deliciousness. In fact, the world got perhaps too much of a taste for this particular whisky, as it was discontinued about three years ago because of a sherry cask shortage. There's no 'look between the sofa cushions' for sherry casks full of whisky. The only thing to do is wait, which is exactly what they did until earlier this year when the sherried expression was released! BenRiach 12 Year Old Sherry Wood spends its maturation in sherry casks, and even gets a finishing period in yet more sherry casks, specifically Oloroso and Pedro Ximénez casks. There are no doubts about what they were aiming for with this one – full-on sherried intensity!
To find out a little more, we caught up with BenRiach's warehouse foreman Calum Purcell!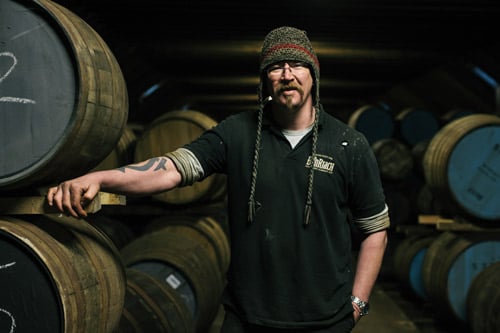 It's Calum Purcell!
Master of Malt: Tell us a bit about the brand? What sets it apart?
Calum Purcell: The BenRiach Distillery has developed a reputation for innovative cask maturation using an eclectic mix of cask types. As creative Speyside whisky distillers, BenRiach crafts unpeated, peated and triple distilled malt whisky and holds some of the most interesting casks in Speyside. The distillery is one of just two remaining in Speyside to distil some of its whisky using malted barley from its own onsite floor maltings, a time honoured method that is celebrated for one month each year and a must-see.
MoM: What's your favourite bit about working with the brand?
CP: Now celebrating its 120th year, BenRiach is steeped in history. We're fortunate enough to be in contact with former distillery workers from the 1960s onwards who have shared insightful, poignant and sometime funny stories about their time at BenRiach, as well as passed on their knowledge of whisky. To be able to learn from these men is a privilege and really helps inspire the team.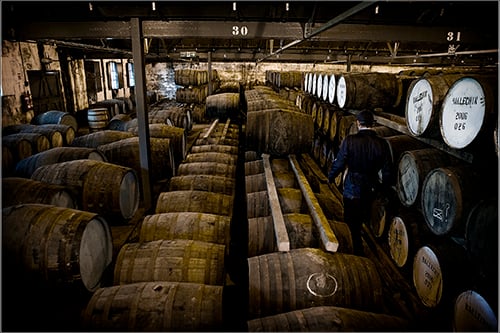 BenRiach's excellent warehouse
MoM: What's next for the brand?
CP: As I said, we are currently celebrating our 120th year, and have been enjoying events and whiskies throughout 2018. There's a lot of exciting things coming from the distillery, and Master Blender Rachel Barrie is lining up some exciting casks from our eclectic warehouses for release.
MoM: What do you love about your whisky in the calendar?
CP: BenRiach 12 Year Old Sherry Wood is a whisky I got to see in production several years ago for the Taiwanese market, so I'm very glad to see it part of the core range now. The whisky is a strong example of BenRiach's signature sweet, fruit-laden style and showcases the creative work undertaken by the whole team at BenRiach.
MoM: What will you be drinking this Christmas?
CP: I'll be drinking BenRiach Cask Strength Batch 1 Peated this Christmas as it's a great peated malt for a winter warmer, as the name suggests, and appropriate for a Hogmanay drink. I'm also a big beer fan, so will definitely be enjoying a few beers over the festive season.
Many thanks to Calum Purcell for taking the time to have a chat with us. Now then, who wants to dig in to this brilliant BenRiach dram?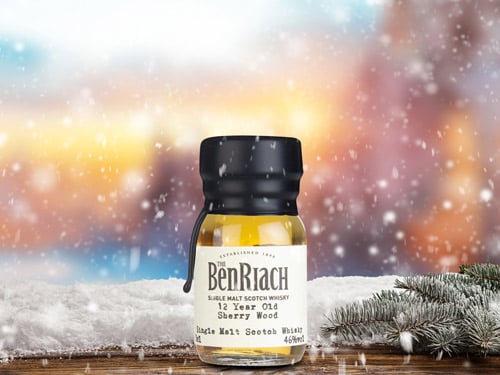 Nose: Cooked apple drizzled in crème de cassis, brown sugar and zesty orange.
Palate: Fig, blackcurrant jam, apricot, slowly building Christmas spice and continued vanilla.
Finish: Soft ginger root spiciness.