Behind the fourth window of the Drinks by the Dram Whisky Advent Calendar, you'll find something fantastic from our French friends…
It's a very exciting time to be an enthusiast of whisky right now. Delicious expressions from all around the globe are popping up and becoming more accessible to whisky fans, allowing you to explore the flavours of the world right from your favourite chair at home. It's also an exciting time for whisky lovers because it's a day in December leading up to Christmas, meaning it's time to open another window of the Drinks by the Dram Whisky Advent Calendar. As luck would have it, the dram behind window #4 is from a country not well-known for its whisky – almost as if that preamble was well-planned and not simply an off-the-cuff exclamation of appreciation for the world's current whisky situation…
Anyway, enough talk of self-aware preambles. The whisky behind window #4 is… Brenne Cuvée Spéciale French Single Malt Whisky!
Brenne's story begins with Allison Parc, the brand's founder. Her love of food and drink from far-off lands spurred her on to visit the distilleries, wineries and other places that end in "-eries" where marvellous things are produced. Upon discovery that many of these tasty treats simply weren't available at home in New York, she did the only sensible action and started an import/export company to bring them stateside. This would lead Parc to meeting a third-generation Cognac producer that had been making his own French single malt whisky and ageing it in French Limousin oak barrels. The pair teamed up to create Brenne, which would be released in the US in October 2012. In the following years, this French single malt would start popping up in more countries – and now it's in the Whisky Advent Calendar!
We were lucky enough to ask Allison Parc a few quick questions to find out more about Brenne…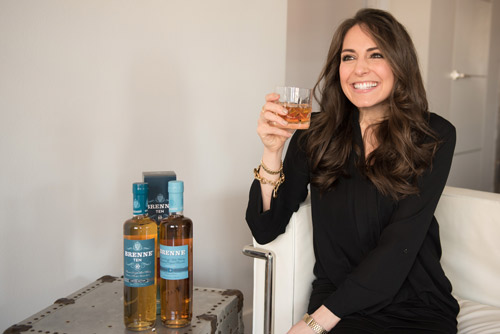 It's Allison Parc!
Master of Malt: Tell us a bit about the brand? What sets it apart?
Allison Parc: Everything about Brenne is unique! Brenne Estate Cask, our flagship expression, is the first single malt in the world to be aged exclusively in new French limousine oak and cognac casks. My interest in terroir and the whisky category led me to create something new in France, a country known for its food and drink. Brenne's foundation is made up of organic heirloom grains grown in the fields and vineyards surrounding our Cognac distillery. Aging local ingredients in a mix of new and used casks is what gives Brenne its one-of-a-kind fruity, floral, and creamy taste. Brenne is not meant to be a replica of Scotch – it's a completely new style of French single malt whisky in the constantly-growing world whisky category.
MoM: What's your favorite bit about working with the brand?
AP: That's an easy one – the best part of owning and being the face of Brenne is that I get to share it with others, including category newcomers and seasoned whisky drinkers alike. It's truly gratifying hearing stories from people all over the world about their first experience with Brenne. It's a reminder that the brand is bigger than me – drinking whisky is all about shared joy.
MoM: What's next for the brand?
AP: My dream is to help grow the French whisky category so that it enjoys the same success and awareness level that Japanese whisky sees today. For Brenne specifically, we will continue to increase distribution and accelerate growth internationally. We've already seen an amazing jump in numbers through our partnership with distributor groups like Breakthru Beverage in the US, La Maison du Whisky in France, and Maverick in the UK.
MoM: What do you love about your whisky being in the advent calendar?
AP: All of it! I remember when these first came out and I thought, "I wonder if Brenne will be in it one day… what would that be like?" And let me tell you, there's a lot of happy dancing happening! I love that through this program, Master of Malt is bringing a wide variety of whisky into people's homes for them to try, experiment, and experience beyond their own comfort zones at a low commitment level. That's what this calendar is to me: a discovery! And I hope people happily discover and fall in love with our little French Single Malt!
MoM: What will you be drinking this Christmas?
AP: No surprise I bring Brenne to all our family gatherings and through the years, it's become a tradition to enjoy Brenne Old Fashioneds as dinner is cooking! This Christmas, I'll be whipping up a batch of the Ginger Brenne House cocktail (2oz Brenne, 1.5oz Ginger Liquor, 1oz fresh squeezed lemon juice, shaken or stirred with ice & served up). The ginger and Brenne warm you up inside, while the lemon adds enough brightness to put anyone in a celebratory mood.
Thank you very much to Allison Parc for taking the time to chat with us about all things Brenne. How about we take a look at that dram of Brenne Cuvée Spéciale you've discovered in the Whisky Advent Calendar, eh?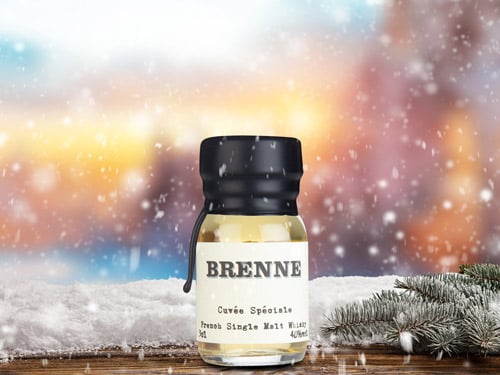 Nose: Vanilla flowers arrive on the nose first, paired with pear drops and dried mango.
Palate: Brandied cherry and red rope liquorice. More vanilla, a hint of cinnamon spiciness and Nutella.
Finish: Chocolate raisins, pineapple and coconut ice.