Christmas Eve has arrived! We're ready to crack open the final window of the Whisky Advent Calendar, and it seems Drinks by the Dram has gone big for this one. Very big. XL, you could say…
This is it, folks. Christmas Eve has finally arrived! Perhaps you're completely prepared and frankly you're just eager for Christmas to occur so you can reap the benefits of being punctual with your roast potato plan like a squirrel that has stockpiled the tastiest seeds, nuts and half-inched crisps right before hibernation. Maybe that's the complete opposite of your situation and you're glancing at this blog while on the bus to the shops to try and buy a Christmas present for every friend and family member in under an hour (colloquially known as the Jake Mountain approach here at MoM Towers). Either way, the anticipation of Christmas Day is at its peak, so it would take a very special whisky to appropriately complement these heightened levels of excitement. Luckily, a whisky which fits that description sits right behind window #24 of Drinks by the Dram's Whisky Advent Calendar.
The last dram waiting to spring out of the Whisky Advent Calendar for 2018 is… The XL Blend!
The XL Blend is the newest release from The Blended Whisky Company, who you may remember being the people who made The Lost Distilleries Blend – the very first dram in the Advent Calendar. This new expression is built around whiskies aged for at least 40 years, as referenced by the name (XL means 40 in Roman numerals). However, it also references the particularly big flavour profile of whiskies within…
As The XL Blend is the second dram from The Blended Whisky Company in the Whisky Advent Calendar, we had the pleasure of asking a few more questions to Atom Brands' head of whisky, Sam Simmons!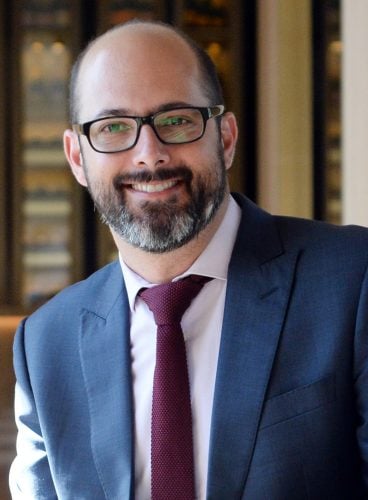 It's Sam Simmons! Again!
Master of Malt: The XL Blend is brand new – how did this one come about?
Sam Simmons: We are blessed with a healthy inventory of ancient malts and grains, and in this case it all just fell into place. It started when we got our hands on two parcels of absolutely stunning 44 year old grain whisky from two distilleries. My colleague Toby then secured a blended malt from 1973 that, to our noses, had all the brightness body to round off the creamy old grains and was just begging to be married. We tested this and were blown away. We then topped it off with a well known and loved 1975 Speyside single malt from a sherry hogshead and voila!
MoM: What do you love about this whisky in the calendar?
SS: I am a big blended Scotch whisky fan and have heard one thing repeated many times that creating this blend made me question and that is with regards to "malt content", how much malt whisky is in a blend, and that correlation to quality. In this case, it ended up being 65% malt, but I have to say that when working on this and other blends, I learned an important lesson about how to balance grain and malt, leaving room for illumination. The ingredients in a blend must complement and enhance one another, and without grain in high proportions the conversation can get very crowded. Grain is not neutral, it is the orchestrated lighting of the photoshoot that makes the models look just right. And you have to leave room, cracks even. It's how the light gets in, to paraphrase Leonard Cohen.
MoM: Any hints as to where the whiskies came from/what casks were used for the XL Blend?
SS: Already gave that away! The Scotch Whisky Association regulations allow only one number referring to age to be present on a bottle and my colleague Adam had a great solution to this suggesting the use of "XL". Although the XL is Roman numeral "40", it works to indicate the minimum age of the whiskies within but hopefully also indicates that they are all EXTRA LARGE, ie. over 40 years of age.
The label features the phrase "XL-ent", not once but twice. Honestly, how does that make you feel?
SS: Embarrassed and proud in equal measure.
Is Die Hard a Christmas movie?
SS: Oh, this old nugget. Why, 'cause it takes place at a Christmas party (on Christmas eve!?!)? Is the Beach Boys' "God Only Knows" a Christmas song because Wrecking Crew drummer Hal Blaine used sleigh bells? Oh crap, wait… It was featured in Love Actually and is now forever tied to Christmas. Oh well. Then YES. It ain't Christmas until I see Hans Gruber falling from Nakatomi plaza!
A second big thank you to Sam Simmons for taking the time to chat with us, book-ending this year's series of Advent calendar-based blogs. Now, we come to the point where we open up the final dram, like we're all in one of those families that let you open a present the night of Christmas Eve…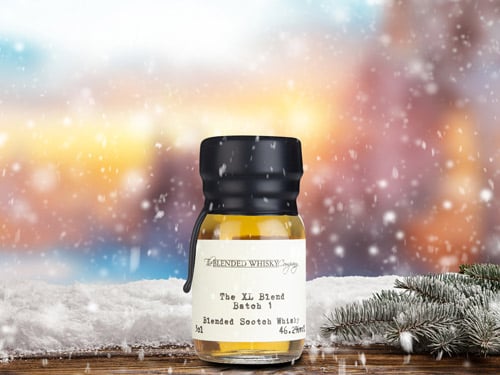 The XL Blend
Nose: A gentle and complex nose begins with green apples, medium-cut marmalade and peach and raspberry cobbler. Earthy vanilla pod, thick white bloomer bread and fragrant smoke develop among a little dusty oak and damp old library books. Spiced honey and dark berry fruits emerge with time.
Palate: Viscous, yet delicate, the palate is filled a litany of jammy black fruits, heathery smoke, caramel and oily nuttiness. Rose water adds a floral dimension before a darker, earthier depth reveals dried fruit, bitter chocolate, liquefied liquorice and subtle woody tannins.
Finish: Drying and bittersweet with sugary espresso, tart blackberries and aromatic nutmeg.