We've arrived at the penultimate dram of Drinks by the Dram's Whisky Advent Calendar. But there is no need to be sad. An epic Islay tipple awaits…
It's easy when we think of Scotch whisky from Islay, to picture a certain style of tipple. One with provenance, personality – and plenty of peat. But distilleries such as Bunnahabhain have demonstrated that you can create some stunning spirits without the smoke. Want an example? Well, that's handy. Because there's one behind door #23 of your Advent calendar.
It's Bunnahabhain Stiùireadair!
Stiùireadair (it's pronounced 'stew-rahdur' – you're welcome) means 'helmsman' in Scots Gaelic, which is handy as this bottling was produced to pay homage to the Bunnahabhain Helmsman, who you'll see on every label. It's flavour is down to its maturation process. Both bourbon and sherry casks play their part. Then there's the warehouse locations where it was stored, which help capture that crucial coastal nature. But that's enough from us. Why not listen to Stephen Woodcock, facilities manager at Bunnahabhain as well as sister distilleries Tobermory and Deanston? He's helped us shed some light on today's dram and distillery.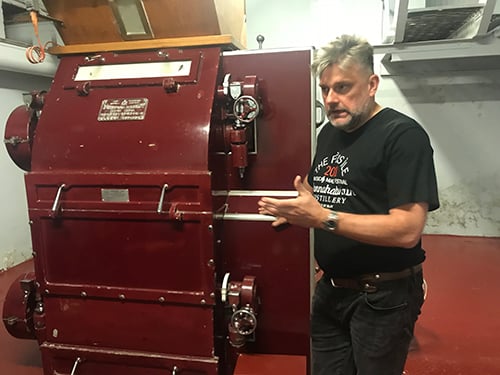 Stephen and Bunnahabhain's epically robust Porteus mill
Master of Malt: Describe the flavour of Bunnahabhain Stiùireadair. What casks have you used in its maturation?
Stephen Woodcock: The secret to Bunnahabhain Stiùireadair is taking the new make spirit with its fruity/cereally character and splitting between bourbon and sherry casks before they are laid to sleep in one of our warehouses on-site where they will slowly mature before being married together when reawakened. The bourbon enhances the sweetness of the fruit with sherry underpinning and enhancing the nutty characteristics of the new make spirit leading to a truly memorable experience on the palate.
MoM: Tell us a bit about Bunnahabhain. What sets you apart?
SW: In terms of Islay's illustrious distilling history Bunnahabhain could perhaps be described as a new kid on the block. However what sets it apart is the pure, clean untainted water that we use to craft our new make spirit and this rises from the Margadale Spring. This means that there is no peated influence in the water whatsoever and sets Bunnahabhain apart in terms of its unpeated expressions… such as Bunnahabhain Stiùireadair.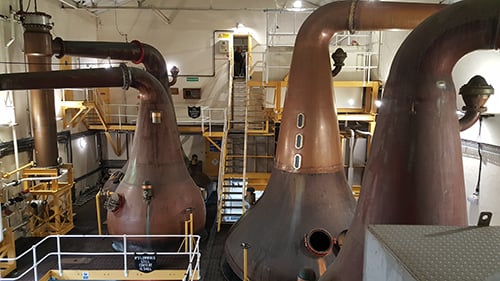 The Bunnahabhain stillhouse
MoM: Do you have any quirky stories, myths or legends about your distillery's history?
SW: Bunnahabhain's famous pier stems for the time when there was no road into the distillery – as a matter of fact there wasn't a proper road into the distillery until the 1960s. Until then, all the raw materials in and goods out came by boat, utilising the now iconic pier. This did mean that the community of Bunnahabhain grew up around the distillery with its own village hall, school and even its very own post office… not many, if any, Islay distilleries can lay claim to that.
MoM: What trends or developments do you think we'll see in the whisky industry in 2019?
SW: My personal take would be to see more no-age stated expressions coming through with cask finishes that take whisky beyond the traditional boundaries and expectations of the consumer, and in doing so hopefully bring the good word of uisge beatha to a wider audience.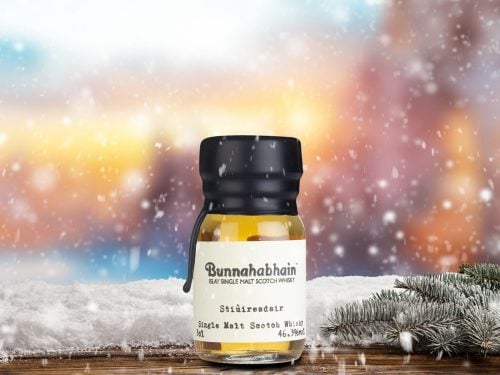 Bunnahabhain Stiùireadair
Thanks to Stephen Woodcock for taking the time to speak with us. Now, let's all enjoy a dram of Bunnahabhain Stiùireadair!
Nose: Through fresh sea air there's toasted brown sugar, sherried peels and vanilla. A littlebrine is present throughout.
Palate: Honey-roasted nuts, caramel-drizzled raisins and prickling spice from cinnamon and clove.
Finish: More dried fruit and chilli-chocolate linger.