Christmas is almost here, which means our Drinks by the Dram Whisky Advent Calendar countdown is coming to a close. Only something truly delicious will distract us from this sorrow. Luckily we've got just that behind window #22!
Last summer (NOT the boiling 2018 one, the one before, when we could actually comprehend something other than the weather) the talk of the whisky town for a good few weeks was the arrival of peated Balvenie! We got incredibly excited, and you can read all the full deets in this blog post right here. But to provide a brief overview, The Balvenie had been distilling wash made from barley peated to 30PPM (parts-per-mission) for one week a year. And Peat Week 14 Year Old was the result!
It marked something of a departure for the classic Speyside distillery known for its honey vanilla sweetness. But don't be alarmed. The point of Balvenie Peat Week isn't to pack a full-on smoke punch. For starters, it's not made with that distinct Islay peat, so there's less iodine and more earth. Plus, by the time the whisky comes out the bottle it tastes more in the region of 5PPM. The Balvenie Character is still there.

Which is handy, as today's dram is the 2003 vintage of Peat Week Aged 14 Year Old!
Balvenie Peat Week in all its glory
And here to tell us ALL the details about the distillery behind the dram is Alwynne Gwilt, The Balvenie UK ambassador.
Master of Malt: Tell us a bit about The Balvenie. What sets you apart?
Alwynne Gwilt: The Balvenie is a single malt whisky made right in the heart of Speyside. Our distillery, which is still family-owned, stands out for the fact we still malt barley on site on our floor malts, have a full size cooperage where all of our casks are taken care of, and store our whisky on site. Separate to this, our malt master David Stewart MBE is a hugely respected figure in the world of whisky, having worked with us for an astounding 56 years. We focus a huge amount on craftsmanship, on the fact that it takes people to make a beautiful product. If you come visit the distillery, you will see that straight away – there are so many people working at distillery day in and day out, many of whom have decades of experience, all of whom put love into the beautiful spirit they are making.
MoM: Describe your whisky's signature character…
AG: The Balvenie has a wonderful honeyed note to it, which runs through all the whiskies. It's got a fuller body and is rich and mouth coating. It's fairly sweet, but always balanced, and is an excellent whisky for people just getting into the category, or for those who want an expertly made, classic single malt.
MoM: Give us some ideas or serving suggestions for how The Balvenie could be enjoyed…
AG: The Balvenie is, of course, great on its own, but I always recommend people experiment with it. The Caribbean Cask 14, which is finished in rum casks, is excellent topped up with soda and served in a highball glass. The DoubleWood 17 pairs beautifully with chocolate, while the PortWood 21 is decadent, elegant and stunning on its own. Our DoubleWood 12 year old is celebrating 25 years on the market this year, and it has remained on shelves for a reason: it is a fantastic dram. Perfect on its own, with a cube of ice, or in a stirred down drink like a Rob Roy.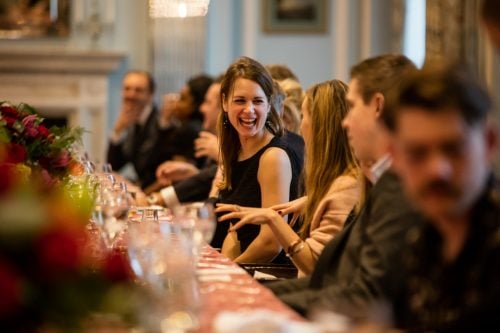 Alwynne in action!
MoM: What will you be drinking this Christmas?
AG: That's a tricky one! I've definitely saved up a couple of interesting bottles of wine from my travels to places like Tenerife, South Africa and Alsace which will be enjoyed with Christmas dinner. I will definitely be having a dram or two before and after the meal – possibly The Balvenie Single Barrel 15, our single cask release which is matured in a European oak ex-oloroso sherry cask; it's rich, warming and perfect for cold nights!
What trends and developments do you think we'll see in the whisky industry in 2019?
AG: I think we will continue to see companies investigating the world of cocktails – I'm seeing more Scotch cocktails in high end bars, alongside lower sugar drinks. A whisky highball is a perfect example of a lower sugar drink that I am a big fan of. I'll be interested to see which of the new distilleries in Scotland, England and Ireland begin to release products as more and more will be coming online in the next 1-2 years.
Well, that's quite The Balvenie back story! Time to enjoy Peat Week 14 Year Old 2003 Vintage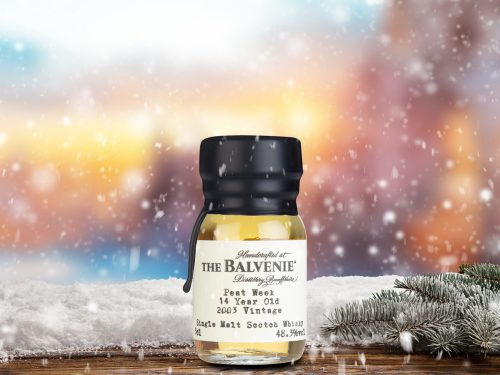 Going smoky – it's The Balvenie Peat Week!
Nose: Toasted oak with a hint of heather, stroopwafel and coffee, flamed orange peel and dry cedar.
Palate: Butterscotch, roasted apricot, a light touch of floral malt, grows enjoyably spicy as it develops.
Finish: Earthy peat lingers alongside runny honey notes.