A delightful New World whisky awaits those who are about to open window #2 of their Drinks by the Dram Whisky Advent Calendar…
We hope you all had a wonderful first day of Advent, and indeed December, yesterday. Some people will have helped themselves to a square of chocolate, others to a beauty product or toy (Lego, if you're lucky). But I'm sure most people reading kicked off yesterday with a bang thanks to the delicious surprise (don't click if you don't want spoilers – you've been warned) waiting in your Drinks by the Dram Whisky Advent Calendar. Now you'll get to experience that joy all over again as we open the second window! What tasty treat is waiting behind window #2? Well…
It's Starward New World Malt Whisky!
Yes, it's the first-ever whisky from the Starward brand, which was launched in 2013. Starward New World Malt Whisky was crafted to champion its 'New World' provenance, with 100% Australian malted barley. The distilled Starward new-make whisky was then matured in Apera casks (you may know it as Australian sherry) which were individually selected and re-coopered to account for the highly variable climate in Melbourne. Starward has received widespread international accolades for its New World Malt Whisky since its release, so it must be doing something right. At the World Whisky Awards alone it has received Gold Medals for the Best Australian Single Malt category and the Category Winner prize for Wine Cask Edition!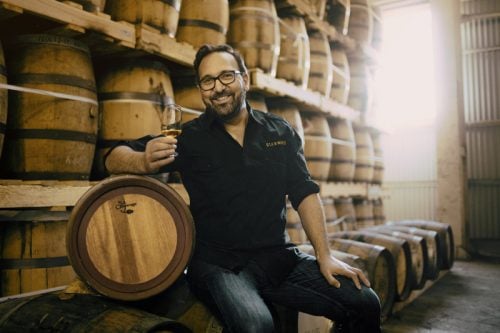 David Vitale, founder of Starward whisky
We caught up with David Vitale, founder and maker of Starward whisky, to find out a bit more about this wonderful Australian whisky.
Master of Malt: Tell us a bit about Starward. What sets you apart?
David Vitale: We started off with a simple vision; create a uniquely Australian whisky we can offer the world with pride. Born and bred in Melbourne, we were inspired to create a spirit that reflects our home town – from its culture to its famed 'four seasons in a day' temperature swings. It is a city surrounded by some of Australia's leading wine regions – all within a day's drive and is regarded as the microbrewing capital of Australia. It seems obvious now that all the ingredients for a modern Australian whisky were close by, but in 2007, when we first started, the idea of an approachable, affordable Australian whisky – served neat or as a cocktail with food – was a big leap of faith. While Australia had a well-established small-scale ultra-premium whisky scene, we pioneered an affordable, approachable and distinctly Australian whisky exclusively matured in Australian wine barrels. The result is Starward. A modern Australian whisky, elementally matured for three "Melbourne years", that pushes the boundaries of what whisky can be.
MoM: Describe your whisky's signature character…
DV: Starward New World Malt Whisky is an approachable, fruit driven, distinctly Australian single malt whisky. Our ingredients are a day's drive away from the distillery – very few distilleries in the world have the benefit of wine barrels and grain located so locally. This is why we often speak of Starward being more Australian than Scotch is Scottish. We combine old-world tradition with new-world methods and attitude, to create an approachable whisky for the sharing cabinet, something we can share with friends all the time.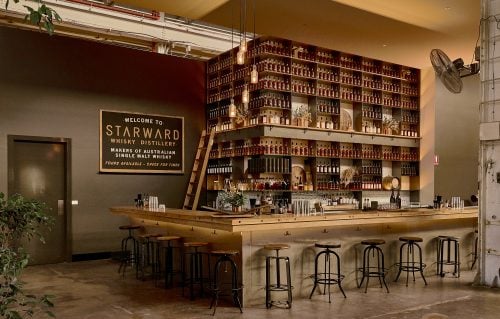 The beautiful Starward Distillery in Melbourne
MoM: Describe the flavour of Starward New World Malt Whisky. What casks have you used in its maturation?
DV: On the nose we'd describe it has having aromas of ripe orchard fruits, pear, banana, apple, raisin and dried fig, balanced with notes of caramel, vanilla and marzipan. On the palate there's rich, toasty caramel and crème brûlée meet fruit, pepper, sandalwood and nutmeg. There's a full, sweet and juicy mouthfeel that compliments a spicy, dry finish.
Produced using 100% Australian malted barley, Starward New World Malt Whisky is fully matured in Apera casks (formerly known as Australian sherry). These casks are individually selected and re-coopered to take advantage of Melbourne's highly variable climate. There's a portfolio approach to cask inventory, where different sizes are filled and disgorged systematically. This Solera approach means that every Apera barrel we have ever filled is in each individual glass of Starward New World Malt Whisky.
MoM: Give us some ideas/serving suggestions for how Starward New World Malt Whisky could be enjoyed…
DV: Starward New World Malt Whisky makes a delicious Old Fashioned – we use orange and chocolate bitters in ours at the distillery bar. An easy drinking serve is our Solera highball, Starward New World Malt Whisky topped with ginger ale and for something a bit different top up a generous measure of Starward New World Malt Whisky with apple juice and top with soda – delicious.
MoM: What's next for Starward?
DV: We're very excited to be launching into the US market – something we have been planning for a long time. Product-wise we will be focussing more on Australian red wine barrels. We have also just launched our (New) Old Fashioned bottled cocktail which is a limited edition run. Anyone following us on social media may have seen our latest expression, Two-Fold, which has just been launched in Australia. Two-Fold is a double grain whisky, a union of Australia's two most quintessential grains, wheat and malted barley, and entirely matured in our signature Australian red wine barrels. Only available in Australia at the moment, it will be coming to the UK some time in 2019, so watch this space!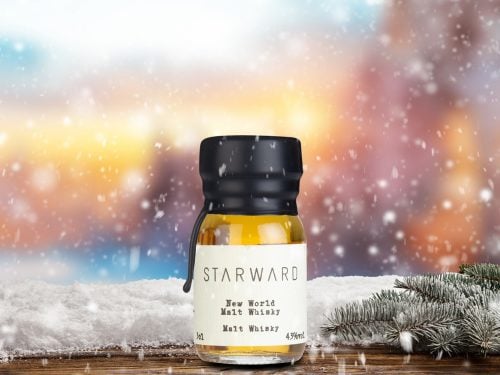 Starward New World Malt Whisky
Thank you very much to David Vitale for speaking to us. The only thing left do is crack open this dram of Starward New World Malt Whisky and taste what's inside!
Nose: Sherry-forward and sweet, with prune juice and seedless raisins. Rich caramel, toasted almonds and a little marzipan linger underneath.
Palate: Through toasted oak comes jammy fruit compote, think damsons, black currants and dried figs. In the backdrop there's creme brulee, milky coffee and winter spice.
Finish: Milk chocolate and sawdust linger.