It's the first of December – time to tear open window #1 of the Drinks by the Dram Whisky Advent Calendar!
Good news everyone! December has made its grand arrival, and this can only mean one thing. No, not that the Christmas issue of Combat Tractor Magazine will be arriving on my doorstep imminently (though that is true, and very exciting). It means that we can open the first window of Drinks by the Dram's Whisky Advent Calendar! It has a tradition among many whisky lovers around the globe, and it's most certainly a thing here at MoM Towers. What lip-smacking dram is hiding behind window #1? Well…
It's The Lost Distilleries Blend from The Blended Whisky Company!
The Blended Whisky Company is kicking off the Whisky Advent festivities with the whisky that launched its range back in 2012. The Lost Distilleries Blend is comprised exclusively with whiskies from distilleries that have been lost to the ravages of time, including legends like Port Ellen, Brora, Caperdonich and more. The recipe changes with each batch, though the core idea remains the same – give whisky enthusiasts a taste of something rare and extraordinary. The Blended Whisky Company has clearly succeeded in doing so, judging by the awards that The Lost Distilleries Blend has picked up over the years, including a Master medal at The Scotch Whisky Masters, a Gold Outstanding at the International Wine & Spirit Competition and the title of World's Best Blended Whisky at the World Whiskies Awards!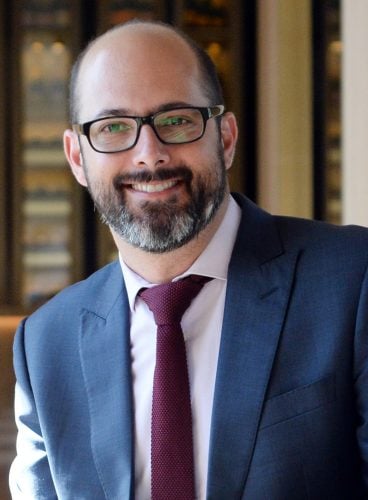 It's Sam Simmons!
We caught up with Sam Simmons, head of whisky at Atom Brands (The Blended Whisky Company's owner), to find out a bit more about this brilliant blend.
MoM: Tell us a bit about the brand? What sets it apart?
Sam Simmons: The idea of "lost distilleries" in whiskydom is just plain sexy isn't it? There are around 130 whisky distilleries operating in Scotland today, some that were closed in the 1980s are re-opening and many new ones are being built. Sadly, many that were closed remain closed and lost forever. The Lost Distilleries blend celebrates the legacies of those distilleries in a marriage of very old grains and malts that can never be repeated. I'm a total nerd but I think that is super cool.
MoM: What's your favourite bit about working with the brand?
SS: Let's be honest, there is probably a good reason these distilleries were closed (energy efficiency, transport issues, water supply) but it is also clear that whatever the reasons, no one really knew how these liquids would taste after decades of maturation… they never left them that long! I get to taste the good the bad and the ugly and do my best to make them better in the company of complementary grains and malts. I feel very fortunate.
MoM: What's next for the brand?
SS: An existential question in this case… Of the many spirits we find from these closed distilleries, do they remain "lost" if companies announce they are re-opening them? This and our next few batches will be the best blends we can create, throwing in all the most precious gold dust drops we can, while we can. We need to re-evaluate the meaning of "lost" in a way that we and our drinkers are comfortable and if I am honest, I hope the list of closed distilleries never gets any new additions and there is a day when there is no supply for Lost Distilleries blend.
MoM: What do you love about your whisky in the calendar?
SS: Ha… well being first; quite the benchmark to set!
MoM: What will you be drinking this Christmas?
SS: Amontillado Sherry and aquavit (Norwegian, of course).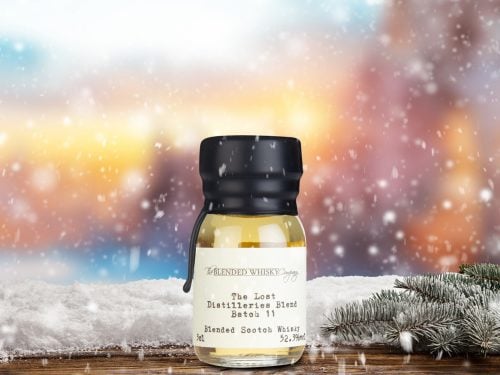 The Lost Distilleries Blend Batch 11
Thank you very much to Sam Simmons for taking the time to chat. Now, let us crack open this dram of The Lost Distilleries Blend and get to the tasting!
Nose: A tremendous, balanced, subtly smoky nose with notes of custard, pastries, fragrant barley, fruit salad and tobacco leaf. Complex and inviting.
Palate: Barley notes weave in and out of touches of chocolate, candied ginger, dried apricot and peat smoke. Wonderfully rounded with flamed orange peel and a little kiwi late on.
Finish: Well-toasted teacake with sultanas, lingering marzipan and hints of espresso.