Well folks, we made it. Christmas Eve. The final day of #WhiskyAdvent. The end of 2017's Drinks by the Dram Whisky Advent Calendar. But the proceedings go out on a high – so it's not all bad!
If you're the observant sort, you may have noticed that it's Christmas tomorrow.
This very exciting prospect is, however, somewhat bittersweet. It means we're onto our last day of Drinks by the Dram's #WhiskyAdvent for another year. It's been some ride though, hasn't it?
So we find ourselves at the final window, number 24. We're delighted to report that #WhiskyAdvent is finishing as strongly as it started t(remember that dram of Glenfarclas 25 Year Old?! That now seems so long ago…).
Give me your final drum roll people, as we unveil the final #WhiskyAdvent dram of 2017… It's The Half-Century Blend!
From the The Blended Whisky Company, this dram is exclusively made up of whiskies aged for at least 50 years, and makes for a very special expression indeed.
Have a truly Merry Christmas and Happy New Year from all of us here at Master of Malt! (No, I'm not crying, I have 50 year old dram in my eye…)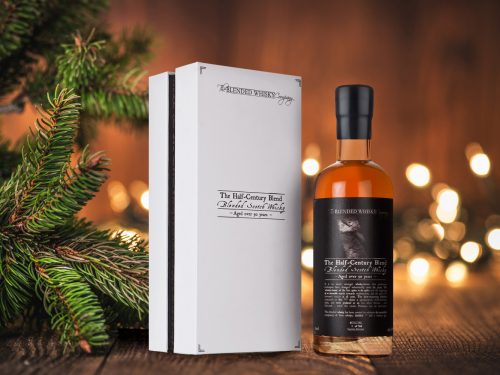 50 years of deliciousness in one dram!
Tasting note for The Half-Century Blend
Nose: Aromas of rosy apple hard boiled sweets and pear drops blend with roasting chestnuts and varnished oak. Notes of musty leather and a touch of warm gingerbread make for a refined nose. It's well worth spending some time here.
Palate: A sumptuous, elegant palate moves forward with soft, red apples and buttery Cherry Bakewell notes, and there's a suggestion of pink grapefruit in the backdrop. It then becomes more complex, developing with vanilla, rye spices and toasted oak. Notes of melting brown sugar and warm flickers of cigar ash add genuine depth.
Finish: Warm, incredibly smooth, and ever so slightly dry. The finish reflects the nose and palate, revealing the character of a beautifully delicate dram of incredible sophistication and poise.
Overall: The maturity of this blend is astonishing; no flavours ever compete, dominate or distract. Everything works in sheer harmony.
This isn't just the last day of the #WhiskyAdvent Calendar; it is of course the final instalment for all 24 Drinks by the Dram calendars! #CognacAdvent is the only variation yet to explore, so today we'll look at the Cognac Advent Calendar!
Those of a Cognac persuasion will be making the most of Christmas Eve with A.E. Dor No.7 Grande Champagne!
That's one classy Cognac
Tasting note for A.E. Dor No.7 Grande Champagne:
Nose: Through rich custard and a polished oak aroma comes a pinch of ginger spice and cigar leaf, rancio and a tinge of vanilla.
Palate: Old oak spices and a whiff of delicate smoke come through, as honey, soft marshmallow and creamy vanilla simmer throughout.
Finish: The palate fades through emerging notes of dried apricots and dark chocolates.
Well, that's it. That's a #WhiskyAdvent wrap for 2017! Have a marvellous Christmas tomorrow and enjoy the festivities!