It's 23 December, which means that after today, there will be just one lonely dram left in Drinks by the Dram's Whisky Advent Calendar. #WhiskyAdvent is almost over!
As #WhiskyAdvent draws to a bittersweet close, you're probably eager to get straight to the point and savour what's behind window #23.
I'm going to let you do just that! And this one is just what you want on a chilly evening as you persistently bat the cat away from the dangling decorations on your tree – a dram of reliably excellent sherried Scotch single malt from The Macallan!
Which Macallan would that be, per chance? Why it's… The Macallan 12 Year Old Sherry Oak!
A superbly balanced affair that ranks as one of the best of its age group, it makes for a fine penultimate dram!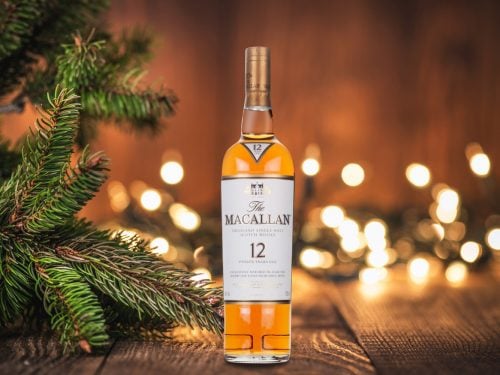 A sherried sensation!
Tasting note for The Macallan 12 Year Old Sherry Oak:
Nose: Black wine gums, sherried-prunes and cloudy apple juice rise to the fore. Tulips fill much of the nose, but are tastefully light and allow maple syrup and a slight frangipane quality to come through.
Palate: Blackcurrant coulis and pomegranate molasses build on a punchy sherry profile. Wholesome barley sugar and wine-stained oak are lively, along with vanilla, buckwheat honey and measured lick of spice.
Finish: The sherry profile and a helping of solid oak remain prominent in the lengthy finish.
Overall: If you're looking for a fine example of sherry cask Scotch, or a dram to accompany you by the fireplace, then look no further. Delightful and festive!
If you've been enjoying the Glenfarclas Whisky Advent Calendar, you already know what's coming on Day 23 – another excellent Glenfarclas! But this one is particularly special, because you'd otherwise have to travel all the way to the distillery to sample a dram. That's right, today you'll savour the incredibly impressive Glenfarclas 2004 Port Cask Visitor Centre Edition!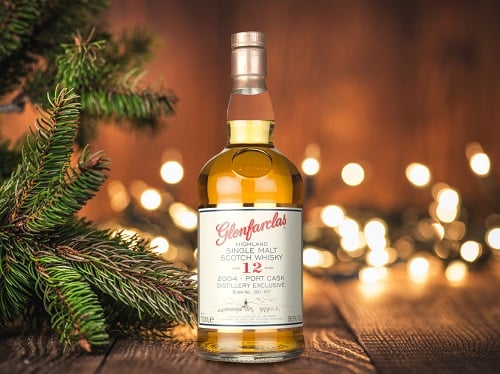 The only place you can get this distillery-exclusive bottling – except the distillery itself
Tasting note for Glenfarclas 2004 Port Cask Visitor Centre Edition:
Nose: The nose is defined by a rich dark chocolate that slowly allows for notes of blackberry jam, stewed plums and ripe nectarines to come through. Earthy barley and malty hops also show, as buttery toffee, a dash of brine and some pencil lead linger in the background.
Palate: A rich, sherry-heavy delivery is full of tart sweetness and earth. Toasted oak spices percolate through a dark fruit compote, giving almost a mulled wine-esque quality. With time, raisins soaked in dark rum, fresh cranberries and black cherries shine through, as does a touch of orange rind. The barley becomes stewed, while melting butter and wood polish form the backdrop..
Finish: The sharpness fades from the sweet berries and citrus, but the earthy, buttery qualities remain. Oak tannins are present in the dignified finish.
A superb sherried duo for Christmas Eve-Eve. And there's still one more to come!