It's 22 December, which means that we have a mere two drams left after today in Drinks by the Dram's Whisky Advent Calendar. #WhiskyAdvent is starting to draw to its conclusion, folks!
I bloody love #WhiskyAdvent. You know why? Because it brings this unique, whisky-soaked form of Christmas to so many people in so many places, and, ultimately, that's what the season is all about (presumably).
And guess what? We're not stopping yet! Behind window #22, there's a dashing dram of… BenRiach 10 Year Old!
Presented at 43% and matured in both ex-bourbon and ex-sherry casks, this core bottling was the first to be made with spirit distilled predominantly under the watch of then-distillery owner, Billy Walker. (Brown-Forman has since snapped up the site). It is simply bursting with the classic Speyside style!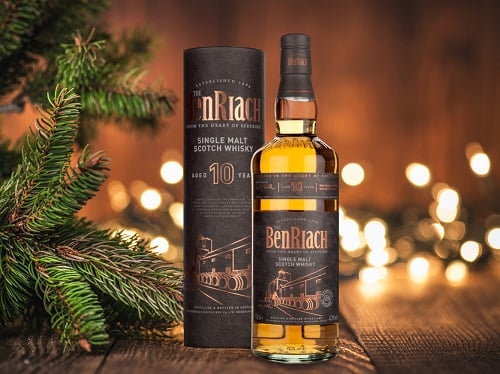 Billy's first BenRiach creation!
Tasting note for BenRiach 10 Year Old:
Nose: Initially there's an orchard of fresh green apples, with a touch of sour cherry. A thick cream layer with notes of vanilla, delicate muscovado sugar, warm, gingerbread spice and a touch of marzipan follow. Light oak breathes through the background.
Palate: It's like apple and cinnamon pie! Among this are warm, spicy tannins and toasted oak, along with dried apricots dusted in brown sugar. Suggestions of fudge, honey roasted peanuts and dried coconut round the palate.
Finish: Medium and warming, melted milk chocolate and dried dark fruits linger among crisp barley and a slightly earthy note.
Overall: An intriguing character of extraordinary variety, particularly for a 10 year old. This is a really pleasant, understated highlight of a dram.
While I share this dram with my good friend #WhiskySanta, why don't you have a nosy at one of the other Drinks by the Dram calendars and see what else is going on? We haven't peeked inside the Irish Whiskey Advent Calendar yet. Behind window #22, there's a dram to scream and shout about – The Quiet Man Blend!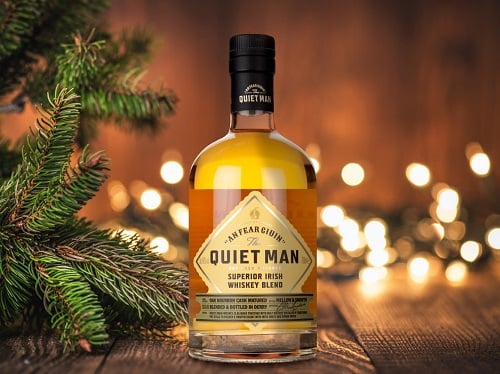 Shhhhh! This one's a gentler dram
Tasting note for The Quiet Man Blend:
Nose: Icing sugar, fresh tropical fruit, green banana and honey.
Palate: Creamy vanilla, toasted cereals, more honey, marmalade.
Finish: Faint spiciness of cinnamon and peppery oak.
A sweet taste of Ireland to complement the loveliness of Scotland. What a day!