As #WhiskyAdvent enters its final week, Drinks by the Dram's Whisky Advent Calendar ramps up the spoils with a tasty Scotch that's high-in-the-sky(e)… (That was rubbish, come back to me)…
The final week of #WhiskyAdvent has begun, and I think it's an appropriate time to remember why Christmas is so important, so cherished and so utterly wonderful.
I think we all know what I'm talking about here: drams. We all knew that was exactly where I was going with that.
With such a blessing, we can now crack on with #WhiskyAdvent and see what's behind window #17… A dram of Talisker 10 Year Old!
From the oldest working distillery on the Isle of Skye, this single malt Scotch whisky reflects the remote, island beauty with a distinctive, peaty, coastal character.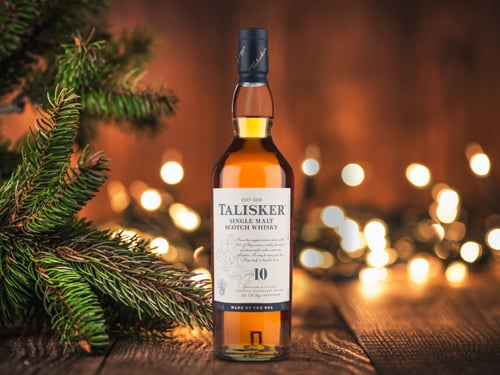 A taste of Skye
Tasting note for Talisker 10 Year Old
:
Nose: A strikingly clean nose reveals volcanic sulphur and coastal air brimming with salinity. Lemon peel, stinging nettles, brine, dry barley and drops of wildflower honey bring assured balance.
Palate: Delicately sweet, the honey appears again, with some brown sugar. The palate develops and becomes meatier, with smoked mackerel, as brine, squeezes of lime juice and peppery oak appear. A heavy, but composed peat oversees proceedings.
Finish: Sumptuously long, trickles of brine, burnt sugar and toasty malt linger and fade, while ashy peat remains prominent.
Overall: A beautifully composed dram that avoids the trap of becoming an peated powerhouse with sweet, fruity refinement.
And don't forget – you can save a tenner on Talisker 10 Year Old, and be in with the chance of winning a trip to the distillery if you pick up a bottle before Christmas!
From one Scotch whisky to another, we take a peek inside the Scotch Whisky Advent Calendar today as an additional Christmas treat. What lies behind window #17? It's Bowmore 15 Year Old Darkest!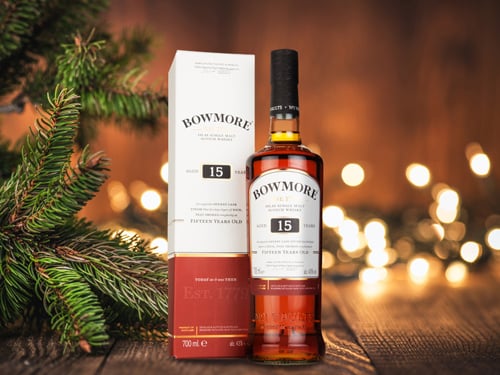 A second Island treasure on Day 17
Tasting note for Bowmore 15 Year Old Darkest
:
Nose: Dark and punchy. Sherry notes, juicy Corinth raisins. Spices. Creamy, mochaccino, sweet dates.
Palate: Rich, woody, pine oil. Syrupy. Creamy toffee and malt. Smoky.
Finish: Spicy, toffee, sherry, barley.
A double peaty treat for today! We're not sure what we're going to do with ourselves once Advent is over…