On this 15th Day of #WhiskyAdvent 2017, Drinks by the Dram's Whisky Advent Calendar brings you a blended bombshell of your festive dreams …
I think lots of people have a favourite little Christmas treat. Whether it's mince pies or eggnog, or maybe a double helping of Christmas pudding… a smothering of bread sauce… a responsible amount of mulled wine.
None of those, however, are my Christmassy indulgence. No, for me, nothing beats the seasonal joy of a nice, tasteful dram*. I get the feeling, dear reader, that you may be of the same mind.
In this spirit, let us continue to bring word of Advent treasures, as we present the dram hidden behind window #15… The Lost Distilleries Blend – Batch 10!
Ok, this really is an exciting one, because it's The Blended Whisky Company's newest batch of its Lost Distilleries Blend. This astonishing expression was crafted using whiskies exclusively from distilleries which have shut over the years.
*#WhiskyAdvent is the future of the season, there is no stopping it.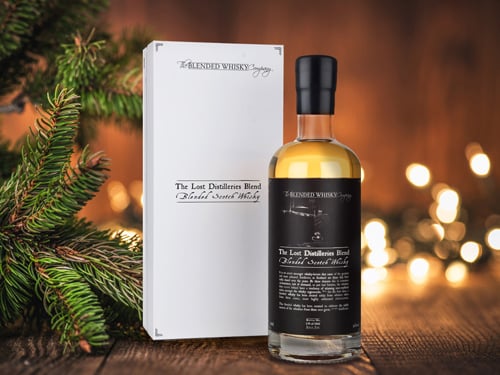 Closed distilleries brought back to life
Tasting note for The Lost Distilleries Blend – Batch 10
:
Nose: Aromas of chocolate-covered coffee beans, marzipan and vanilla cream unfold among a complex blend of polished oak, liquorice tea, aniseed, and a touch of toffee apple.
Palate: A sweet palate opens up with notes of soft, warm raisins dotted through sticky-toffee pudding, vanilla ice-cream and a crumbling, buttery fudge. Sharp green apple builds, with a touch of smoke and rich oak tempering the sweetness.
Finish: Long and incredibly full, the lusciously creamy texture is tempered with a bite of charred oak warmth.
Overall: A textbook blend teaming with a range of flavours, this little beauty still manages to form one defined character and profile.
For today's bonus peek at another Advent Calendar, we're going to have a little look at the Single Cask Whisky Advent Calendar, which means today we'll have seen a outstanding, exemplary blend and a dram of single cask splendour! Behind window #15 you'll find a dram of Macduff 26 Year Old 1991 (cask 4583) – Chieftain's (Ian Macleod)!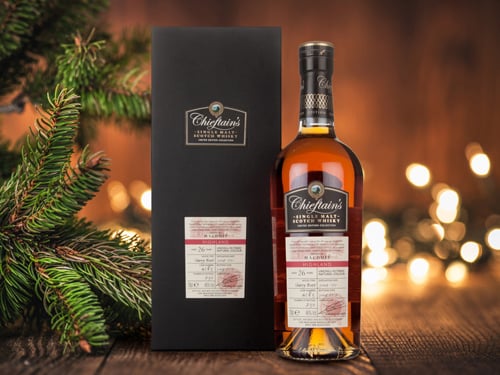 A mighty fine MacDuff
Tasting note for Macduff 26 Year Old 1991 (cask 4583) – Chieftain's (Ian Macleod)
:
Nose: Red wine gums, lemongrass, stewed plums and oily walnut.
Palate: Oodles of plummy richness, joined by caramel, dark coffee and thyme honey.
Finish: A long finished packed with oak and chocolate truffle notes.
Well. That's two tasty whiskies which definitely make it on to the Christmas treat list…