We kick off the second half of #WhiskyAdvent with an entry in Drinks by the Dram's Whisky Advent Calendar from a mystery location on Islay…
Some of you may believe the number #13 is unlucky. Presumably, you also believe in mole-people, astrology, and non-whisky based Santas.
For those who believe in such things as superstition, I have just one question for you: how do explain the delightful single malt Scotch whisky behind window #13?
Regardless of how you feel about the number 13, you'll be convinced luck is on your side when you open the window and find a dram of… The Big Strand!
From an undisclosed distillery on Islay and bottled by Morrison & MacKay, The Big Strand is named after the long sandy beach way out west on the Isle of Islay – your luck's turned around!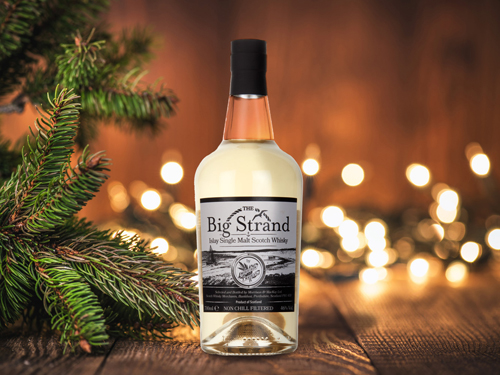 The Big Strand!
Tasting note for The Big Strand:
Nose: Salinity abounds in a delightfully fresh and clear coastal aroma, with drops of oily, sweet malt giving depth.
Palate: Ashy embers percolate through light, syrupy sweetness and sea breeze. Notes of ripe pear and touches of oak develop.
Finish: A delicate and lingering finish, vanilla and soft oak char breathe through persistent alfresco smoke.
Overall: A wonderful, fresh, outdoorsy dram that's like your favourite trip to the seaside.
Staying in the wonderful land of Scotland, in addition to enjoying this lovely single malt we're also taking a look at what is behind window #13 of the Premium Whisky Advent Calendar today. Those of you who have this Advent calendar will be settling down to a rather delicious dram of Royal Brackla 14 Year Old 2001 – Càrn Mòr!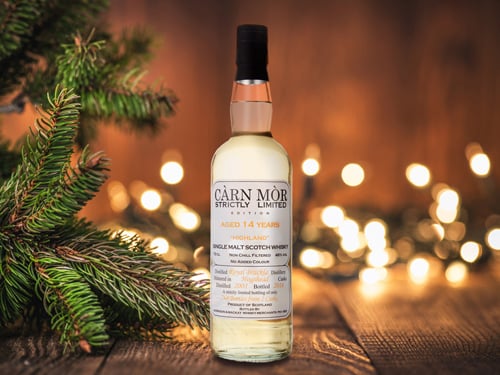 Whisky royalty
Tasting note for Royal Brackla 14 Year Old 2001 (bottled 2016) – Strictly Limited (Càrn Mòr)
:
Nose: Sugar-coated almonds, apple pie, violets, cereals.
Palate: Chocolate raisins, liquorice, yellow plum, pear.
Finish: Quite long and vanilla forward.
That's settled it. 13 is a decidedly lucky number after all!