Well folks, we made it. Christmas Eve. The final day of #WhiskyAdvent. Time to open that last remaining window and see what deliciousness waits behind it…

You may be somewhat aware, but in case you missed it, let's just go over this one more time – it's almost Christmas! In fact, it's bloomin' Christmas tomorrow!!! A very exciting prospect, though somewhat bittersweet, as it means we're onto our last day of #WhiskyAdvent. And while that itself is bittersweet, it's also very exciting to see what's going be behind window #24 of the Drinks by the Dram Whisky Advent Calendar. Everything's a circle, you see…

So, what is behind window #24? Well, Drinks by the Dram started strong this year with a dram of The Blended Whisky Company's Lost Distilleries Blend, and they're finishing very strong too with a dram of The Blended Whisky Company's Half-Century Blend!!! Made exclusively with whiskies aged for at least 50 years, this is a very special expression indeed (and it helps my "Everything's a circle" theory as well)…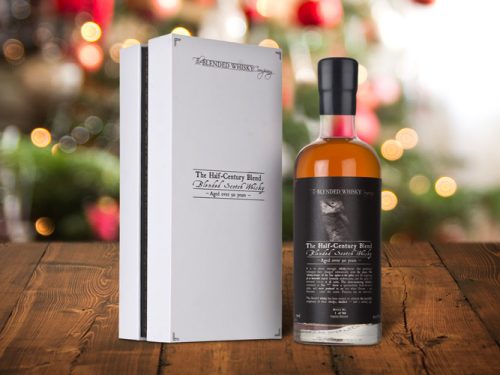 Tasting Note for The Half-Century Blend:
Nose: Freshly baked apple crumble topped with brown sugar and extra-thick double cream, followed by roast chestnuts and a whiff of brandied cherries. A touch of tobacco leaf and old oak furniture.
Palate: More cigar box and brown sugar on the palate, joined by bourbon-y vanilla and generous handfuls of dried fruit (with some juicy cherries sneaking in once again). Perhaps a touch of rye spice develops with the ethereal oak notes growing behind the rich fruit.
Finish: Juicy apricot jam, gingerbread, walnut and the last hints of elegant oak lingering for ages.

The Chaps at Master of Malt