We're so close to Christmas! Start wrapping the presents! Start assembling the cheeseboard! Start opening the penultimate window of the Whisky Advent Calendar!

It's the 23rd of December, meaning after today's dram, there will only be one lonely dram left in the Drinks by the Dram Whisky Advent Calendar. #WhiskyAdvent is almost over for another year, folks! Today also stands as your advance warning to start assembling the post-Christmas dinner cheeseboard. Consider yourself forewarned and don't you dare forget the camembert.

Behind window #23, you'll be finding finding a dram of Highland Park 12 Year Old! A reliably excellent Scotch single malt from Orkney, just what you want on a chilly evening assembling cheeseboards (are we overstating the importance of these cheeseboard? No. You cannot overstate the importance of a cheeseboard).
Tasting Note for Highland Park 12 Year Old:
Nose: Fresh, clean and very aromatic. Floral notes abound the senses with a light grassiness. Notes of creamy Manuka honey and a touch of juicy citrus with cream and a well-balanced sweetness.
Palate: Rather full with a pleasant depth. Lurking somewhere in the substratum a grilled orange lies. Notes of granary toast and green tea with jasmine. A touch of sweetness.
Finish: Quite long with peppery spice and wood shavings.
So. For 2016, Drinks by the Dram released a bundle new Advent Calendars, and one of them got quite a lot of attention because it was, frankly, absurd. We're of course talking about the Very Old & Rare Whisky Advent Calendar, filled with some of the rarest whiskies around. Let's have a peek at the kind of whisky we're talking about here. The 23rd dram within the bespoke wooden of the Very Old & Rare Whisky Advent Calendar is the Glenfarclas 60 Year Old!!! Here's George S. Grant's tasting notes for this immense whisky…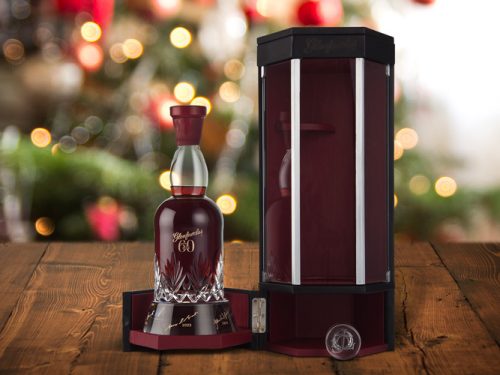 Tasting Note for Glenfarclas 60 Year Old:
Nose: It is surprisingly vibrant with lots of dried fruits, demerara sugar and spice coming through on the nose as well as the rich, oaky tannins that one would expect from a whisky of this venerable age.
Palate: The sherry influence really comes through on the palate, with rich treacle, bitter coffee and espresso notes all making an appearance.
Finish: The finish is the longest I have ever experienced – 20 minutes later you will still be able to taste the subtle nuances of this incredible dram.

The Chaps at Master of Malt