Time to start peeling sprouts and sipping a tasty Macallan – it's Day 21 of #WhiskyAdvent!

Christmas is only a stone's throw away and we can't get Christmas music out of our head – likely because of the animatronic reindeer on the wall that sings 'It'll Be Lonely This Christmas'. It's got fresh batteries in it too, so it definitely won't run out of power, because you can't put a price on comedy.

So, what will we be enjoying today via Drinks by the Dram's Whisky Advent Calendar? Well, behind window #21 you'll find a dram of Macallan 12 Year Old – either the 12 Year Old Sherry Oak or the 12 Year Old Double Cask!
Tasting Note for Macallan 12 Year Old Sherry Oak:
Nose: Crisp and sweet. There are notes of sultanas and fresh apple blossom. There is a defined floral note followed by Sherry hints. Calvados emerges with a tropical fruit note and golden syrup.
Palate: Medium-body and quite firm. There are notes of hot pastries and marmalade, sultanas and peels with a developing sweetness from the barley sugar.
Finish: Good length with a solid oaked note.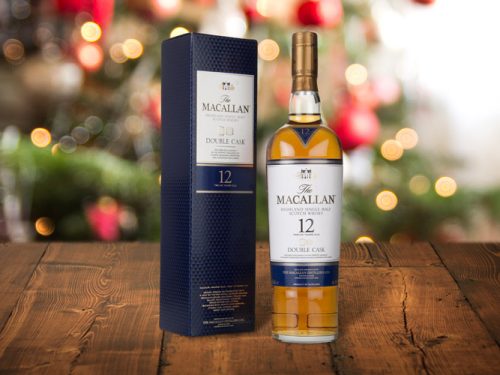 Tasting Note for Macallan 12 Year Old Double Cask:
Nose: Classic dried fruit territory, if less intense than the Sherry Oak expression. Aromatic butterscotch too.
Palate: Creamy and honeyed with some thick-cut marmalade, cinnamon and warm pastries.
Finish: Fruity with vanilla and sultana.
There's only a few days of #CognacAdvent left too, so we thought it was about time we take a look at what people are enjoying in Drinks by the Dram's Cognac Advent Calendar! Today, on the shortest day of the year, you'll be tasting the Bisquit VS!
Tasting Note for Bisquit VS:
Nose: Subtly floral oak, fresh plums and blackberry. Layers of vanilla begin to develop later on.
Palate: Coffee, apples, apricots and cinnamon spices. Vanilla returns, with honey and oat biscuits in tow.
Finish: Still quite floral. Dark-chocolate shavings and nutmeg.

The Chaps at Master of Malt