We're heading back to Speyside again to see what's behind window #16…

It's the Friday before the final full weekend before Christmas. Christmas Jumper Day is in full effect here at MoM Towers. It's truly awe-inspiring how festive we all look. Multiple people have jumpers with bells on them. T'is the season to wear noisy clothing, as they say.

To take your mind off of how gob-smackingly merry we look, let's find out what's behind window #16 of Drinks by the Dram's Whisky Advent Calendar! You'll be sinking your teeth into a dram of Glenfarclas 21 Year Old, a fantastic single malt that simply oozes Christmas cheer.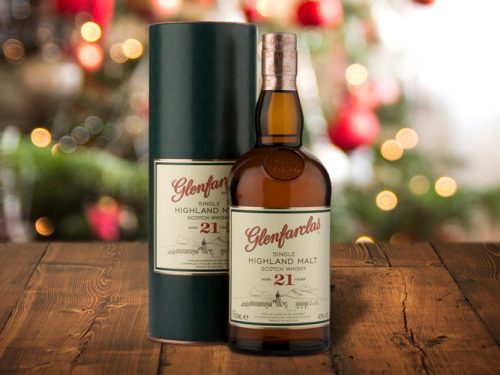 Tasting Note for Glenfarclas 21 Year Old:
Nose: Apple, orange, less sherry than the 15yo. Peppermint again?!
Palate: Incredibly smooth. Barley-rich, just a textbook smoothness and rounded character that leaves you gasping for another sip…
Finish: Long, barley-rich, awesomely smooth, very little oak influence.
Behind window #16 of the Old & Rare Whisky Advent Calendar is an expression that rivals the festiveness of everyone here at MoM Towers – it's Glengoyne 25 Year Old! Just ridiculously well-Sherried, this one.
Tasting Note for Glengoyne 25 Year Old:
Nose: Big notes of Sherry soaked fruit up front – raisins, figs and oranges. This is followed by wafts of toasted almonds and classic notes of old leather.
Palate: Vanilla and dark chocolate open up the palate. Sherry comes through yet again, but this time in the shape of rich, well spiced fruit cake. Hints of orange and oak round it off.
Finish: The finish lasts with notes of red fruits and cracked black pepper.

The Chaps at Master of Malt