A brand new bottling from That Boutique-y Whisky Company hides behind today's window of Drinks by the Dram's Whisky Advent Calendar!

Day 14 has rolled around, meaning there's only 10 days left of #WhiskyAdvent after this one! At this point, some of you might be completely unprepared and really starting to worry or be totally ready for the big day with all your presents wrapped in bacon and tiny cocktail sausages covered in gift wrap. Picky people will say that's the wrong way around, but at least you're in better standing than all the unprepared folks.

So, what's behind window #14 of Drinks by the Dram's Whisky Advent Calendar, eh? It's a brand new bottling from That Boutique-y Whisky Company, that's what – a 25 year old Invergordon single grain! Let's give it a taste…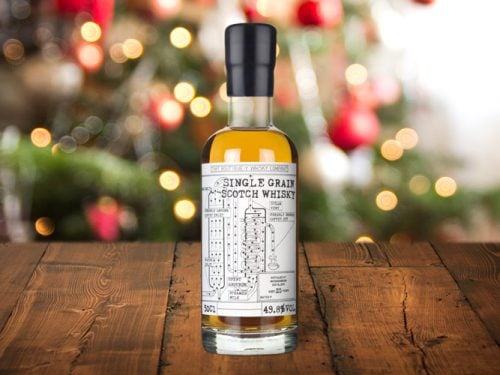 Tasting Note for Invergordon 25 Year Old (That Boutique-y Whisky Company):
Nose: Coffee beans, lightly-toasted oak, Crème brûlée unripe pear and flamed orange peel.
Palate: Sweet with good body. The bourbon characters develop; gentle spice with a little vanilla, a hint of balancing peat lurking quietly in the substrata. Dried fruit too, combining with nuts, nutmeg, cinnamon, back into the bourbon notes – so well integrated.
Finish: The pears from the nose re-emerge, now poached and dusted with cinnamon.
Today, in addition to this tasty single grain, we'll take a look at what the people who got themselves a Premium Whisky Advent Calendar will be tasting. Behind their window #14 is a dram of Macallan Rare Cask, an expression featuring whisky drawn from specially selected casks chosen by Macallan's Master Whisky Maker Bob Dalgarno.
Tasting Note for Macallan Rare Cask:
Nose: Rich Sherried spices, with a good helping of chocolate-coated raisins and Sherry-dipped plums. A refreshing burst of honeydew melon develops with a drop of water.
Palate: Oily malt, soaked in Oloroso and given a good crack of black pepper. Hints of winter spices and thyme honey.
Finish: Gingerbread, old oak, orange oil and juicy raspberries.

The Chaps at Master of Malt