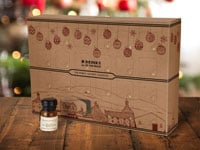 It's the first of December – let's open up window #1 of Drinks by the Dram's Whisky Advent Calendar!
December is finally upon us. This could mean many things to many people. To some, it means they ought to start figuring out what to get their friends for Christmas. For others, it's a surefire sign to pull out that stockpile of woolly jumpers and wear them all at once until you look like Joey from Friends wearing all of Chandler's clothes. However, for us here at MoM Towers and whisky lovers around the world, December 1st means one thing: it's time to crack open window #1 on Drinks by the Dram's Whisky Advent Calendar!
For Whisky Advent 2016, it seems that Drinks by the Dram wanted to start the show with a showstopper of a whisky. Behind window #1, you'll find a dram of The Blended Whisky Company's Lost Distilleries Blend, made exclusively with whiskies from sadly closed distilleries! While this may be a glimpse into the past of whisky distilleries, it's also a very present item indeed, as Batch 8 was only just unveiled! Now all you need is something from the future and you'll have the whole Christmas Carol gang together…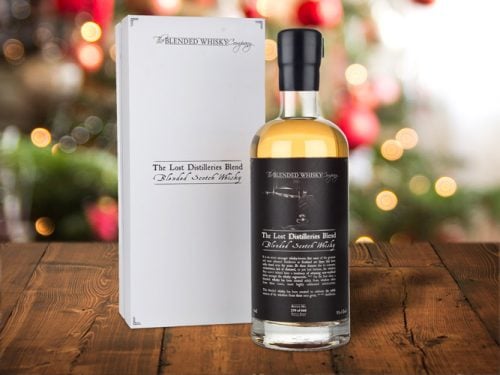 Tasting Note for The Lost Distilleries Blend – Batch 8:
Nose: A tremendous, balanced, subtly smoky nose with notes of custard, pastries, fragrant barley, fruit salad and tobacco leaf. Complex and inviting.
Palate: Barley notes weave in and out of touches of chocolate, candied ginger, dried apricot and peat smoke. Wonderfully rounded with flamed orange peel and a little kiwi late on.
Finish: Well-toasted teacake with sultanas, lingering marzipan and hints of espresso.
Now, this year there happened to be a lot of different Drinks by the Dram Advent Calendars all filled with delicious drinks, so we thought we'd have a look at a different one each day alongside the Whisky Advent Calendar. If you happened to get your hands on an American Whiskey Advent Calendar, today you'd be tucking into a terrific Texan whisky – behind window #1 is Balcones Texas Single Malt!
Tasting Note for Balcones Texas Single Malt:
Nose: Freshly baked banana bread with undertones of honey and vanilla and just the faintest hint of cedar wood at the back. Suggestions of roasted chestnuts and heavy cream.
Palate: Ester-y with apple and orchard fruits. Brown sugar makes an appearance and transforms into molasses.
Finish: Warm, woody spices and some breadiness, but not necessarily maltiness, completes this luscious single malt.
The Chaps at Master of Malt