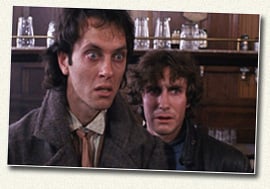 Gareth: We clung on, fingertips buried in the soft mulch of the steep hillside as the Spey roared dark and terrible in the late afternoon light, 60 feet below.
How had it come to this? Half an hour ago we'd been enjoying the rich, dark fruit notes of a Macallan 25yo. Now we faced the very real danger of plunging to our deaths in a raging torrent. Something had gone wrong somewhere, and it was only my third day on the job.
In hindsight, the signs were not good from the start. Twenty minutes before our gate closed for the flight to Inverness we were still weaving between lorries on the M25, cementing the reputation of BMW drivers everywhere. We screamed into the short term car park at Gatwick, bouncing off a yellow pole before abandoning the vehicle and sprinting toward the departure gate. Making the flight was already looking less likely than Dominique Strauss-Kahn walking straight past a brothel.
However, we made it to Inverness, and collected our handsome though dreadful hire car, a Vauxhall Insignia. After solving the riddle of its enigmatic electronic handbrake, we were finally on our way, or so we thought.
We hurtled off in entirely the wrong direction before Mike eventually mastered the satellite navigation system after terrifying us with BBC Gaelic for more than an hour. Eventually we reached our hotel, The Mash Tun in Aberlour, swapped the Insignia for a taxi, and headed to our first stop, Glenfarclas.
George Grant was more than understanding; he has clearly has past experience of stupid Englishmen, and duly took us around his family's famous distillery, originally bought for the princely sum of 511 pounds and 19 shillings in 1865. As he said, it's worth considerably more now.
George at Glenfarclas
We tried a selection of the distillery's wares, including the almost impossibly rich and intense 40 year old, and several of the Family Casks. These are truly intriguing whiskies spanning 1952 to 1995.
George confessed the series would have started in 1951… had it not also been the year of his father's 21st birthday. It was, by all accounts, one heck of a party, at which the guests polished off the entire stock of Glenfarclas '51.
Every Family Cask, at least the ones Mike and I tried, was instantly recognisable as Glenfarclas, but comparing our birth year bottlings ('88 and '80 respectively) highlighted the variation displayed across the series. It's a fascinating taste of a distillery's history, and suggests the challenges Master Blenders face when trying to create a standard expression.
George was visibly appalled by my failure to finish the last drop of ten year old after draining what must have been a hundred pounds' worth of whisky.
Our next destination was Glenrothes, where we tried the distillery's range in the legendary "Inner Sanctum" (a small tasting room). Most of the output provides a major component of top-selling blends such as Cutty Sark and The Famous Grouse, and we tried all the vintage expressions (and new make) laid out on a specially designed circular tasting table, the very heart of the "Inner Sanctum".
The heart of the Inner Sanctum
A quick word about Glenrothes' new make; I've never before tasted a new make spirit that so clearly reflects the eventual distillery character. Why this is more apparent with Glenrothes I can't say, but it was eye opening to taste it next to the finished drams.
Thanks to distillery owners Berry Brothers' background in wine, Glenrothes bottlings use vintages instead of age statements. My pick of the vintages has to be the extraordinary 1985.
This takes the distillery's archetypal Speyside character and cranks it up to 11; it's a very complex scotch whisky full of spices – cinnamon and nutmeg – as well as dried fruits and marzipan. Christmas cake ingredients to be sure, but there's also unctuous honey and molasses. A fantastic Speyside malt.
We were fairly "happy" by this time, having tasted some very fine whisky and presented with the prospect of a good meal back at the Mash Tun.
Dutch courage prompted us to enter the Mash Tun's pub quiz; but what led us to answer Sting, or alternatively, Anthony Bourdain (and often both) to every one of the questions is anybody's guess.
Sting is never the answer.
Neither is Anthony Bourdain.
After a night spent putting back Anglo-Scottish national relations by several decades, Mike and I would like to apologise for any distress we may have caused to the Mash Tun staff; the innocent inhabitants of Aberlour; or anyone else we may have met, ever (Ed – this is your first week, keep grovelling).
Mike: After the pub quiz I was certainly feeling a tad worse for wear, and as such decided to take in the rural splendour of Aberlour, marching along the Spey for some time before returning rather merry to the Mash Tun. I was greeted by a lady publican at the bar, and was wisely shown to my room. As we reached the room she wished me goodnight, and bid Gareth – who was collapsed on the floor in the corridor – good luck. Gareth was positioned between our two rooms in the foetal position with an outstretched hand scratching at the lock of what was clearly not his room. He had been there for some forty minutes and explained the next day that he'd chosen to have a lie down as he'd become bored of trying to get in.
This hapless miscreant, I can now announce, is my replacement. He is the new Online Editor – the online voice of Master of Malt. He is now also "responsible" for our digital output and has arrived here with a background in print media as a journalist working at both local papers, as well as nationals (the Independent on Sunday being one) and has covered everything from gruesome murders to quantified risk analysis of the latest European legislation. Our two day adventure in Speyside proved to be a baptism of fire, from the happy eccentricities of Glenfarclas, to the glory and pomp of Macallan.
The first lesson in hard work of this nature is: Behave as you wish but never forget to set your alarm.
The taxi driver who took us from the Mash Tun to Balvenie thoroughly mugged us over and dropped us at Glenfiddich instead, at which visitor centre we were told to wait patiently. All this after a 20% tip. Some people.
After waiting with an invasion of American tourists for some thirty minutes, we realised our situation was not going to improve, and gazed at an olde worlde distillery map which clearly placed us twenty minutes from Balvenie. We wandered about. "Are you the farmer?" we called hopefully at a nearby worker, and finally set off once more.
We arrived at Balvenie an hour late and offered heartfelt apologies to distillery ambassador, David Mair – a warm and friendly chap.
It quickly became apparent I was the tallest visitor ever to grace Balvenie's doorways, though at 6″1 it seems unlikely. This first manifested itself by the fact that I was presented with a size 2XL reflective jacket, and was warned almost constantly to mind my head.
David took us to the cooperage – one of Balvenie's unique features…
We watched in awe as the eight coopers repaired broken casks with new staves and hoops, working with incredible skill; it takes four years to train as a cooper!
After the cooperage we were taken to Warehouse 24 – name too for Balvenie's wonderful online community – sign up here. We gazed over Tun 1401 – the marrying vessel of a whisky of the same name, full to the brim with a handful of sherry and ex-American casks. It smelled delicious.
We were shown down the staircase (I was again cautioned due to my apparently gargantuan size) into the dunnage warehouse below. Dunnage warehouses are cold – the temperature varies by only a few degrees year round, which is key to good maturation, and the casks are literally stacked on top of each other on the damp earth floor.
There were three casks ready for a mini-tasting: the trio of teenage whiskies used to make the lovely Balvenie Signature. These were an Oloroso butt, a sherry hogshead, and an American bourbon barrel, each displaying its own unique character. There were no glasses here, and so we were instructed to quickly slurp the spirit out of cupped hands!
Next, we walked to the maltings, another unique feature of the distillery. There are only a handful of distilleries that operate traditional floor maltings, noticeable for their distinctive pagoda roofs. We tasted some of the germinating barley grains, and stepped into the smoky kiln. A tiny portion of peat is used, giving just a subtle edge to the whisky, although Balvenie do make a little peated whisky for various experiments.
Our final port of call was the small visitors' room and we sampled the full line up of standard expressions, from the malty and delicious DoubleWood, through the Signature (slightly more sherried and spicy), to the Single Barrel (a rich, intense, honeyed expression) to the PortWood (a wonderful example of subtle re-casking with its rich berry fruits, malt and liquorice), to just a few drops of Balvenie 30, which is a dry, oaky expression with a great deal of complexity.
Balvenie actually suggests DoubleWood might well have been the first ever "finished whisky" (having been matured almost entirely in bourbon wood, before a brief stint in sherry casks). With water, the whisky develops through aniseed and butterscotch, to an intense crème brûlée after about 10 minutes in the glass. It was astonishing.
Of course, being fools we'd neglected to book a taxi, so a kindly David Mair drove us to our final distillery, Macallan, where we were greeted by a very pleasant and accommodating lady with vibrantly red hair.
She marched us from the visitor centre to "The Atrium", and so would begin a remarkable parody of visitor centres (and also atria). "The Atrium" had clearly been modelled closely on the ill-fated visitor centre at Jurassic Park and, as we neared it, a remote control was produced and the lights, moving displays and sound effects were initiated.
Above: The Atrium at Macallan.
A large slab of granite represented, unsurprisingly, the granite the local water is filtered through. A teardrop-shaped fountain with water gentling bubbling forth represented the water supply, and we were told to caress the water between our fingers and marvel at its softness. Sadly, we genuinely did play with the water, and really did remark upon how soft it was (it felt like "water" though, let's be honest).
Some elementary science followed, and then the most beautiful set of washbacks the world has ever known – crafted out of handsome Douglas Fir, and purported to last for at least another 50 to 60 years. This part of the building was a working production room, though its capacity was dwarfed by the distillery proper in another building.
We walked into the stillhouse and dutifully displayed our awe at the shiny copper, and remarked on how very short the stills were. In fact – they really are tiny and the result of this is very little reflux (vapours rising in the still and falling back down) which produces a wonderfully oily spirit.
Next was the portion of the tour dedicated to oak, after a quick show around a room that housed the fossilised bones of giant Tyrannosaurus and an enclosure in which a group of raptors quickly devoured a live cow.
The walls of the "oak exhibition" staircase were lined with adjectives pertaining to this wonderful wood, including "strong" and "sustainable" and "waterproof" and "ancient" and, strangely, "medicine".
In the next room our trusty guide ably flicked 10 switches, and above each a letter was illuminated. They spelled out the word "waterproof" – a key point that clearly warranted hammering home, and one that illustrates why whisky is aged in, say, oak, and not just a colander or a pair of cupped hands.
We were shown to the bonded warehouse, and pointed at some newly acquired casks and invited to sniff the stoppers of each – it was remarkable – the fresh Oloroso was mouthwatering. Macallan is matured in either bourbon or top quality Spanish sherry casks from Jerez.
Finally after the bonded warehouse we tasted the full range of Macallan, all the way up to the 25 year old Sherry Oak. Verdict: Macallan is yummy Speyside whisky, nice and malty, sometimes nice and sherried too. Also the new make is oily. Oily new make.
Now the day was over. We glanced over the booklet of Rankin stills he shot for this collaboration with the distillery. They feature a naked woman being about the place, and are treated with a Polaroid effect which renders them deeply terrifying.
Deeply Terrifying…
We knew that Macallan was just a fifteen minute walk away from the Mash Tun, where our terrible, terrible Vauxhall Insignia was waiting for us. A distillery worker told us to take the path at the bottom of the distillery, at which point we'd follow the Spey to the right, leading us nicely to our car.
We got to the river and noticed a thin vale of trees blocking our path, as did a post and rail fence. Clearly this blockade was impassable, so we turned left and walked to in the direction of the Craigellachie Bridge. This was yet another unmitigated disaster. We followed the river for some time. The bridge still out of sight, I announced "It's a bridge too far" – one of many bridge-based jokes I would make in the following hours. The footpath quickly and abruptly stopped, and so we clambered up the bank and into dense woodland. The going was becoming tough, and the camber was rising against us.
At one point we were easily 50 feet above the river and would often slip a few metres down, or snag our exposed appendages on various woodland terrors. The steep banks of the Spey became the Spanish sierra and the bridge our sole obsession. "Stop calling me Ingles!" Gareth yelled at me. We neared it, still clutching precariously to moss which would break off easily, invoking heart-stopping panic as we slid nearer to the deadly precipice. At last we were level with the bridge, though glancing down onto it from above. It was clear the granite walls that reached up to where the forest began could not be scaled (safely) and so we climbed up the hill to its very top, dejected.
We reached the summit, and found we were on the B-road just sixty seconds from the Macallan distillery. After an hour and a half and two pairs of shredded arms, ruined shoes and battered egos, we were back where we started. Gareth was now a part of the organisation. He was broken. My work was done.
Gareth and Mike.
PS.
Dear Gatwick airport,
Having two adjoining car parks named "Short Term" and "Short Stay" respectively is clearly the work of an incomparable berk. You've wasted forty minutes of our lives.
Yours,
Gareth and Mike.