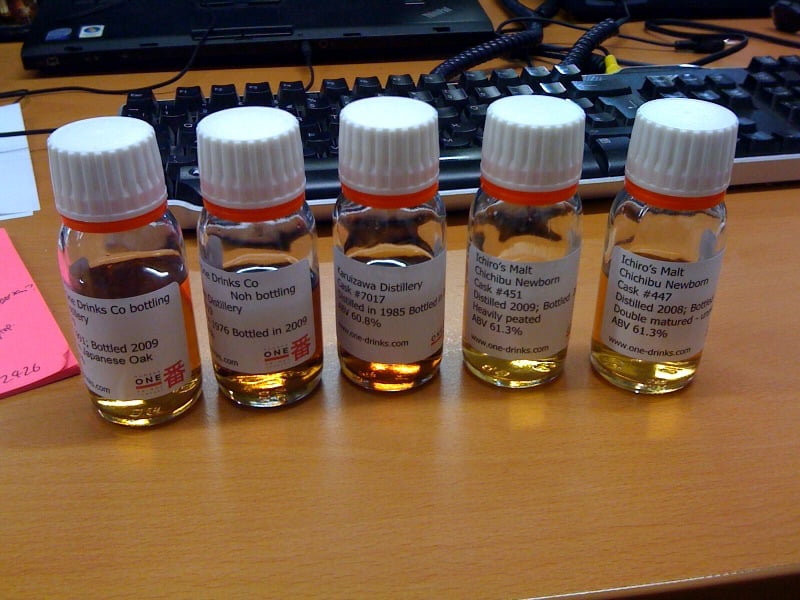 It's a bit like Christmas at MoM towers today, albeit with fewer board-games and no crap jokes (well, maybe just a few). A very exciting package has turned up from the smashing folks at the 'Number one drinks company'. It's their newest selection of cask bottlings, and some sneak previews of the very exciting new malts from Chichibu.
All of these bottlings are currently on a cargo ship from Japan, and should be available in the next two months, keep watching – we'll get them up as soon as they're in.
So – enough with the pre-amble and onto the malts. First up, we've got 3 single cask bottlings from (the now closed) Hanyu and the sublime Karuizawa distilleries: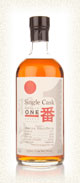 Nose: Raisins, Dates, Walnuts from the sherry cask (it's a good one, this). Oodles of over-ripe Charantais melon, and not just the flesh – there's a decent amount of tannin evident so I'd say we're getting the seeds and skins too.
Palate: Lots of oak, Meursault.
Finish: Watermelon Nerds. Try it if you don't believe me. Delicious.
Overall: A truly great bottling. I dare say that there would be more superlatives flying around the place were it not for the '76 Karuizawa that's coming up…
Karuizawa 1985 Single Malt. Cask #7017
Nose: Really stereotypical, heavily sherried Japanese whisky with perhaps a hint of sulphur? Raisins, nutty.
Palate: More huge sherry, a plethora of umami-rich foodstuffs – Truffles, Porcini, take your pick… Curiously strong mints (specifically this brand – very intense, high quality peppermint oil).
Finish: Not the longest finish – surprising, but far from unpleasant. Rubbery (please god, no jokes).
Overall: Using the 's' word isn't to be taken lightly, so best to flesh this description out a bit – the best way to describe the nose and finish is probably "Like breathing in after firing a shotgun". Far from unpleasant, hugely evocative, and really very fulfilling.
Nose: Beyond the (perhaps predictable) intense sherry, raisins and dates, there's a huge hit of Sunwheel pear and apple spread. If you've never had it, I suggest you do so – it's very hard to come across this kind of depth of flavour naturally, but this whisky has it in spades. A touch of fresh ginger.
Palate: Lemon flavoured Resolve, Pontefract cakes, sherbet.
Finish: zingy and fresh whilst retaining an absolutely stunning length.
Overall: This is a masterpiece. MoM have tasted quite a few very impressive Japanese whiskies in the last few weeks; the SMWS's most recent Yamazaki, and The Whisky Exchange's 10th Anniversary Hakushu to name but two, but this is something else entirely. Utterly stunning.
A very quick note prior to these next two – both these bottlings are less than 2 years old, and we've made no special allowances for this. They're judged purely on their individual merits.
Chichibu Newborn Double Matured Cask #447 – Unpeated (18 months old)
Nose: Redolent of a nicely matured Speyside, albeit slightly spiritous. Some very interesting and complex aromas here.
Palate: Perhaps a slightly richer version of Yamazaki 10? Plenty of orchard fruits, floral, woody…
Finish: Long, and not even slightly harsh.
Overall: There is simply no way that anyone would put this at less than 2 years of age. The last time I tasted a spirit as satisfying as this, it was Kilchoman's Oloro
so… If this is the shape of things to come, where do I sign for my shares?
Chichibu Newborn Cask #451– Heavily Peated (3 months old)
Nose: Toffee apple, cordite and cold, damp wood ash – it's bonfire night!
Palate: Whoomph!! Good god, we won't be tasting anything else after this, that's for sure. Huge and untamed peat, with over 60% ABV makes for quite a hit on the palate.
Finish: Complex, tannic. Reminded us of some younger Lagavulins of yesteryear.
Overall: Not exactly subtle, but it's very, very good.
Well, what a morning! We're certainly looking forward to these absolute stunners coming into the country.
We'll be sure to let you know as soon as they land.
The Chaps at Master of Malt.