Branded glasses. Fancy boxes. Miniature bottles! Yep, you guessed it – we're shining our spotlight on our favourite top ten boozy gift sets. 
Something tasty for Christmas is great – but what about something tasty that's all beautifully packaged, and maybe even comes with a special glass or two?! Now that's what we're talking about. Literally. Here are our top ten boozy gift sets for this Christmas.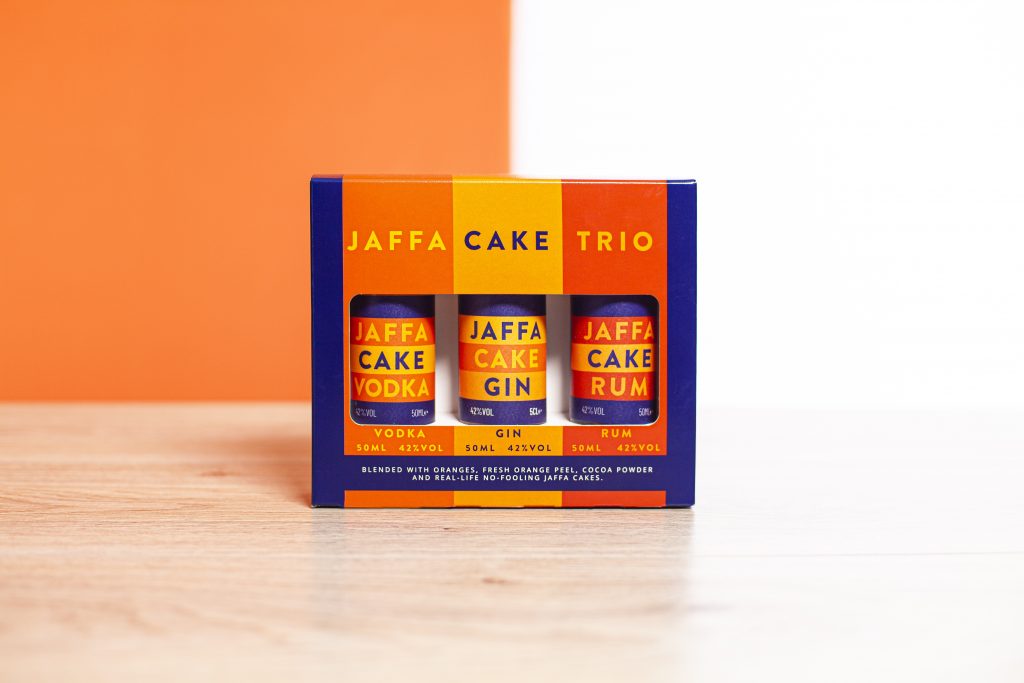 We don't know why miniature things please us so much as a species. But we're not psychologists, we're drinks experts, so we're not going to dwell on it. Instead, we're going to let you feast your eyes on this Jaffa Cake Trio Pack, containing 50ml miniatures of Jaffa Cake Gin, Jaffa Cake Rum, and Jaffa Cake Vodka – all of which are made with real, actual, no-foolin' Jaffa cakes! It truly has it all.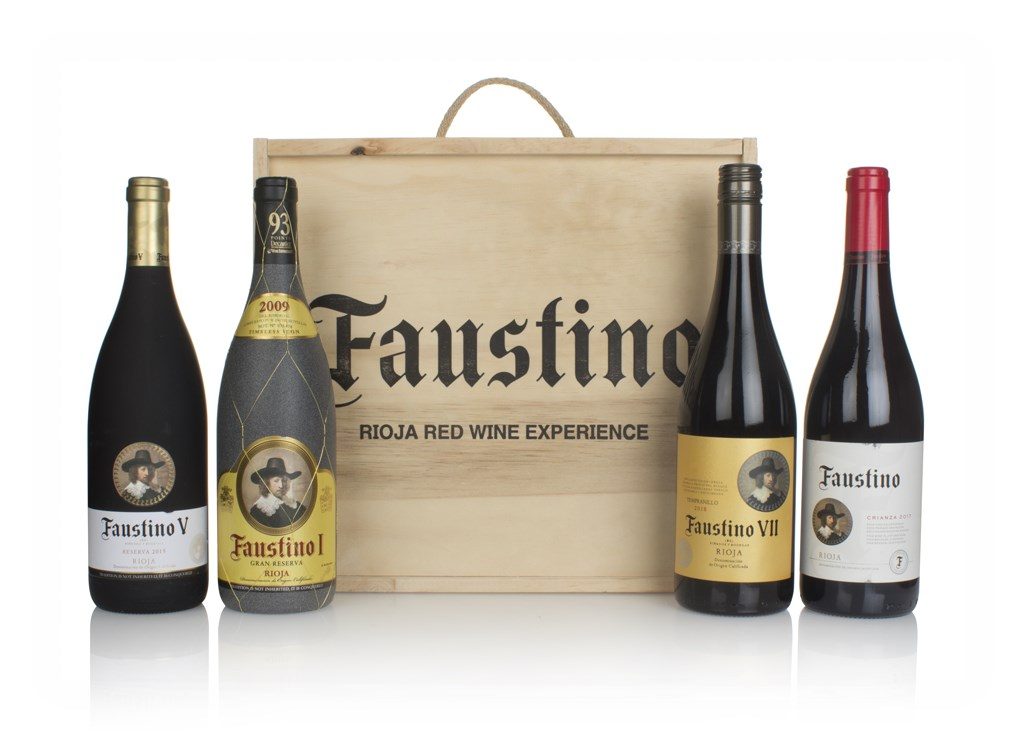 Cor, now this is a gift set for someone really special. We don't know about you, but we're not giving four bottles of Rioja wine from the brilliant Faustino to any old acquaintance. It includes the Faustino V Reserva 2015, Faustino I Gran Reserva 2009, Faustino VII 2019, and Faustino Crianza 2017, all packed up in a very impressive wooden box – and if you can find a sheet large enough, it looks rather easy to wrap.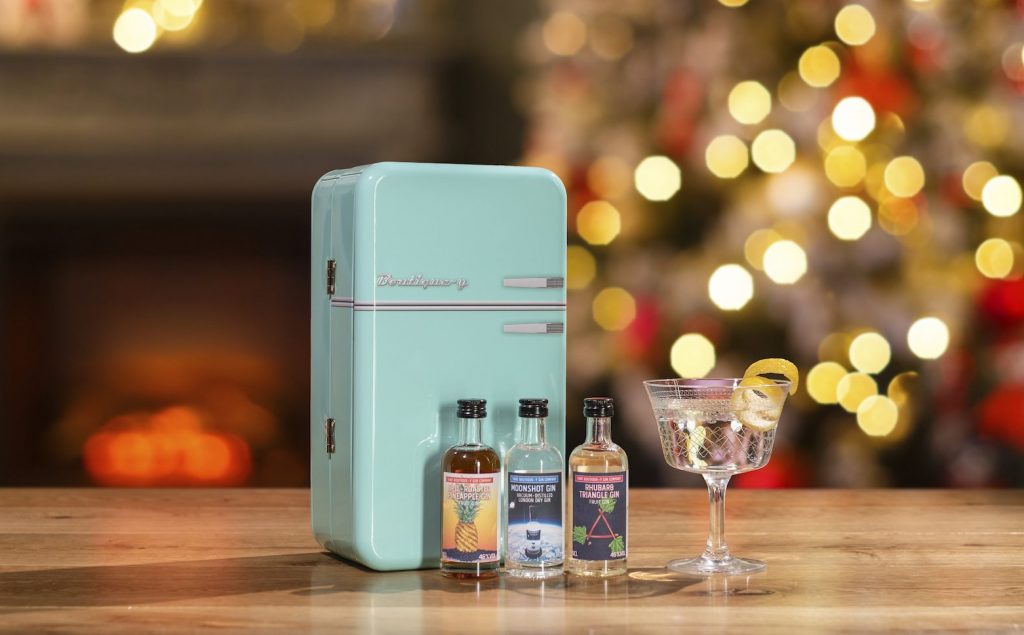 Eight mini bottles of gin. In a gift tin. Shaped like a retro fridge! We hardly feel like we need to elaborate – but we will, because that's what we're here for. That Boutique-y Gin Company took eight of its favourite gins, from the likes of Smoked Rosemary to Spit-Roasted Pineapple, and bundled them into miniature 50ml bottles, as colourfully-decorated as ever. Gin fans? Covered. Fridge fans? Also covered.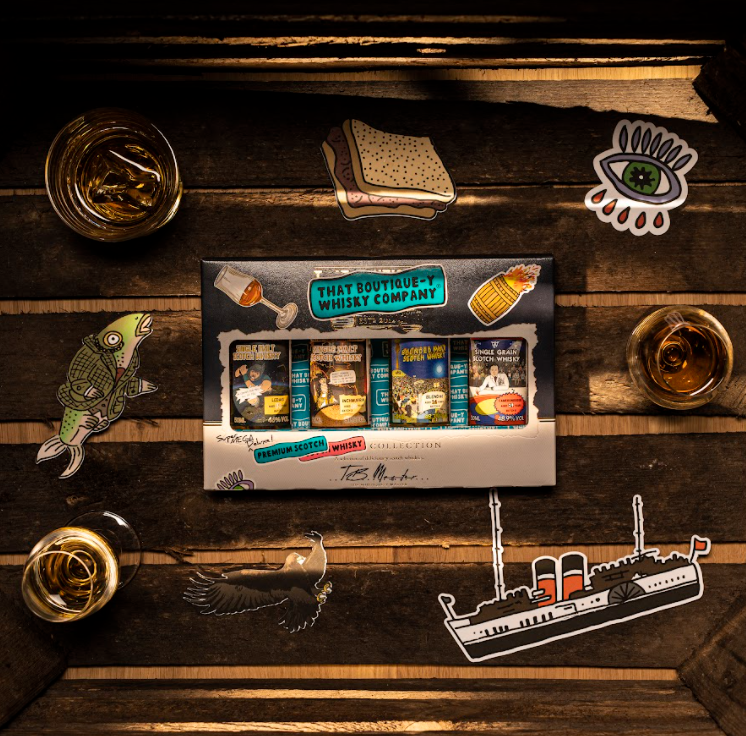 That Boutique-y bunch sure know how to nail a handsome-looking (and tasting) present. This time it's That Boutique-y Whisky Company we have to thank. Featuring a set of four Scotch whisky 50ml miniatures, from ridiculously well-aged single grain (Cameronbridge 27 Year Old) to peaty single malt (Ledaig 19 Year Old) from the independent bottler, with its iconic comic book-style labels and all. But smaller, obviously.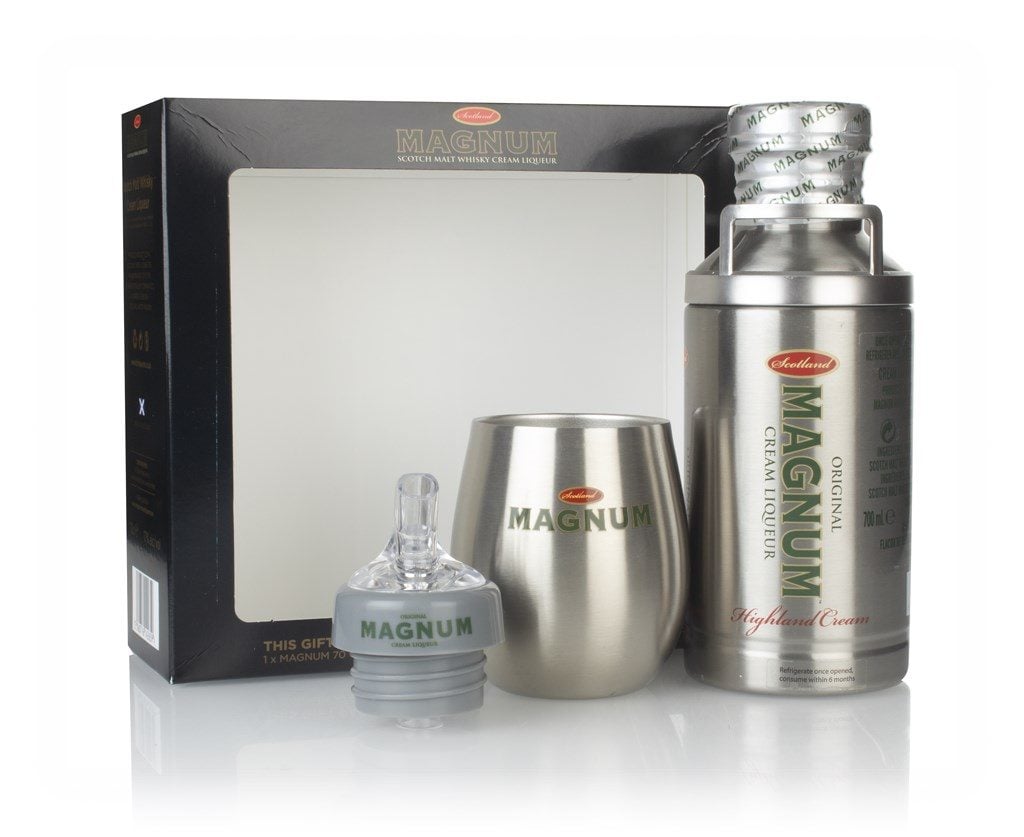 Nothing shouts Christmas like a cream liqueur. And nothing shouts "gift me now!" like a shiny bottle that looks just like a milk churn! The folks behind this decadent combination of Benriach whisky and Dutch cream decided to pair it with a pourer and matching metal tumbler in this snazzy set, which we think was a very good idea indeed.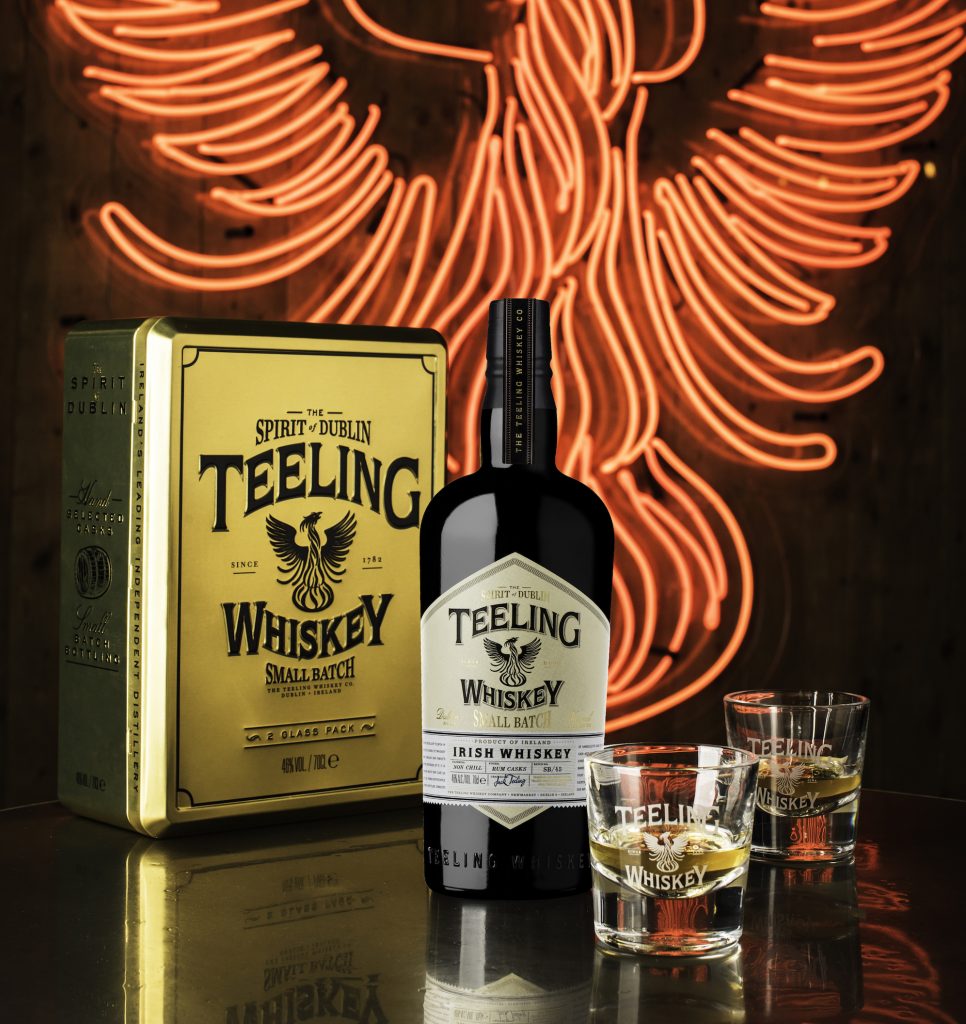 The brilliant Teeling in Dublin has paired its Small Batch Irish whiskey (initially aged in ex-bourbon barrels before a finishing period in Central American rum casks) with a couple of branded tumbler glasses. That's all bundled (carefully) into a gold presentation tin that's shinier than your Christmas eyeshadow, and it looks just as fabulous.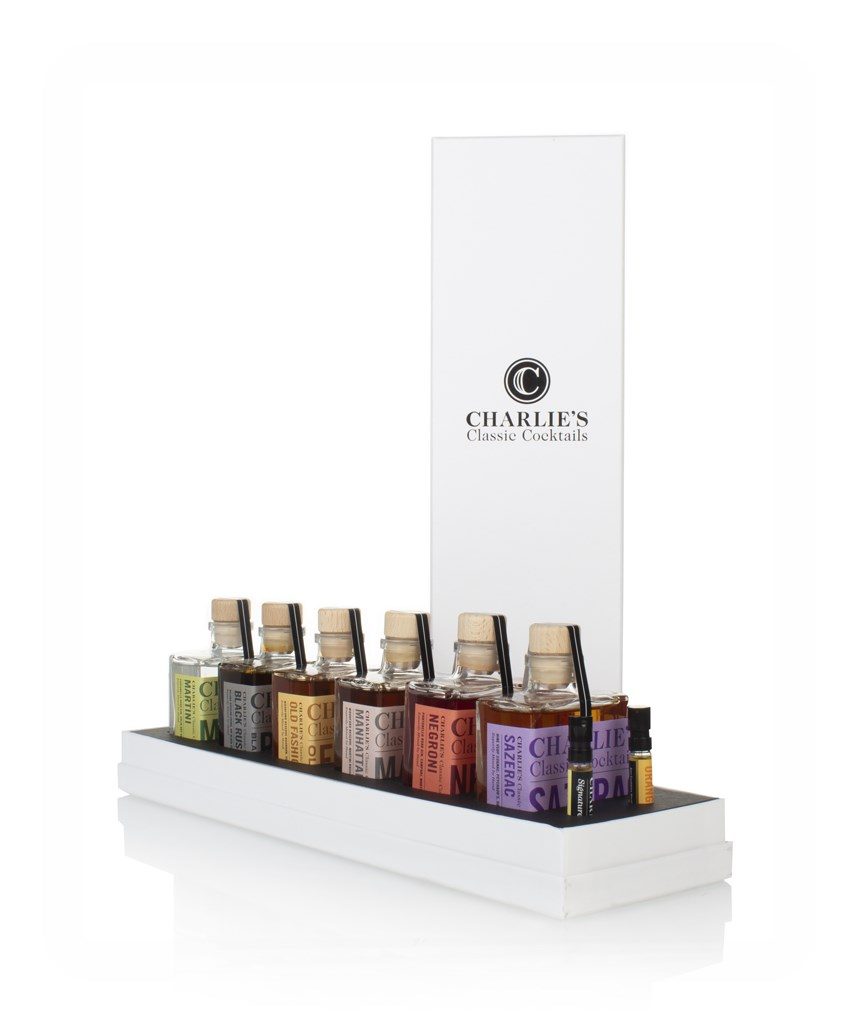 Got a mate who thinks they're a bit of a cocktail expert, but could actually do with laying off the shaker for a minute? Enter Charlie's Classic Cocktails Gift Box, a set of six pre-bottled cocktails with a Black Russian, Manhattan, and Sazerac among the classic serves within. Not only that, but there are also two little spritz bottles containing orange and lemon garnishes. But in liquid form. None of that peeling/expressing faff here.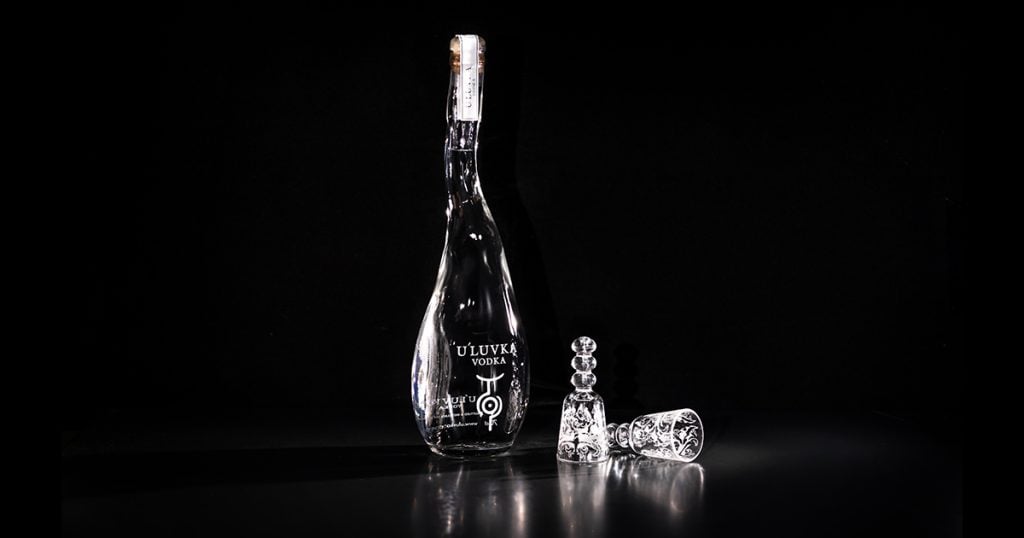 Now this is a cool one – a delightfully wiggly 100ml bottle of the excellent U'Luvka Vodka, and two tasting glasses which look like they've come straight from an old Polish castle. In fact, the glasses have no flat bases, which harks back to an old royal tradition from 17th century Poland. Na Zdrowie! (That's 'cheers' in Polish, if your linguistic skills are a tad rusty.)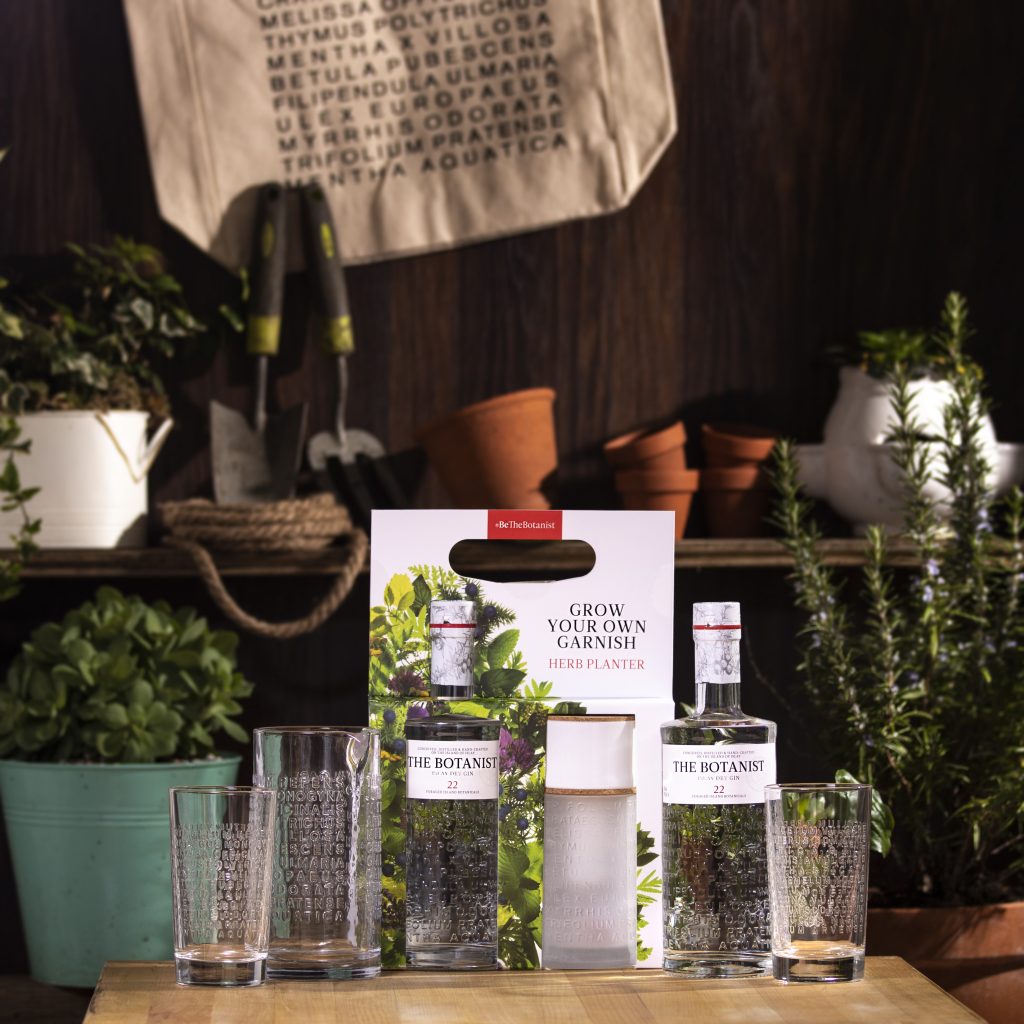 This might be one of the most original gift packs we've ever come across – alongside your bottle of superb Botanist Islay Dry Gin (produced at the Bruichladdich distillery, don't you know), there's also a self-watering herb planter! All the lucky receiver of this pressie needs to do is grab some seeds and soil, or even a pre-potted plant, and maybe they'll have some herbs to sprinkle over next Christmas' roast potatoes.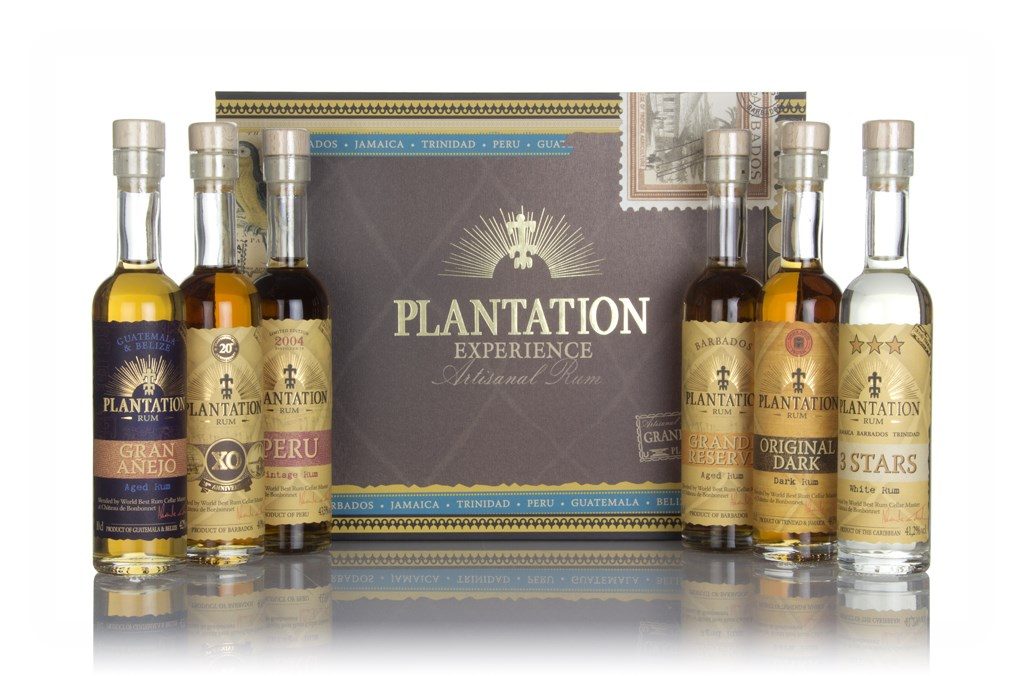 Who says rum is only for the summer? This gift set from the ever-awesome Plantation packs in six of its Caribbean rums, presented in 100ml bottles – but the producer didn't eschew its brilliant packaging for these miniature delights, oh no. A top choice for satisfying rum fiends, though it's also a lovely introduction to the world of rum. A great all-rounder, is what we're trying to say. Plus, with six bottles, maybe they'll crack open at least one with you…