Drinks by the Dram's delicious range of spirits-filled Advent calendars are ready to ship – snap yours up today!
Our friends over at Drinks by the Dram announced details of their bumper range of booze-filled Advent calendars earlier this month. The stash has arrived at MoM Towers, and the heavenly haul is shipping now!
From whisky and gin to rum, Tequila, Cognac, and many, many more, each fabulously festive box is filled to the brim with 24 different wax-sealed drams, one tucked behind each window. There's literally no tastier way to count down to Christmas!

Alllll the Advent calendars!
Those rascals over at Drinks by the Dram never disappoint (what's not to love about thousands upon thousands of spirit samples?!) but this year they've gone above and beyond, creating no fewer than 25 (TWENTY FIVE!) different Advent calendars for your delectation.
Whisky fans are covered with the range spanning The Whisky Advent Calendar, The Premium Whisky Advent Calendar, The Old & Rare Whisky Advent Calendar, and even – if you're feeling super-flash – The Very Old & Rare Whisky Advent Calendar, each packed with splendid malts, blends and more from around the world.
For those with more specific tastes, The Scotch Whisky Advent Calendar, The Bourbon Advent Calendar, The American Whiskey Advent Calendar, The Irish Whiskey Advent Calendar, The Japanese Whisky Advent Calendar and the Single Cask Whisky Advent Calendar will keep you in the whisky style to which you have become accustomed all Advent long. There's also The Glenfarclas Advent Calendar for über fans of the distillery.
But DBTD isn't only about whisky. The Rum Advent Calendar will delight those with perhaps a slightly sweeter tooth, while The Vodka Advent Calendar will provide an array of daily cocktail options this December. The Ginvent Calendar will thrill those with a taste for juniper, and The Origin Single Botanical Advent Calendar is one for gin aficionados the world over, with a different single-estate juniper gin behind each window.
Got a hankering for something perhaps more esoteric? Agave fans can indulge with The Tequila Advent Calendar and The Mezcal Advent Calendar, while Francophiles have The Cognac Advent Calendar and The Armagnac Advent Calendar to choose from.
For those of a slightly braver persuasion there's The Absinthe Advent Calendar, and for the truly intrepid (foolhardy?) The Naga Chilli Vodka Escalation Advent Calendar is also shipping now. Don't say we didn't warn you.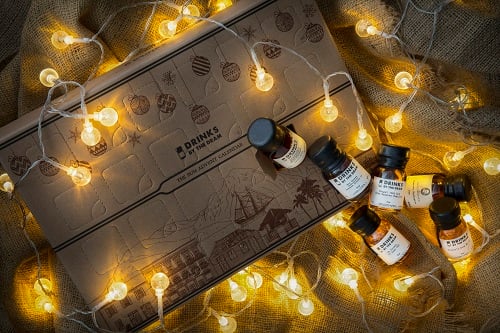 Advent is coming – and so are Drinks by the Dram's Advent Calendars!
Even more Advent!
While most Drinks by the Dram Advent Calendars are shipping now, a handful of those brilliantly boozy boxes remain on pre-order. But don't let that put you off! They will ship in mid-October, so your calendar will still reach you long before Santa even starts contemplating his pre-December preparations. (It takes a lot of sat-nav skills to make it round the entire world in one night. He gets on the route planning early.)
If you're tempted by The Gin Advent Calendar, or the Drinks by the Dram collaborations with independent bottlers That Boutique-y Whisky Company, That Boutique-y Gin Company or Douglas Laing, you know what to do: that big red Pre-Order button is your friend.
Now. How long do we have to wait to get stuck in??!