Nick Ravenhall joined Edinburgh's Holyrood distillery as managing director last year and pulled it back from the brink with a mixture of practical plans and innovative thinking. But will it work in the long term? Lauren Eads finds out.
It took someone with a lot of guts to take on the running of a distillery in 2021. Especially one that, as its incoming managing director admits, "was in the process of self-destructing". Holyrood Distillery in Edinburgh was founded in 2019 by David Robertson, former master distiller of The Macallan, and Rob Carpenter, a Canadian lawyer, and whisky enthusiast who founded the Canadian branch of the Scotch Malt Whisky Society. Holyrood was the first single malt distillery in Edinburgh since 1925, but the timing of its opening was less than ideal. They had a solid foundation, but like so many other distilleries, Holyrood was hit hard by successive lockdowns, which saw its business model, initially dependent on attracting thousands of visitors, thrown into disarray. 
Cometh the hour
It was Nick Ravenhall, a New Zealander, then based in London, who got the call. He had set off from Auckland in 2007 with a dream of making whisky, working his way to Scotland via commercial roles with Diageo, Morrison Bowmore, and Atom Brands, Master of Malt's sister company.
"I didn't know anything about Holyrood," says Ravenhall, "The website was a bit old school with people in polo shirts that were tucked in. I didn't know if it was for me but I said I'd go and have a look. I met David and Rob who were like: 'try our fruity Speyside, here's our peaty style', and I thought this isn't saying anything new. Then they pulled out a chocolate malt distilled and aged in first-fill Oloroso casks. I hadn't tasted anything like it before – it was so bold and expressive." 
A brief pep talk from his mum, who said he'd "be an idiot" not to take the job, and his bags were packed. He became Holyrood's managing director in 2021. "The appeal was to run a distillery without any history. How do you turn this thing around and make it into the thing it could be? It felt like there was a McLaren sitting in a shed and no one knew how to use it."
Buying time
Mid-pandemic, he immediately furloughed all of its staff, shut down the distillery, and focused on securing contract distilling with the likes of Berry Brothers & Rudd and the Scotch Malt Whisky Society, and more recently X Muse vodka, (pronounced tenth Muse), the first blended barley vodka. "That bought us six months and in that time we were able to figure out what Holyrood was going to be about. Strip out all the old thinking, forget the visitors. Let's pretend Covid lasts five years, how do we run this business? We have to run it as a single malt whisky distillery, not a tourist attraction." He also launched the brand's first public cask program, which allowed fans to buy casks of Holyrood single malt with the option to bottle their casks after three years. A year after taking on the job, Ravenhall was named Director of the Year by the Edinburgh Chamber of Commerce.
Now, contract work makes up about 40% of its production with the team focusing more on its own stocks, which includes a revolving range of limited malts, its Height of Arrows gin, new make spirit, and a new proposition, 'strong waters'. It (proudly) doesn't have a core range, with the ability instead to experiment and break apart the whisky-making process. "We routinely get asked what's your core range going to be and we say we aren't doing a core range. It's usually a middle-aged dude who is judging what we are doing, and I say listen, we aren't aiming for a core range because we are building as many data points and information so we can use science to make decisions about production and flavours and how to put them together. At that point, you watch them have a f****** meltdown because they don't understand. It's not what they've been taught. I want to reach the moment when we don't have to explain that we don't have a core range."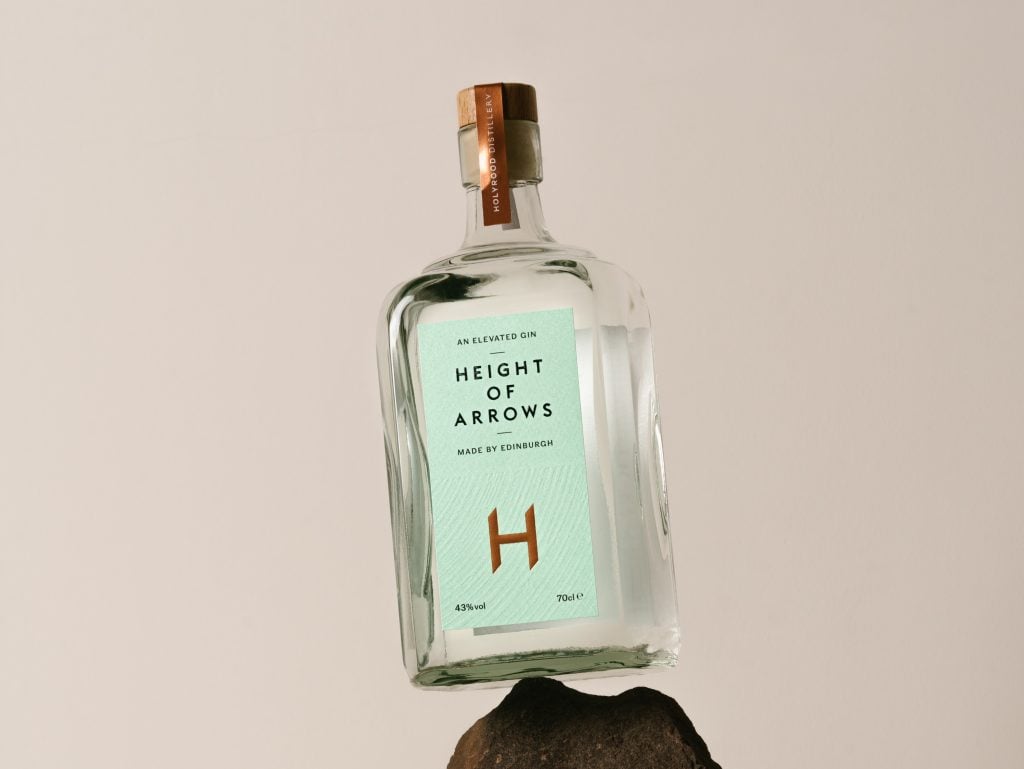 Strong waters run deep
This year Holyrood released two new products in a completely unexplored category – Strong Waters. It's essentially a white new make spirit made from a single heritage barley and diluted with grain neutral spirit (GNS). The first two releases form part of Holyrood's Charmed Circle range, made from Golden Promise and Chevalier barley. "It's something that hasn't been done before. It doesn't fit new make because we blended it with GNS. It sucks when you make something new in a spirit space and it only gets to be called 'spirit drink'. We looked at the archives to try and find something that talks about spirits that aren't aqua vitae (an old name for a concentrated aqueous solution of ethanol) and we found references to 'strong waters', which refers to a spirit that a distiller would make that isn't reserved for whisky production." The aim is to highlight barley as a key flavour component in white spirit making. Next on the agenda is the release of Holyrood's Elizabeth Yard rum, matured at a warehouse in Edinburgh that used to be an old naval rum store.
Is Holyrood 'new wave' in its approach? By most standards, yes. But what does that mean? "For us, it means adding to the story but also earning your whisky stripes. Who cares if you build a distillery, that doesn't mean anything anymore. It used to be so difficult but now we have a broad base of consumers interested in new things and getting money isn't the crazy challenge. The bar is higher now, so when I think about terms like new wave, I think it means that you have to be creating something that's adding to the momentum that brings about positive change. There are some really inspiring people in that 'new wave' space where it's clear that they have thought about what they want to achieve with their distillery, not just churn out more single malt whisky."
Looking to the future
Ravenhall's next aim is to create a whole new language for whisky with plans to launch a tranche of Mark 1, 2, and 3 releases. Mark 1s will be "mature whiskies that look to understand one variable, perhaps chocolate malt or champagne yeast." Mark 2s will build on the understandings gained from Mark 1s by combining different recipes. Mark 3s will be the result of all of those ideas having gone through maturation. "That's our big mission. There's lots of stuff we have to do along the way but when it comes to what we want to achieve I'd love people to say 'I respect what they are doing because they are doing it with the right kind of love and honour for the industry'."