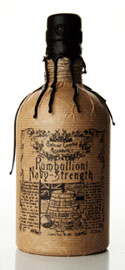 So. We launched our Navy Strength Bathtub Gin about a month or so ago, and it's already doing really rather well. It's kind of a given that we had to follow this up with a Navy Strength version of the incredibly popular vanilla-and-christmas-spices-laden spiced rum – Rumbullion! It's almost* like there's some sort of planning going on.
For the Navy Strength version of Rumbullion, we've taken the same basic recipe, and simply scaled up the vanilla, sugar and spice content in line with the ABV (ie – it's not intentionally spicier and punchier, like the Bathtub is). The reason for this is pretty straight-forward – Rumbullion! is already a pretty aggressively spiced little rum as it is, and the Navy Strength version was more than capable of standing up to the initial ABV at the same proportional concentration.
Incidentally – if you've not tried the Navy Strength Bathtub Gin yet – it's sort of like being kicked in the face by a Gin-Soaked Santa Claus. Really quite fantastic, and absolutely laden with Christmas spices – it don't 'alf pack a punch.

As for the label – in a similar manner to the Bathtub Navy Strength, we've simply taken the original Rumbullion label, and emblazoned it with a Naval White Ensign flag to denote its new, higher strength.
Now, before we get into the tasting notes, you may remember that in my post about Navy Strength Bathtub Gin I speculated about the reasoning behind the moniker 'Navy Strength'? Legend has it that the reason for the increased strength was that gunpowder would still be useful for firing cannons even if the spirit were accidentally to be spilled on it? Anyway – my contention was that this was nonsense, as the powder would burn too slowly, and not explode (due to the need to overcome the barrier of vaporisation in the gin/rum involved).
The opportunity to put this theory to the test seemed too good to miss, so without further ado – here's a video of me, in my back garden, breaking a large number of laws:
So – there we have it. Pretty conclusive. Gunpowder still firing 'properly' after being soaked in Navy Strength Spirit?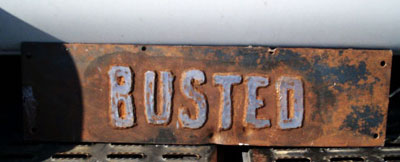 Now – whilst the pyrotechnic properties of our newest creation are of course of the utmost import, some of you might be wondering what it actually tastes like?
Nose: Incredibly intense. Buckets of vanilla combine with flamed orange zest. The cardamom makes itself known by offering up an evocative suggestion of old-fashioned cola, and to this the cloves bring out a deep, dark complexity. Yet more sweetness comes from the juicy, fresh cinnamon, which melds beautifully with a core of the essential oils of Seville orange peel.
Palate: An absolutely huge whack of high-proof spicy vanilla-laden complexity. Hints of Manuka honey and mouth-watering cinnamon form its heart, with molasses, candy floss, toffee apples, crème brûlée and clove-studded oranges.
Finish: An incredibly long finish, with a stunning degree of freshness as the cinnamon, orange and creamy, sweet vanilla coat the palate for minutes.
Overall: If there was ever going to be anything that could top the standard Rumbullion! this is it. The additional ABV will be a welcome boon to those used to cask-strength whiskies, and those who appreciate deep and intense flavours.
Ben.
*There isn't. I've got a dartboard and a load of scraps of paper full of batshit mental ideas. That's all.