This week we're particularly excited about a single malt whisky from Yorkshire that has been finished in peated whisky casks. The first batch didn't hang around long so you might have to hurry to get a bottle of Filey Bay Peated Finish Batch #2.
One of the members of the new English Whisky Guild is the Spirit of Yorkshire Distillery, located by the coast not far from York. It began distilling in 2016 and we visited in 2017 and were very impressed by the quality of the set-up and the embryonic whiskies. In 2019, the first release arrived at MoM Towers and quickly vanished off the shelves. It was a similar story with the distillery's first peated release. Whoosh, it was gone! Now the second batch is here. According to co-founder David Thompson: "Our customers have been asking for the return of our Peated Finish ever since the release of Batch #1 sold out, and we're delighted to be able to say that it's back." But before we look at it, first a little recap of the Spirit of Yorkshire story.  
The distillery was founded by farmer and brewer Tom Mellor from Wold Top Brewery in North Yorkshire and business partner David Thompson, with a little help from the late Jim Swan. It's a true farm to glass set-up with all the barley used coming from Mellor's farm around Hunmanby, south of Scarborough. The barley goes to Bridlington for malting before going to Wold Top for mashing and fermentation. This sort of set-up, though not allowed under SWA rules, is common in the burgeoning English whisky category. I mean, if you own a brewery already, then why not do the brewing there?
Flexible set-up
The still arrangement would also cause some head scratching at the SWA. There's a 5,000 litre wash still with a boil ball and a 3,500 lantern-shaped spirit, made by Forsyths of Rothes. So far so conventional, but at the pull of a lever, the spirit vapour can be sent through a four plate column for further distillation. The distillery can thus create two kinds of single malt, a heavier pot still spirit and a lighter column still distillate. David Thompson commented: "Our production allows us to create two different spirit styles, using a pot and column still configuration to create a flavour profile that is unlike any other malt whisky."
The warehouse inventory mainly consists of ex-bourbon barrels. But alongside a few sherry casks there's some STR (shaved, toasted and recharred) wine barrels, this is a Jim Swan distillery after all, and some casks that previously held vino de naranja (wine made from oranges, an Andalusian speciality.) We can't wait to try that release. Thompson said: "As a distillery, we are passionate about pushing the boundaries of whisky making, which is why we are always experimenting with different casks to finish our whisky in." And they also have some casks that previously held peated whisky.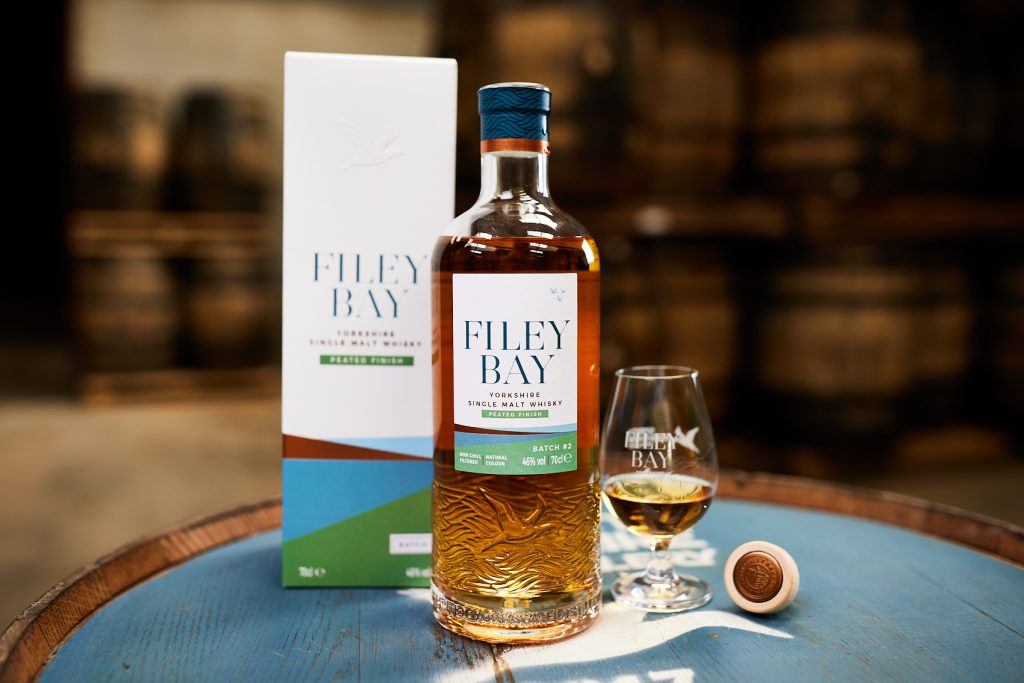 Filey Bay Peated Finish Batch #2 is here
This second peated release is made from a combination of the two distillation methods aged in ex-bourbon barrels and then finished in those smoky casks. Whisky director Joe Clark explained: "We really feel that Filey Bay Peated Finish Batch #2 is the perfect whisky for both those who love peated whiskies and those who are less familiar with them. Its subtle smokiness is prominent enough to make an impact but gentle enough not to overpower our house style. Our finishes are all about balance, and this bottling is the perfect example of that."
This second release is not only a little older and deeper in flavour than the first peated release. Just as with the first release it's bottled at 46% ABV with no colouring or chill filtration. We'll see how quickly it sells out. 
Filey Bay Peated Finish Batch #2 is  available from Master of Malt. Click here to buy.
Tasting Note by The Chaps at Master of Malt
Nose: Earthy peat and fresh malt make way for lemon shortbread and oily nuts.
Palate: A little baking spice dusted on orchard fruit and more grassy peat.
Finish: Sweet and smoky.