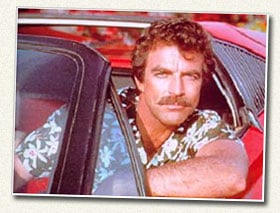 "Hey! Wait just one second. People are incorrectly spelling November and are growing things on their faces that suggest they shouldn't be within a 500 metre radius of a school. What the devil is going on?"
Maybe that reaction was entirely made up, but it does give me an excuse to fully explain Movember to all who will lend an ear, and so here goes…
At Master of Malt, we've been loyal Movember supporters for ages, but for the past few years we've actively participated by launching our own, incredibly special, super-collectable whisky, donating all the profits to charity. Last year we raised a staggering £2,000, and this year we'll be donating a whopping £10 from every single bottle sold (this is the total profit from each bottle), so we're expecting it to be our best year ever!
"But what is Movember, and what's with putting "Mo" at the beginning of all the words?"
If you give us a MoMent, we'll tell you. For starters, Movember is a portmanteau of Moustache and November, so that's pretty cool. Attaching words together in that manner is always funny, for example a "toffee apple" becomes a "Tapple", and a cross between a Chihuahua and a Rabbit becomes a "Chihuabbit" (RSPCA please note, we have not tried making this so… …yet).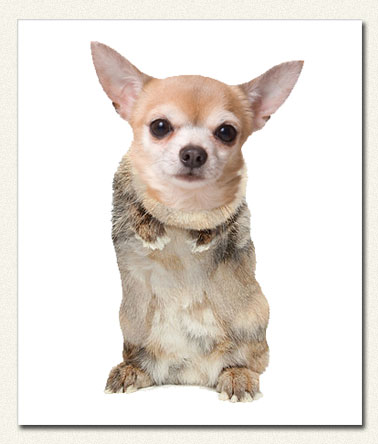 Science has gone too far…
The charity Movember is dedicated to raising funds and awareness for men's health issues, specifically prostate and testicular cancer, so as chaps it's a charity very close to our hearts (well, not anatomically, but you get the idea…). As you probably guessed, the event runs over the course of November, and the rules for taking part are simple:
1. On "Shadowe'en" (October 31st), the complete moustache region, including the entire upper lip and handlebar zones, must be completely shaved.
2. For the entire duration of Movember (November 1st–30th), no hair shall be allowed to grow in the goatee zone (any facial area below the bottom lip).
3. There is to be no joining of the moustache to sideburns.
As absolutely avid supporters, all the chaps at Master of Malt take part every year, as evidenced below in the "Shadowe'en" and "Post-Shave-Down" shots: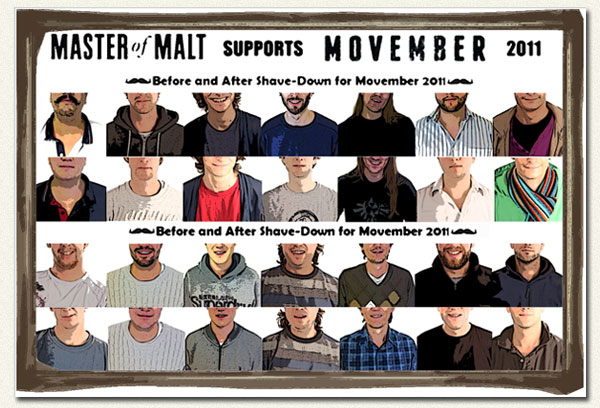 Maybe a couple of us are wearing the same outfit two days in a row… That's fine isn't it?
The point of all this moustache-growing is that you become a walking, talking advert for the charity. People will come up to you and say: "Hey, it's not 1987 anymore, what's with the 'tash?", or "It's about time they brought back the toothbrush moustache…", and that's when you inform them about Movember. You'll also notice a warm feeling of hope that you might soon look like Tom Selleck and then feel that hope being quietly crushed as you look in the mirror after a couple of weeks and realise it was sadly never to be.
To inspire you to grow your Mo, here's the album cover for Jim Post(no idea either)'s album "I love my life." We're not sure if the title is deliberately ironic, as he looks desperately sad.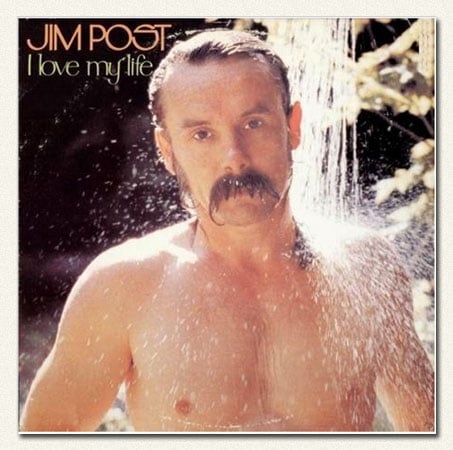 It's the look in his eyes that does it…
And Ken's "By Request Only"…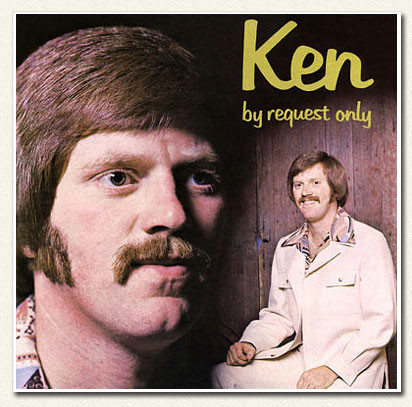 He looks like a partially shaved St Bernard…
Well, I'm certainly inspired.
To explain a little more about how we chose the whisky, I'll hand you over to Chris Hoban, one half of the brilliant Edinburgh Whisky Blog. This was written a few weeks ago…
Choosing the Whisky
Chris here. I'm on my way up to Bonnie Speyside. This is the bonus of living in Scotland and loving Whisky. I jump on a train at a very civilized 9.35 AM, take a 3 hour train journey through national parks and the Grampian mountain range (breath-taking) and I am at Aviemore ready to make my way to Glenfarclas Distillery. On the way, had I been inclined and had I more time, I could have stopped off at Blair Atholl, Edradour and Dalwhinnie to name but a few distilleries. Dalwhinnie is actually a stones' throw from the train.
Sometimes – and I am sure you have all felt the same – there is a need to get away from the city. So when Ben offered me the chance to take a trip up to Speyside, I jumped at it. Edinburgh is a beautiful place, but trams (argh!) and other nonsense make you yearn for a bit of quiet. It's the right time to get away, even for a day, to somewhere a little more peaceful.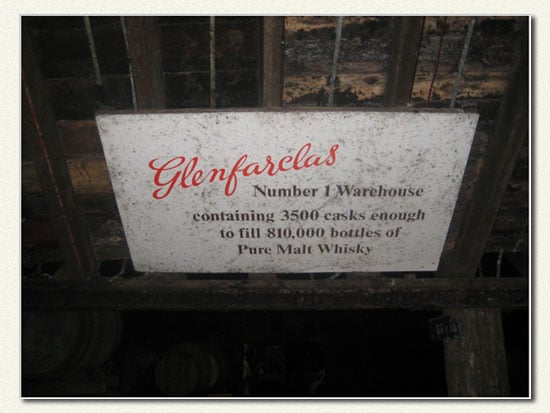 So why have I been sent up here? Well, let's talk about Glenfarclas for a minute and then we will get to my task. They are very much a distillery that does what it says on the tin. They make nice whisky using mainly Casks seasoned with Oloroso Sherry. They don't really muck about with fancy packaging or fancy prices. No wood finishes, only full maturation. They are still family run and they have some of the oldest whisky stocks in the country.
I was talking to George Grant about the use of Port Casks as we drove through Speyside, (passing numerous distilleries including: Tormore, Aberlour and Macallan) since I didn't know they used Port casks. He was saying that in the early 1900s, port was quite popular in Scotland. His Great Grandfather would buy a Port cask filled with Port, drink or giveaway the Port and then pour his whisky into the cask. Not a bad idea!
On to why I took my trip up here… …Master of Malt love Glenfarclas.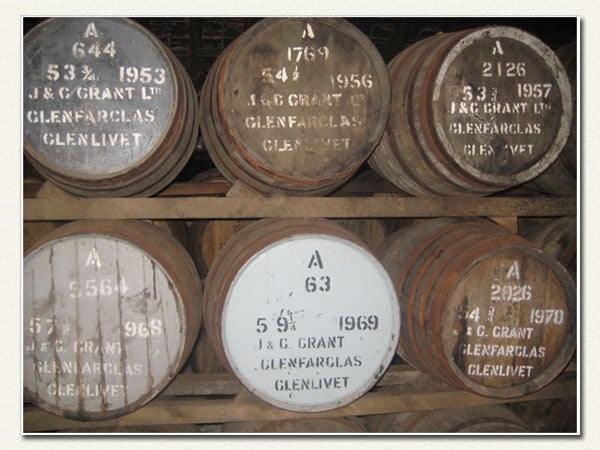 Ed. Yes we do.
They love the ethos and love the guys involved. As part of Movember, they are going to bottle a couple of casks of Glenfarclas and I have been selected to help choose the casks. Me! I pinched myself when Ben asked me. What a great job!
So the challenge set to me is to pick two casks that will mix well together to create a big, rich, spicy beast. They don't sell single casks at Glenfarclas, as they have the family cask range. I could feel the pressure building as we drove through Speyside.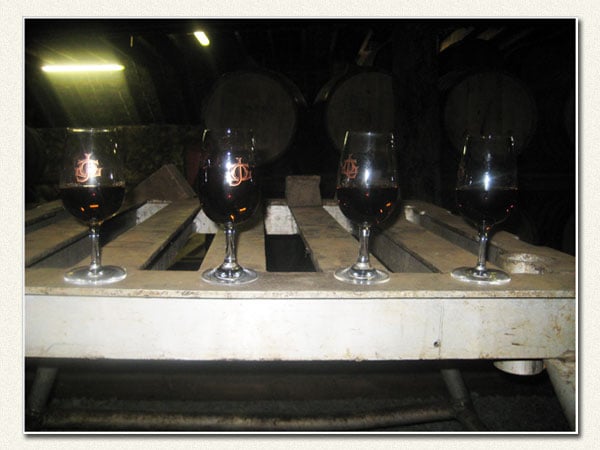 Heaven.
George had handpicked ten casks to choose from. They were all 9 years old. We tried as many as our palates could handle.
These were the two casks I chose…
Cask 2659
Nose: Chocolate, honey, nutty, raisins.
Palate: Bitter cocoa, coffee… superb stuff.
Cask 2662
Nose: Light, honey, vanilla.
Palate: Creamy and zesty, with slight hints of raisins.
Tasting note when the two were mixed together:
Palate: Hot chocolate, honey, smoky. Really interesting.
With water it was sherried, rich, with mahogany, slight pine. Beautiful George said it was a wild one, and I agreed. That was part of the logic of choosing it, something a bit wilder.
Just as we were walking (floating) out of the warehouse, I spotted one of the Port pipes and begged George for a taste.
Glenfarclas 30 Year Old First Fill Port Pipe
Nose: Vanilla, blackberry, cream. Slight astringent note. Gentle and superb.
Palate: A bit of marsipan. Hints of dried fruits, chalkiness, apples and pears. Almost a mineral note. A really different feel from the more Christmas cake style Glenfarclas.
Overall: My word. That's good.
Thanks to Glenfarclas and Master of Malt. What an experience!
End.
Thanks for choosing the whisky, Chris! It really is rather stunning! In fact, let's put it through its paces right now…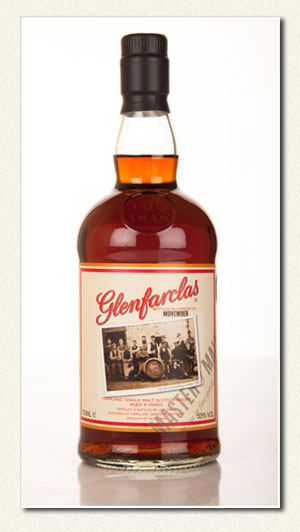 Glenfarclas – Movember 2011 Tasting Notes
Nose: A whiff of salted almonds is overtaken by sherry – somewhere between Manzanilla and Fino – surprising, since this was matured solely in Oloroso. With warmth applied, the caramel-rich Oloroso starts to come through, with a hint of Brazil nut shell.
Palate: Starts off big with just a smidge of sweetness before the savoury Fino takes over. An almost saline note creeps through before moving into blue agave tequila, with a hint of lime zest bitterness.
Finish: Dries out, with freshly-shaved oak, Christmas spices, and a touch of pine. Very moreish.
Overall: A seriously grown-up whisky, miles away from a standard Glenfarclas – further even than the refill Bourbon matured Family Casks. Glenfarclas, usually an after-dinner treat, is firmly in the aperitif camp here. Superb with smoked almonds or sharp cheeses.
The Label
After choosing the whisky, next up was packaging, and we reckon this is pretty marvellous too. Ben and George were talking, and thought it would be an awesome idea to see if any of the distillery workforce from the days of yore had excellent facial hair, and if so, to do a kind of 'then and now' with their staff, and ours (ironically the operational part of Glenfarclas is now operated by a single man!). George unearthed an absolutely fantastic image of the distillery workers in 1891, and sure enough many of them had awesome 'taches and even full beards! We assembled our troops, issued them with appropriate hats, coats, and fake facial hair as appropriate – and recreated the pose using a cask left over from our sadly departed Arran 12yo.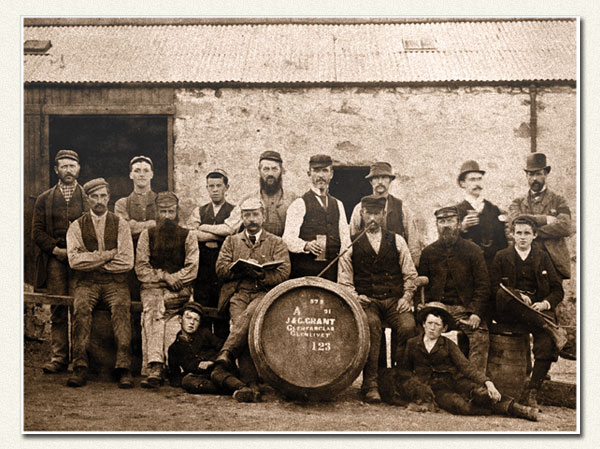 In the spirit of Movember, we donned fake moustaches and beards and copied the poses of the Glenfarclas chaps exactly, only rather than using strapping men, we recreated the scene with the bunch of pallid, scrawny desk jockeys that we truly are…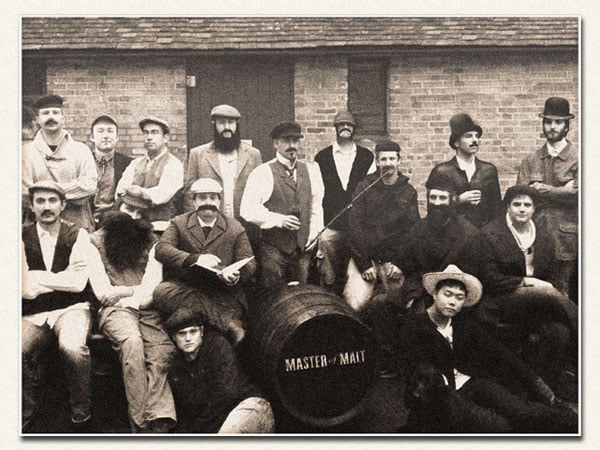 We reckon this is our most collectable Movember whisky yet, and maybe even one of the most collectable malts for 2011!? Who knows! One thing is for certain: it's absolutely delicious!
The Launch
A couple of weeks ago we were invited to take part in the Movember Launch Party, held at the fabulous Village Underground. The night coincided with the Diageo Special Releases tasting, so Mike trundled off to that, and Ben bravely led the back bar, making delicious cocktails using everyone's favourite rum, Ron de Jeremy (it seemed apt!). Believe us when we say his cocktails really were fabulous. The cocktails were developed by Ben and Ryan Chetiyawardana from the Whistling Shop…
Corn and Oil
60ml Ron de Jeremy
15ml Taylors Velvet Falernum
15ml Coca Cola
Large Dash MoM Cask-aged bitters
Stir over ice and serve straight up in a chilled Martini Glass with a Grapefruit Twist.
Rum Fizz
40ml Ron de Jeremy
25ml Briottet Framboise
25ml Briottet Abricot
25ml Lemon Juice
5 drops MoM Black Pepper Bitters
5 drops Rose Water
Build into a highball glass filled with ice, top with Soda, Stir Gently and garnish with a grapefruit segment.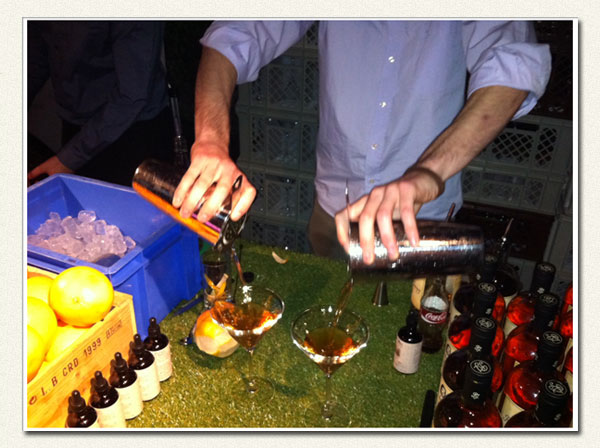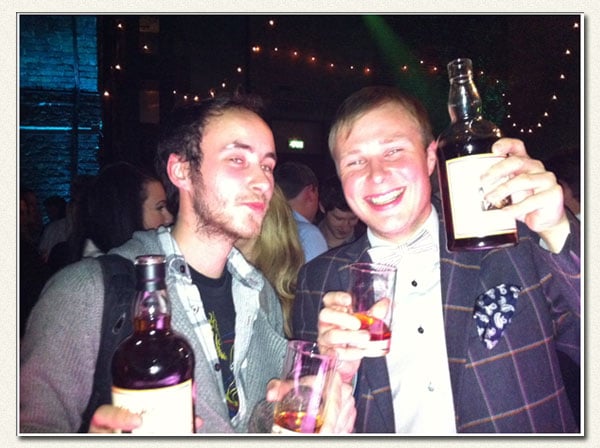 Duncan from the Whisky Picnic enjoying a cocktail
After cocktail hour was finished, Ben invited everyone to taste the Glenfarclas Movember bottling. The reception was very good…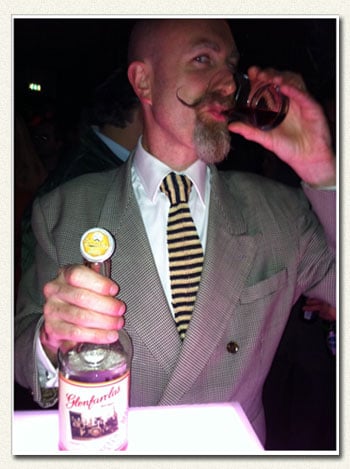 Mr Wax, the moustache wax king – marvel at his moustache!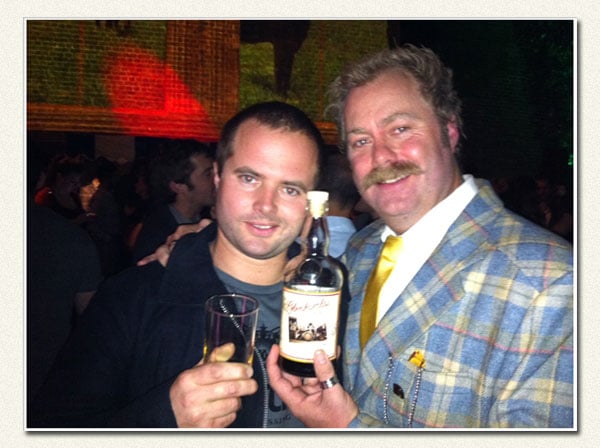 Movember's co-founder, the awesome JC with a bottle of the Glenfarclas
How You Can Help
To help raise money for this great cause, and to have your own Movember whisky, you can buy a bottle of the Glenfarclas – Movember 2011 for £39.95. Remember, £10 from every single bottle sold will be donated straight to Movember UK!
You can also help us spread the word by joining our Movember team on MoSpace here!
Cheers.
Mike, Chris and Ben.