As this blog goes live, something exciting is happening – we've been able to get hold of some more bottles of Yula, and they're now available to buy! It sold out very quickly last time, so you may not want to waste any more time here on the blog…
Still with us? Right, well we better tell you some more about this exciting release then! Yula is a new blended malt from Douglas Laing. We love a blended malt from these folk, of course, whether it's Big Peat, Scallwag or Timorous Beastie (the 'Douglas Laing Force', as Sam calls them/likes to draw them in paint) or indeed Rock Oyster, made with island malts.
Yula, meanwhile, is made with peated island malts distilled in 1995 and bottled at 20 years old for the first in a trilogy of annual limited edition bottlings. "Chapter one in a three part story" is a release of 900 bottles.
Should probably point out that the stopper changed shape after they made this (see below)
Yula, or Iula, was a Danish Princess of legend, perhaps even daughter of the king of the Giants, who ventured across Europe in search of adventure or even love (as with many legends of this kind, there are different versions). She carried stones in her apron during the voyage, dropping them as she went (probably to use as stepping stones) and it's said that these stones became many of the islands we're used to today – whether it's Texa and the small islands off of the Kildalton coast or even the entire inner Hebrides!
It's a tragic tale, however, as when she reached the location of Islay, the treacherous seas are said to have claimed her, with Islay itself possibly having been the final stone in her apron. Today the site of her supposed final resting place can still be seen, marked as it is with two standing stones.
It's said that Islay takes its name from this princess, and it's therefore not surprising that this isn't the first time we've seen her appear on a bottle. Back at the turn of the millennium a Princess Giant edition of Bowmore Legend was released, although it has to be said that the packaging of Douglas Laing's Yula is rather more tasteful (much more beautiful design, far less unnecessary cleavage). We also love the way the tale matches the spirit of this particular spirit, taking in various peated island malts. Speaking of which…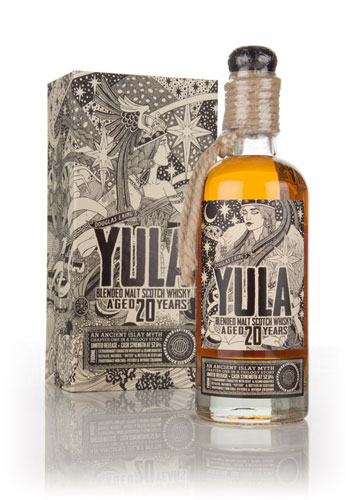 Yula 20 Year Old (Douglas Laing) – 52.6% ABV
Tasting Note for Yula 20 Year Old (Douglas Laing)
Nose: A barley field on the coast, light, fragrant, salinity in the air. Hints of richer and smokier things to come. Inviting.
Palate: Thick with treacle and Werther's Originals by the fireplace. Soot, but also notes of sweet spice and some from the harbour too.
Finish: Sweet smoke, brisket, a touch of heather.
Overall: A beautifully balanced and delicious peaty blended malt.
The Chaps at Master of Malt