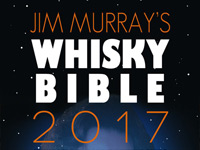 Jim Murray has announced the winners in this year's Whisky Bible, with a rye claiming top spot for the second year running and a Scotch whisky in the top three for the first time since 2014.
Following on from Crown Royal's Northern Harvest Canadian rye, it's an American rye whiskey that's been named World Whisky of the Year in Jim Murray's Whisky Bible this time around: Booker's 'Big Time Batch', aged for 13 years, 1 month and 12 days. Laid down by the legendary Booker Noe himself in 2003, shortly before his death, his son continued to watch over the casks and they were finally released earlier this year. Booker's first ever rye, it was already described by Beam as an "extremely rare, limited edition offering, made from a very limited number of barrels" and will now become an even more sought-after bottling.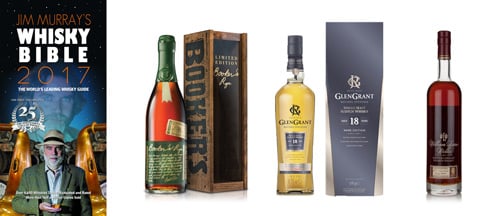 Jim Murray's Whisky Bible 2017
Second place was claimed by Glen Grant's new 18 year old (at the time of writing available for Pre-Order). It's the first Scotch included by Jim Murray in his top three since Glenmorangie Ealanta was named World Whisky of the Year in 2014.
Known to be a huge fan of the Buffalo Trace Antique Collection, it was the William Larue Weller that completed the podium for 2017. There were big wins too for That Boutique-y Whisky Company, Compass Box and the English Whisky Co.
Jim Murray's Whisky Bible 2017 World Whiskies of the Year
1. Booker's 13 Year Old Rye (Big Time Batch)
2. Glen Grant 18 Year Old Rare Edition
3. William Larue Weller (2015 Release)
Scotch Whisky Winners
Scotch Whisky of the Year – Glen Grant 18 Year Old Rare Edition
Single Malt of the Year (Multiple Casks) – Glen Grant 18 Year Old Rare Edition
Single Malt of the Year (Single Cask) – Macallan 25 Year Old (That Boutique-y Whisky Company)
Scotch Blend of the Year – The Last Drop 1971
Scotch Grain of the Year – Invergordon 24 Year Old - Whiskyjace
Scotch Vatted Malt of the Year – Compass Box Flaming Heart 15th Anniversary
Regional Winners
Canadian Whiskey of the Year – Crown Royal Northern Harvest Rye
Irish Whiskey of the Year – Redbreast Aged 21 Year Old
European Whisky of the Year – English Whisky Co. Chapter 14
Japanese Whisky of the Year – Yamazaki Sherry Cask 2016

The Chaps at Master of Malt