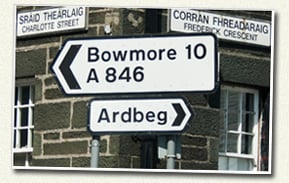 Sadly, when we awoke on Saturday, we discovered that there had been "poorly defined ferry issues". This meant we couldn't attend Ardbeg's distillery day, and instead we had to pack our things and race across the island to reach the morning boat. You can imagine our chagrin. It looked to be a great day and the weather was splendid, complete with blue skies and, for the first time in over a week, we were thrilled to see our tired bodies were casting shadows on the ground. This felt like a good omen for our Lord of the Rings-style quest home (in this case, back to the Shire).
"Hey why didn't those eagles just take you all the way to Mordor in the first place, you'd have saved yourselves a lot of unnecessary bother…"
We'd been lucky enough to catch up with Ardbeg's master distiller, Mickey Heads, earlier in the week. Mickey had been kind enough to take a good hour out of what must have been a jam-packed few days, and he sat down with us for a chat. You may remember we interviewed him before here.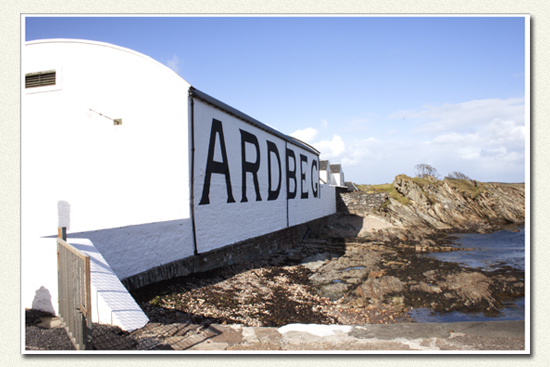 An Interview with Mickey Heads
MoM: When we first met in 2007 it was a true baptism of fire for you. How are you finding the transition from then to where you are now?
MH: Well, when I met you then it was only about three weeks after I started. I knew the place a little bit before, having lived on Islay and having worked at Laphroaig. Since then I've certainly learnt a lot about the way everything here works, but the thing about whisky is you're learning new things all the time. You can see what it's like at the festival, and it's great to have that enthusiasm, particularly during this week when you hear so many people saying how much they enjoy the whisky.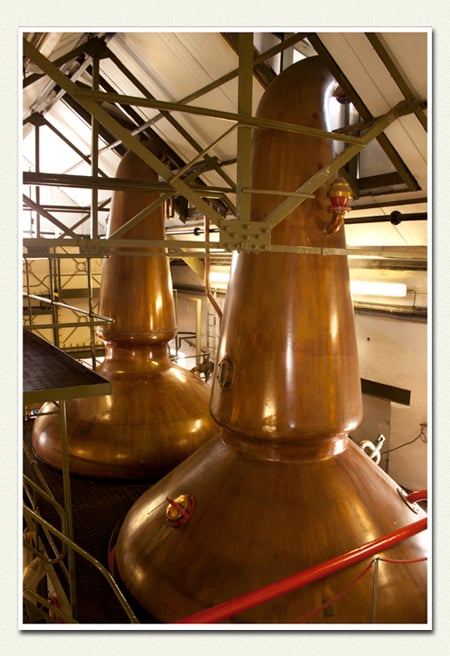 MoM: It's true, the whisky is tremendously popular. So, why does Ardbeg have such a cult following?
MH: A couple of reasons come to mind. If you saw this place through the 80s and 90s, it always had a reputation as a good distillery and the whisky was written about a lot. It was one of the first distilleries that you saw on Islay when single malt started to grow and when Glenmorangie PLC took over, they saw that Islay whiskies were taking off, and what they've done over the last fourteen years is pretty remarkable. Some of the whiskies they put out a while back have become legends, especially when you think of the 17 and the vintages. You hear people talking about them: "oh 1974" or "that '72", and bringing out those whiskies has really helped our reputation. You have so many people talking about the whiskies.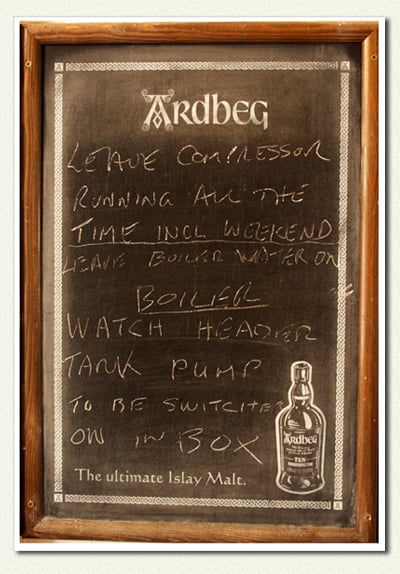 MoM: One of our questions actually was about the wood you use. Obviously having that link with Dr Bill Lumsden, do you have a different wood source from that of Glenmorangie (distillery)?
MH: Yes, we do it differently. They have their style that they do, but we are heavily peated so we're working with a different animal. I wouldn't say it's more difficult, but it's a challenge when you have to match this big, smoky whisky.
MoM: A lot of our customers would be very interested in the finer details of your wood policy. Would you sum it up for us?
MH: We mainly use ex-American oak. For the 10 year old we use first and second fill casks and we do a lot of the vatting onsite, so we're really looking for consistency. For Uigeadail we do use some sherry as well as bourbon wood, and obviously we have the French oak for the Corryvreckan. There's a very distinct way that we handle the wood here.
MoM: Is there anything maturing in the warehouse that's different from what you'd normally do?
MH: Oh yeah, we do our little experiments and I'd love to disclose more. [A cheeky grin illuminates his countenance]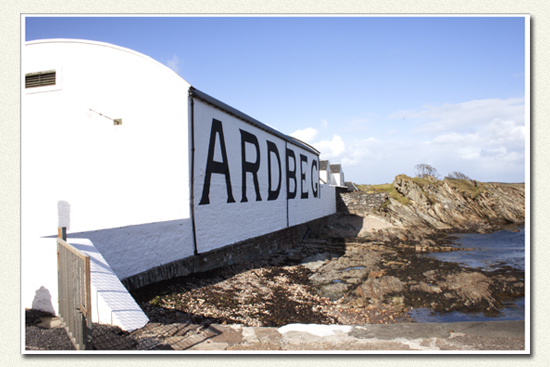 MoM: Can you tell us a about the Alligator?
MH: Well, we gave the casks a deep char… …in fact we used the heaviest char you can get! We are looking to develop new products all the time, so we've been looking after Alligator for a while. It's different, but it's a cracking dram: big, earthy, rich and spicy. The wood is deep charred American oak, and it's also been partially aged in bourbon casks.
MoM: We know that there's a new filling store at Ardbeg. Will there be any more expansions to the site?
MH: Well last year we had the filling store, and the disgorging operations, and we put the vats in. This year we just fitted in a new boiler in the plant, as well as a new washback in the mashhouse. It's really grown here. Even when you think that the café started off as a cup of tea and a scone. Now we're doing great lunches! You've got to keep spending money and upgrading. We're looking at warehousing a couple of years down the line, and right now we're ageing most of the whisky we've distilled since 2000/2001 here at our warehouses.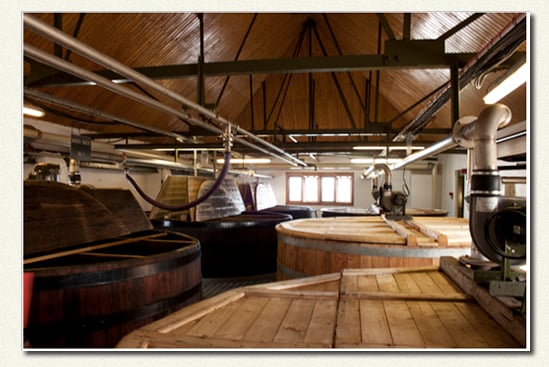 MoM: Capacity-wise, what are you working at? Are you going to increase your capacity?
MH: There are no plans to increase the production level. We're the second smallest on the island, at just over a million litres per year. We work a full week at the moment, and we can go up a bit. Ardbeg's still growing, but it's doing well at the moment. Increasing the capacity would be a decision for a few years down the line.
MoM: Today's a great example; the distillery is an absolute mecca for peat heads coming here from all over the world. Who would you say were the most committed? If you had to pick one nationality…
MH: Oh Scandinavians, definitely! Germans too, and a lot of fans come from other countries in Europe. But there are people from all over the world here. Heavily peated whisky isn't everyone's cup of tea, but there are people from everywhere coming to the distillery. The web helps too; there are so many clubs and groups talking about the whisky.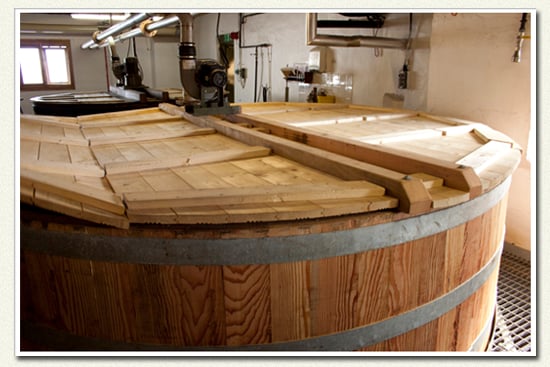 MoM: Obviously one of the biggest discussions over the last two years was about the super high peat levels, and the competition between you and Bruichladdich. How did that all start?
MH: When we started making those whiskies, we did it independently of each other, and by the time they came out it was just coincidence really. It was the peatiest one we'd ever done, and it did cause a lot of discussion, but it wasn't about trying to outdo each other. It was great how much interest there was though.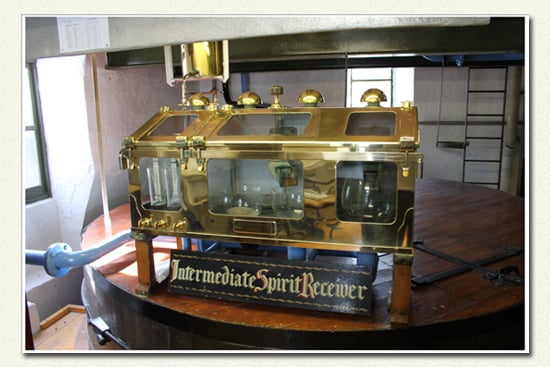 MoM: Are there any thoughts of doing something even more peaty?
MH: Oh, no! You've got to be very careful with these things, as Supernova isn't just about smoke. There's a lot of flavour there too. For us it's about getting the balance right. The two we did were well received…
MoM: Are there casks of whisky at that peating level still in the warehouse?
MH: There are lots of things in the warehouse and [he winks] we can't say any more than that!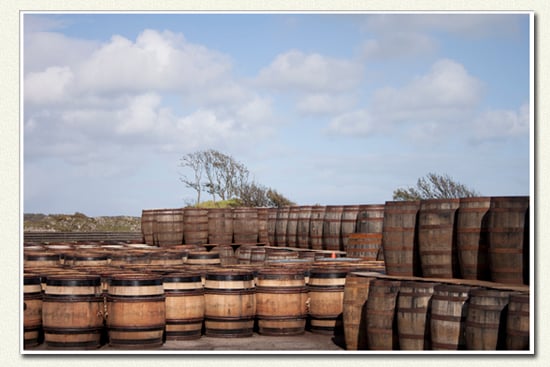 MoM: Coming from Jura to Ardbeg, have you found there's been a big learning curve?
MH: There's always a learning curve. We're learning things all the time. Here, right now I'm talking to you guys, but in a couple of hours I'll be in the boiler house replacing an oil pump. There are a lot of things, from the mechanics of making the whisky, to doing things for the brand. It's hard work, and there are lot of demands on your time.
MoM: With Glenmorangie we've seen a lot of very sensible prices with their recent releases, particularly looking at bottlings like Sonnalta and Finealta. They're accessible to the market. Then a couple of months ago we saw Pride. When are we going to see something like that from Ardbeg? It's obvious the demand is there.
MH: Well we had the Double Barrel a while back. As far as something in the future, you'll have to wait and see. There's nothing on the table at the moment though.
MoM: If you had to work somewhere other than Ardbeg, in terms of distilleries, where else would it be?
MH: I wouldn't even contemplate it. I really like it here, and I don't have any ambitions to go anywhere else. I was at Laphroaig for many years and at Jura too, but I'm settled here. The idea of moving just doesn't appeal. There's so much enthusiasm for what we're doing here, and I look at the job as something to do as well as I can. I'm very happy; I like my space and I like the smell of the sea.
MoM: Take whisky out of the equation, what else do you drink?
MH: I'm no expert on it, but I do like a nice glass of red, or a nice crisp white. I'm not into really expensive stuff, but a new world Shiraz, maybe something from Australia, or a New Zealand Sauvignon Blanc. We're quite lucky to be able to get Cloudy Bay because we work for this company; it's nice to have a bottle from time to time. I like some of the small batch bourbons as well and having worked with Heaven Hill whilst I was at Jura, I remember the first real small batch bourbon I tried was Elijah Craig 12, and I liked that one a lot.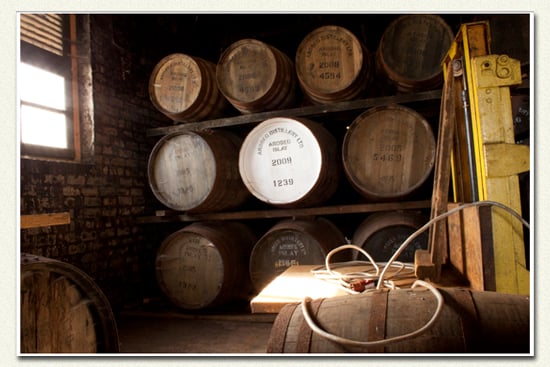 MoM: So how did you get into the whisky industry?
MH: My father worked at Port Ellen as a stillman, up to when it closed in '83, and my grandfather was the head maltman there. When I left school I wanted to either join the Navy or the police force, but one day one of the assistant brewers at Laphroaig approached me for work, having seen me all over the island on my motorbike. I finished my previous job on the Friday and started at Laphroaig on the Monday and doubled my money, making £50 a week! I started off cutting peat and doing engineering, then I started on the stills, and they trained me up even more. Then one day Iain Henderson asked me to work as the brewer. I did a lot of courses and training, and when the Jura job came up, I went over there to try something new, and ran the distillery. I think I was at the right place at the right time! I think it was meant to be!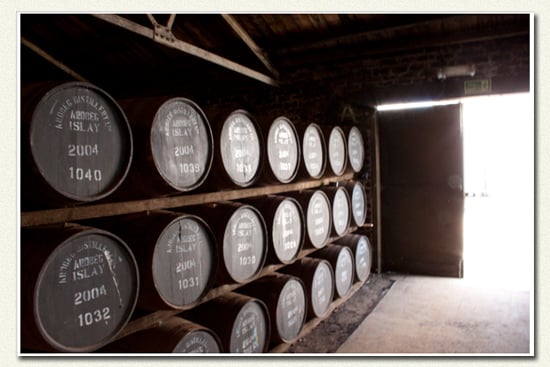 MoM: Final question. Your personal hangover cure?
MH: Cup of tea. Lie on the sofa. And suffer.
We did get a chance to try Ardbeg's Feis Ile bottling. Aged for 13 years entirely in Pedro Ximenez sherry casks, this was always going to be something special.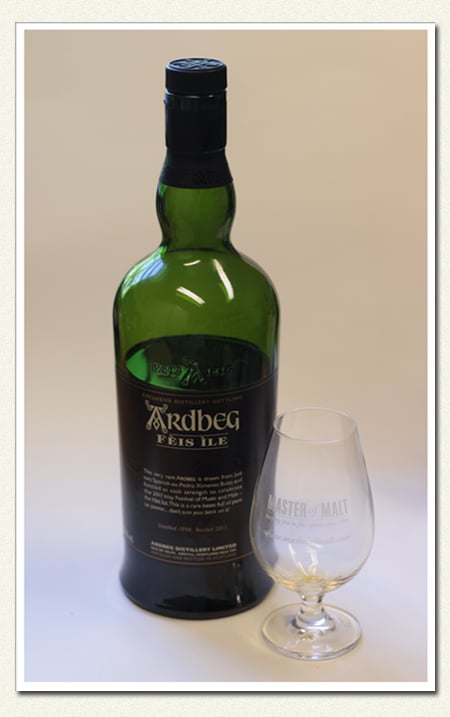 Ardbeg 2011 Feis Ile 13 Year Old 1998
a release of 1,200 bottles
Nose: Really thick and rich. There's an incredible amount going on, all of which is underpinned by this meaty, BBQ smoke. There's some of the Ardbeg citrus, but mostly you're greeted with aromas of tar, black treacle, smoked prune juice and sweet sherry.
Palate: An explosion floods over the palate, and it gives up intense notes of prunes, tangy plums, warm pastries and thick smoke. Hints of burnt sugar too, with just a little citric tanginess late palate.
Finish: Very long, and big on sherry. It has a perfect balance of wood smoke and sweet, over-ripe grapes, with a tinge of drying oak on the tail.
Overall: Absolutely staggering. One of the best Ardbegs we've ever tasted, and by proxy, one of the best whiskies we've ever had!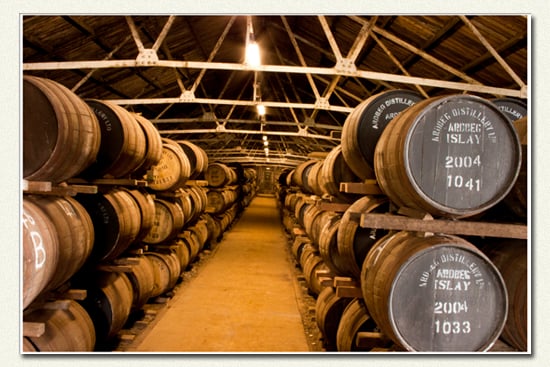 Final Thoughts
With the security of guaranteed electricity, the warmth of central heating, and the joy of never having to walk more than 5 seconds in any direction for a chai tea latte, we can sit back and evaluate the week. Overall, it was a brilliant trip, and for anyone seriously into their single malts, it's a must, but a few things did occur to us, and here are some of our thoughts:
First off: Some of the distilleries could have done more. We're not going to name names, but we felt that, in some instances, a lot more effort could have been made. There were a few top notch distillery days, but sadly there were a couple which were a tad disappointing. Those that fell into the latter category just opened the doors to their visitor shops, and that was the extent of it. Maybe there would be a free dram of the entry level expression available too, but that's missing the point. Anyone who attended the festival had had to make a huge effort to be there. For us it was no mean thing, involving 10 hours in a car and a ferry journey. For the huge number of whisky fans coming from Scandinavia and mainland Europe, it's an enormous endeavour. These people haven't come to try the entry level expressions and they're not drinking for the sake of it. They're here because they want to learn, and they want to try new things. It's worth going the extra mile for them too, because they are going to be long term customers, and if you can convince them that your whisky is good stuff, it'll pay off. We don't want to sound like a bunch of sourpi, because every day was enjoyable, and we fully appreciate that these are working distilleries with jobs to do. We just reckon that investing more in entertaining the punters will have big dividends in the future, so it makes sense on all counts.
Our second thought: Less bagpiping, more power metal. Just that really. Luckily for us we had a decent sound system in the car, so when we drove the long stretches of empty road across the island, we could do it whilst listening to Hammerfall at full pelt. Their thunderous guitar tones, lyrics entirely about the concept of victory, and epic solos formed the perfect soundtrack to our Islay adventure. The words "no sacrifice, no victory" have never rung truer.
The weather: Never in the history of tourism has a British person gone on holiday and not been greeted by what the locals dub "unseasonably bad weather". Be it a daytrip to France or a journey by caravan across the Sahara, the Brits will always be subjected to wind, rain and cold. It's life. Just learn from our mistake and don't turn up in shorts and sandals.
Diageo: This was covered pretty conclusively in Georgie Crawford's interview yesterday, but we'd like to say a few words. Being big and successful doesn't make you evil incarnate. Sure Diageo want to make money, but so does every other distillery on the island. The most important thing for us is: Caol Ila and Lagavulin make very, very good whiskies. You can also find them nearly everywhere, in every bar, in every country, and they always taste great.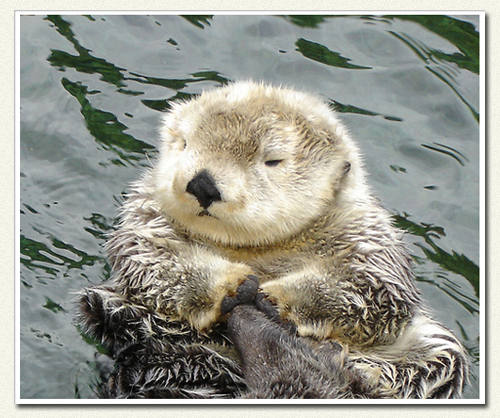 "I will crush you like a clam on my tummy"
Media and Entertainment: Our cottage contained a poorly packaged DVD, the heavily pixelated cover of which read "The Otter Watcher's Guide to Otter Watching". One might think a guide to otter watching must surely be the exclusive domain of the otter watching fraternity and that the title was pleonastic. However, it turns out that there are varying levels of otter watcher, and one must do one's utmost to offer something for every level of enthusiast, from the amateur, who can merely identify an otter on sight, to the seasoned veteran, who is usually able to name several different varieties of otter.
We can name just one variety: "Regular Otter".
– The Chaps at Master of Malt –