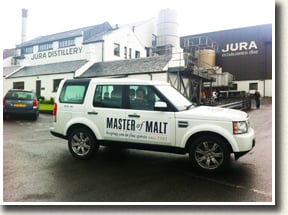 Thursday was Jura Day. It started far too early for any of our liking, and lack of sleep is beginning to play heavily on people's sanity; that and the midges.
We left in a hurry to catch the ferry at 8.30am, at the other side of the Island. You know, over there.
It is not a long journey. In fact we reached Jura in about 4 and-a-half minutes, the malt mobile rolling off the boat and onto the rugged shore.Force of habit made us reach for the sat nav, to aid us in our navigation of the Island's one, single track road. We were going the right way.
Or the wrong way depending on how much you like being chewed on by midges. Jura distillery was rife with flying woe, causing many a panicked swipe from those unfortunate enough to be outside.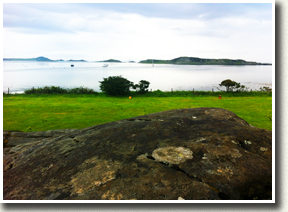 The rugged isle of Islay from the even more rugged Isle of Jura
We had a quick coffee with Billy from Billy's Booze Blog and Miss Whisky, then ran for shelter to the distillery and the beginning of our tour and tasting. It started with a talk about oak, given by Whyte and Mackay Master Blender Richard Paterson.
He took us through the types of oak used by Jura, which basically includes all the normal types of oak you would expect to find in a malt whisky distillery.
He had a moustache; he threw some whisky around; he made a pass at a bemused Norwegian. It was interesting.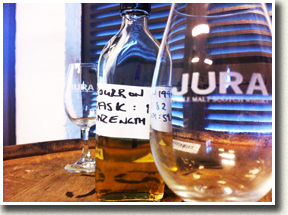 Cask strength Jura which we were only allowed to nose.
Next we were taken to the shop again. Here it got a bit weird. Jura, like some other distilleries we won't mention, are keen on legends, myths, stories and other dubious marketing strategies. John Tait, the distillery manager, spent several minutes trying to convince us that all five people who live on Jura think there's a ghost car driving up and down the Island's single road (he didn't mention whether it has a ghost sat nav).
So widespread has the story become it now features in the official driving test on Jura, which otherwise involves driving the whole length of the island without hitting a cow or careening into the sea.
He then launched into an impression of Chris Rock. It was altogether a quite eccentric performance.
It was followed by a tour of the distillery, which is a fairly industrial-looking establishment complete with stainless steel mash tuns and wash backs. John explained that when Jura reopened in the 1960s it was the first distillery to use linked wash backs, a unique innovation at the time.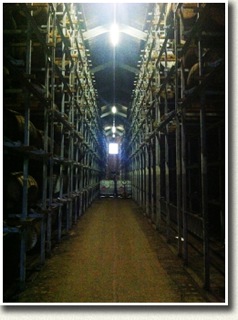 Jura have top men working in this warehouse. Top. Men.
Following the tour we were treated to some drams in the warehouse, again a vaguely industrial building very different to the old dunnage warehouses.
We tried three expressions:
Nose: Lead by heavy dried fruit and spice, cloves in particular. Some faint ester notes of banana. A hint of peat at the end but it's  very subdued.
Palate: Peppery heat, with a big, Christmas cake body and a tail of mild smoke, wrapped around a straightforward toffee sweetness.
Finish: Short, lots more white pepper.
Overall: A warming peppery dram that's not overly complex.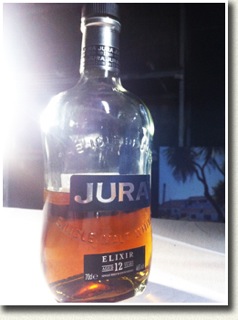 Jura Elixir
Jura Elixir 12 Year Old, 40% abv, blended from ex-bourbon and ex-sherry casks.
Nose: Light with lots of vanilla and a touch of nutmeg spiced ham. Quite creamy with churned butter and cream toffee.
Palate: Very similar to the nose. It's creamy with spicy vanilla toffee. Quite a light body and mouthfeel.
Finish: Buttery and short with a white pepper heat.
Overall: A highland whisky from Jura.
Jura Cask strength single cask 493 bottles French Limousin oak 54% 
Nose: Grapes and brandy, vanilla, butterscotch and chewy toffee. Some dry oak notes and sweet lemon.
Palate: Thick vanilla toffee and fudge with brandy and stewed fruit
Finish: Succulent and medium length.
Overall: A fat, sweet and drinkable Jura.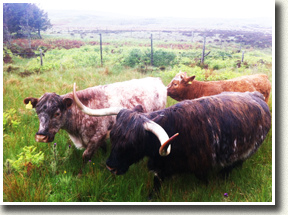 The rugged cows of Jura, from the comparative safety of the Malt Mobile
After our drams we had to leave with fair expedience; we had a lot of clearing up, packing and preparation to do.
Neil and Joel from Cask Strength, and Georgie – Lagavulin's Distillery Manager, were coming round to enjoy a fine selection of meat, whiskies and hot tubbing. We also had to move house in the morning, so we did as much as we could to get organised.
Despite this gruelling schedule we managed to squeeze in a quick visit to the Kilchoman distillery day on the way home. Also, we needed some lunch.
Fortunately there was a nice hamburger stall selling a variety of grilled meat. Four hamburgers and a quick visit to the shop to pick up our Feis Ile bottlings, we quickly escaped before the bag piping started.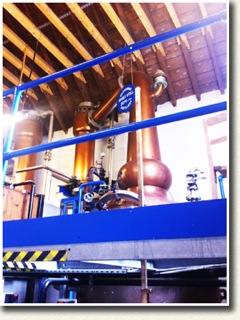 The Kilchoman still house
On the way back we ran across a Ford Escort grounded on a rock. Always eager to help, we gathered around along with some burley local lads (who looked like they had done this kind of thing before) and managed to bounce the car free.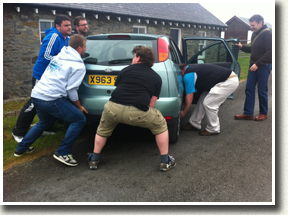 Our good deed for the day
Our guests arrived and, unsurprisingly, we drank whisky, as well as some vintage cocktails. We made a bloggers' pact that the escapades of that evening shall remain forever un-posted but suffice to say, the meat was excellent.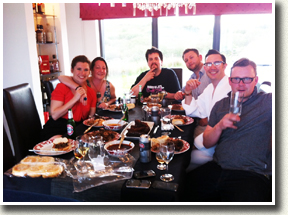 It all started so well…