Today we're making one of the world's most delicious cocktails, the way it should be made. With a good flavoured rum and fresh ingredients.
I had a Piña Colada epiphany a few years ago. I'd always dismissed it as the sort of lurid concoction laden with sugar, cream and cocktail umbrellas that Del Boy might order in Only Fools and Horses. Or that my older brother would drink on family holidays on Lanzarote. But a French friend made one for me with fresh pineapple, coconut water and Martinque rum, and it was about the most delicious thing I've ever tasted. It was so delicious, that I didn't notice how much rum was in it until I tried to stand up. 
So what is a Piña Colada? The name literally means 'strained pineapple' in Spanish and something like the modern version was invented in 1954 by a barman at the Caribe Hilton in Puerto Rico called Ramón "Monchito" Marrero, or so the story goes. There are other pretenders to the crown of the inventor of the world's greatest pineapple-based cocktail. The story is further complicated by the existence of a Cuban cocktail called a Piña Colada mentioned in the 1920s which mixes pineapple with rum but doesn't contain coconut. It was the Puerto Rican version, however, that went global in the 1960s and naturally it began to change a bit. The cream of coconut from the originally was substituted with the sort of cream that might once have had something to do with cows, pasteurised or tinned pineapple replaced the fresh stuff, and cheap rums sneaked in like cheap rums do along with glace cherries, umbrellas, fireworks etc. Just the sort of thing that Del Boy would have ordered in the Nags Head.
But made properly, a Piña Colada is a magnificent thing combining as it does the three most tropical ingredients imaginable: pineapple, rum and coconut. Imagine if you could get a mango in there somewhere, or would that be too tropical? Anyway, as long as you use decent ingredients you can't go wrong. So fresh pineapple juice, coconut cream or water and, of course, a rum that tastes like rum.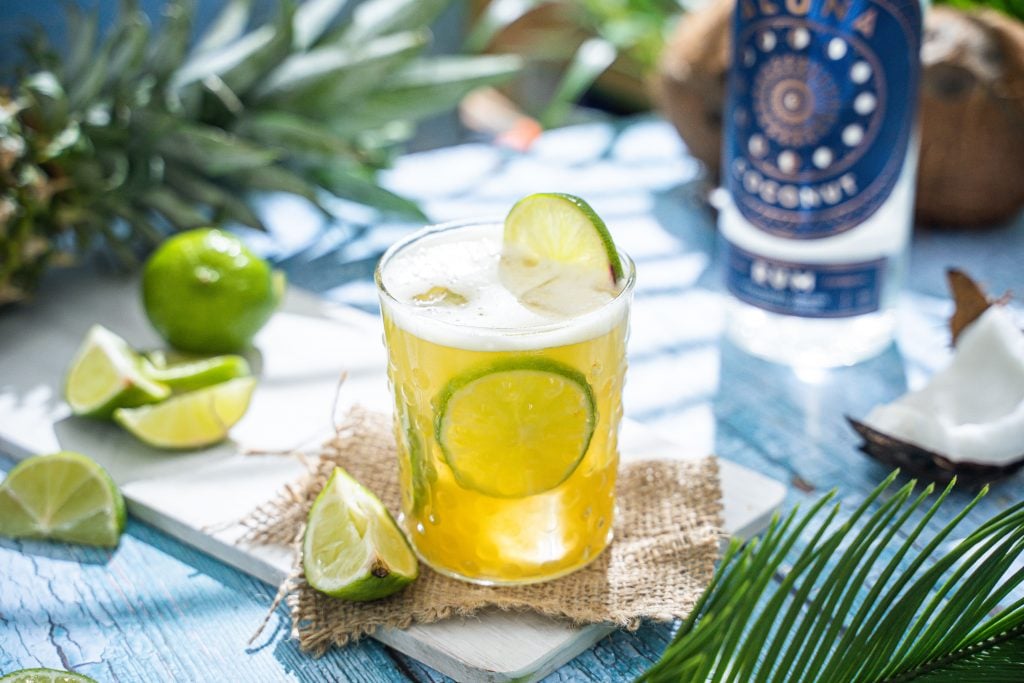 We're using Aluna Coconut rum; it's unusual among coconut rums in really tasting of both rum and coconut. In fact, it tastes like opening up a coconut to find that it's full of rum rather than coconut water. Wouldn't that be amazing? That's because it's not only macerated with coconut but also sweetened with coconut water so it's about the nearest thing you'll get to a rum-filled coconut. The base spirit is a blend of Guatemala and Caribbean rums. It's bottled at 35% ABV, so significantly stronger than some other coconut rum drinks so be careful standing up after a couple. 
So whether you're celebrating Piña Colada day on the 10 July or want to make the ultimate a tropical cocktail now, here's how to do it properly:
50ml Aluna Coconut rum
50ml Coconut water
100ml Fresh pineapple juice
Juice of half a lime
Add all the ingredients to an ice-filled shaker. Shake hard and strain into a tumbler or Collins glass filled with ice. Garnish with a slice of lime or pineapple. And, what the hell, a glace cherry, umbrella and sparkler too. Lubbly jubbly!