A cocktail that combines gin and Champagne in one glass? Sounds a bit mad but in the French 75, they are a match made in heaven. 
It might seem heretical to our modern tastes to add sugar and lemon juice let alone gin to Champagne but the Victorians were less precious. Dickens (who was a keen cocktail and punch enthusiast) would entertain guests with a mixture of gin and Champagne; and Queen Victoria's drink of choice was whisky combined half-and-half with red Bordeaux. Sounds revolting but when you're the Empress of India, who's going to tell you you're doing it wrong? 
A punch to remember 
While I wouldn't recommend going the full Queen Vic, we can learn from Dickens' attitude to alcohol. I had a wonderful experience at the St Pancras Renaissance Hotel a few years ago courtesy of Joe Stockoe of drinks company Heads, Hearts and Tails. First he made a chilled fruit punch in a large silver bowl and then for the pièce de résistance, poured in a magnum of Veuve Clicquot to finish it off. The sparkling wine made the contents of the bowl fizz and froth like a magic potion. It tasted pretty magic too. 
The result was not dissimilar to this week's cocktail. The French 75, or as they call it in France the Soixante-quinze, is named after a French artillery gun, the 75 millimetre. It (the cocktail not the gun) was invented by Harry MacElhone at Harry's Bar in Paris just after World War One. Perhaps hoping to make a point about diminished French military might, one of the German officers in the film Casablanca orders it at Rick's Bar. The French, however, get their revenge later by beating the Germans in a singing contest. That'll show those nasty Germans.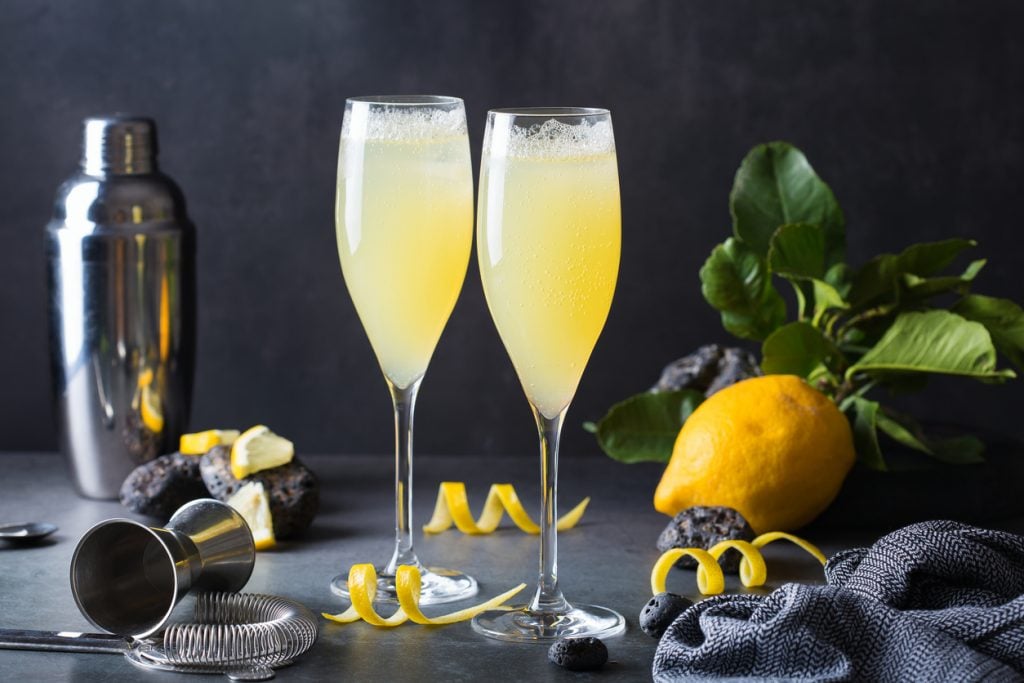 How to make a French 75
So, which Champagne to use in your Soixante-quinze? It's probably a waste to use anything too expensive like Krug or Dom Pérignon (unless you're feeling particularly swanky) but at the same time you do need a sparkling wine with the body to stand up to all those additions. In Casablanca Rick and Ilsa put away a lot of Mumm Cordon Rouge but I find the richer taste of Veuve Clicquot is ideal for this purpose. After some experimentation I think it works best with a good amount of lemon juice, and the orange bitters really lifts the whole thing and brings out orangey notes in the Champagne. For the gin, I'm going with one of our favourites, Bathtub gin, though any decent quality London Dry Gin will do. 
And then you can raise a glass to France. Vive la France!
35ml Bathtub Gin
15ml fresh lemon juice
5ml sugar syrup
100ml Veuve Clicquot Yellow Label 
Dash of Fee Brothers Orange Bitters
Shake the first three ingredients with ice and strain into a Champagne flute. Top up with chilled Champagne, stir, add a dash of bitters and garnish with a lemon twist.