It's officially Italian Cuisine Week – as if we'd even need a reason to indulge in the deliciousness that Italy has to offer. Armed with empty bellies and eager palates, we headed to Campari UK's office in The Shard, London, for a food and cocktail-pairing masterclass.
In Italy, a mealtime is not simply for filling your stomach. It's a convivial event that brings family and friends together, and a wholesome culinary experience. It's an occasion to be shared and savoured.
"Convivial comes from 'convivere': living together," enthused Pasquale Terracciano, Italian ambassador to the UK, as he introduced the evening. "It's the idea that you spend time together, you eat and drink together. You don't just meet to feed yourself, but to have an experience in the company of friends."
At the very heart of Italian food culture lies quality drinks – so, to celebrate the strong ties between the two, Campari UK transformed its office into a mercato ('market' – why does everything sound so sophisticated in Italian!?) for the evening; pairing each of the seven Italian brands in its portfolio with delectable dishes created by Tommaso Arrigoni, Michelin-starred executive chef of London-based digital catering service, Godo*.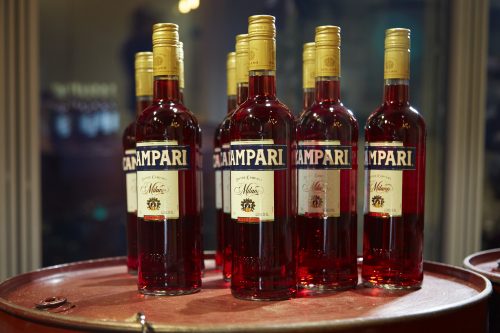 Today's Campari? Tomorrow's Negroni
"The secret of the experience tonight is about the ingredient," explained Cesare Vandini, managing director of Campari Group for Northern, Central, and Eastern Europe, as he welcomed guests. A glimpse around each of the market-style stalls revealed that each dish was inspired by a single ingredient from each drink, from the rhubarb used in
Aperol
to the hazelnut found in
Frangelico
.
While food and drinks pairing has been reinvented as a trend in the last few years, the concept is far from new. According to Terracciano, tapas-style eating was invented by Charles III, who ruled Naples for 25 years in the 1700s before taking to the throne in Spain.
"In Naples, people would combine wine and drinks with food," he explained. "When Charles III arrived in Madrid, he noticed that people there were drinking without eating anything, and so they would very easily get drunk.
"He ordered that all the tabernas had to sell wine with food. To make people eat before they started drinking, they had to put food on a 'tapa' which would go on top of the wine jug. So you had to nibble on the tapa before drinking the wine."
Satisfying and functional. We like it. Tastebuds at the ready, we explored each stall and immersed ourselves in authentic Italian fare…
The Campari range: From aperitivo to digestivo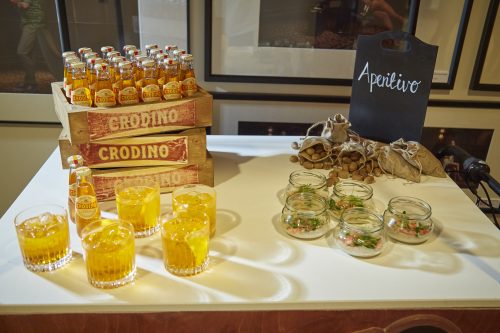 Crodino
Aperitivo #1: Crodino
What is it?
A sparkling, non-alcoholic aperitif made with an infusion of herbs, spices, woods and roots
Secret ingredient: Nutmeg
Cocktail: Crodino on ice
Method: Fill a large wine glass or a tumbler with plenty of ice, pour in your Crodino and garnish with a slice of fresh orange
Food pairing: Seared prawn with mashed celeriac, perfumed with clove and nutmeg
Ingredients: Seared Prawn, celeriac, potatoes, extra virgin olive oil, clove, nutmeg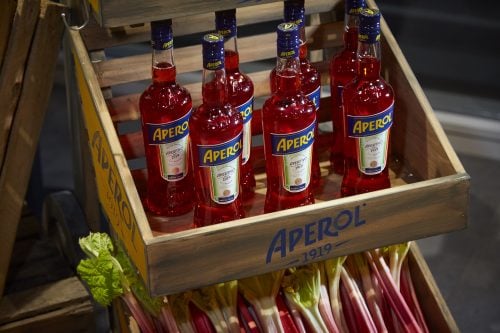 Aperol
Aperitivo #2: Aperol
What is it?
A bright orange bitter-sweet liqueur made to a closely-guarded recipe
Secret ingredient: Rhubarb
Cocktail serve: Aperol Spritz
Method: Fill a large wine glass with ice and pour three parts Prosecco, 2 parts Aperol and a dash of soda. Garnish with a slice of orange
Food pairing: Durum wheat bread crostino, rhubarb chutney and Parma ham
Ingredients: White bread, Rhubarb, sugar, Parma ham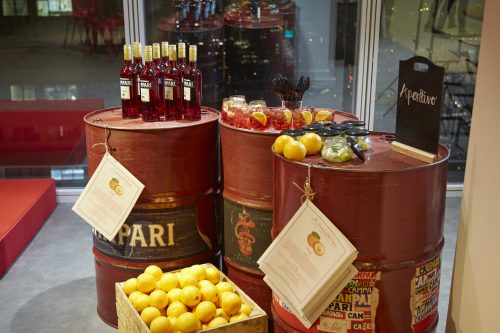 Campari
Aperitivo #3: Campari
What is it?
A dark red alcoholic liqueur, considered an apéritif, made by infusing herbs and fruit in alcohol and water
Secret ingredient: Orange
Cocktail serve: Negroni
Method: Fill a rocks glass with ice and add equal parts Campari, Bulldog Gin and Cinzano 1757 Rosso. Stir and garnish with orange peel
Food pairing: Celery salad, Bufala mozzarella, orange ahttps://www.masterofmalt.com/vermouth/nd dill
Ingredients: Celery, Bufala mozzarella, orange, dill, EVO oil, salt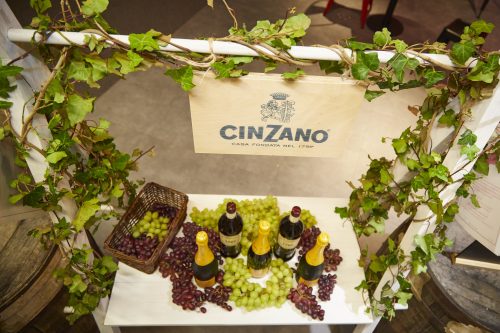 Cinzano
Primo: Cinzano Prosecco
What is it?
An aromatic, dry sparkling wine made from white muscatel grapes
Secret ingredient: Grapes
Cocktail serve: Straight serve
Method: Prosecco is meant to be enjoyed 'young and cold'
Food pairing: Risotto with Gorgonzola broth, spinach and raisins
Ingredients: Riso Carnaroli, Gorgonzola, EVO oil, spinach, Parmesan cheese, vegetable broth and raisins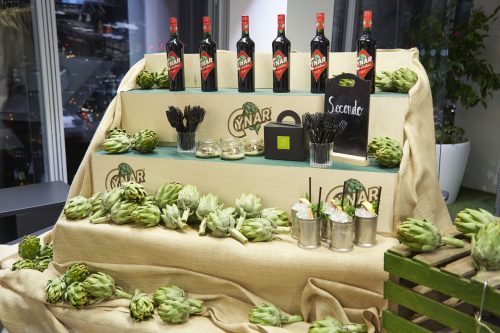 Cynar
Secondo: Cynar
What is it?
A bitter-sweet liqueur made from 13 infused herbs and plants
Secret ingredient: Artichoke
Cocktail serve: Cynar Julep
Method: In a Julep tin gently muddle mint leaves, 15ml sugar syrup and a dash of lemon juice. Fill the tin with crushed ice, add 50ml Cynar and top with grapefruit juice. Stir well until the tin is frosted and garnish with a mint sprig and a slice of grapefruit
Food pairing: Heart of artichoke filled with beef ragu, on a Ragusano cheese bed
Ingredients: Artichoke, celery, carrots, onion, tomato, beef, milk, Ragusano cheese, butter and flour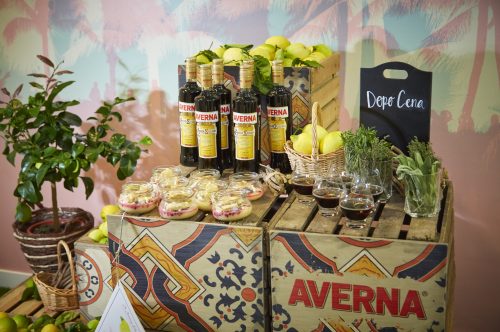 Averna
Dopo Cena #1: Averna
What is it?
An type of Italian liqueur classified as amaro. Made in Caltanissetta, Sicily from an infusion of aromatic herbs, dried flowers, spices and liquorice
Secret ingredient: Lemon
Cocktail serve: The Ritual
Method: Pour a small amount of Amaro Averna into a round tumbler. Add a few ice cubes, lemon peel, and a few leaves of Mediterranean herbs such as thyme, mint, myrtle, sage, rosemary or marjoram. Tilt the glass, cup it with one hand, and gently rotate to fuse the aromas together
Food pairing: Lemon and pomegranate cream with Sbrisolona from Mantova
Ingredients: Lemon juice, butter, flour and pomegranate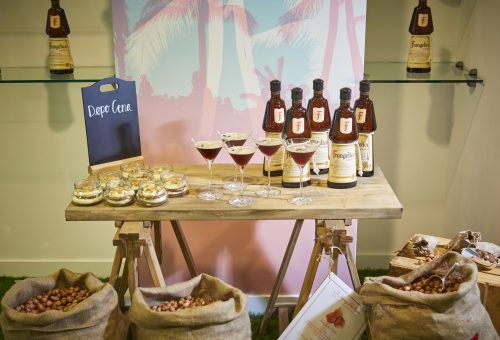 Frangelico
Dopo Cena #2: Frangelico
What is it?
Frangelico is a liqueur distilled from locally-grown hazelnuts and blended with coffee, cocoa and vanilla distillate and extracts
Secret ingredient: Tonda Gentile hazelnut
Cocktail serve: Hazelnut Espresso Martini
Method: Over ice shake 25ml Frangelico, 25ml Skyy Vodka, 25ml espresso coffee (cold), and 10ml sugar syrup. Strain into a chilled Martini glass and garnish with coffee beans
Food pairing: Traditional Tiramisu made with hazelnuts from Piemonte
Ingredients: Mascarpone, milk, sugar, cream, hazelnuts, flour, egg
Let us know how you'll be celebrating Italian Cuisine Week in the comments below…
*While this sounds like a bit of a jargon-y description, it's accurate. Godo has an app that enables Londoners to order its Italian culinary creations for delivery. Dishes start from £8… Worth remembering next time you're eyeing up that stale ham sandwich at lunch time.